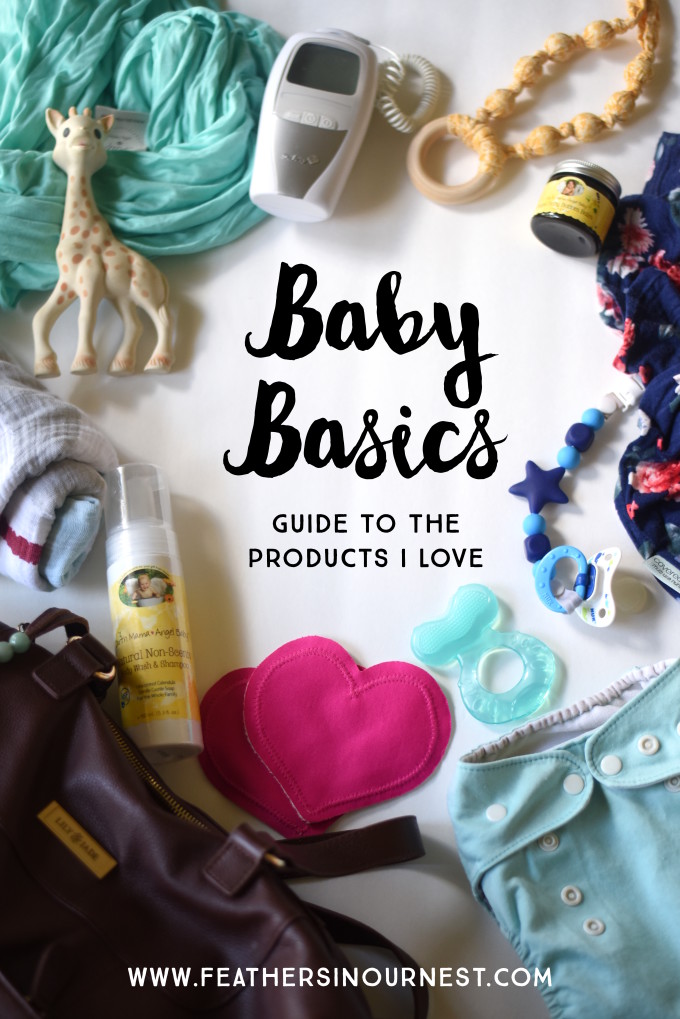 Now that we have four kids, we know what baby products we love (and use all the time) and which ones we could live without.  I started working on this list last summer before Theodore was born.  I thought it would be helpful to share all of our favorite baby products and why we love them!
Obviously, your list will look different than mine does.  I always find it interesting what products other moms swear by!  Hope you enjoy my list!
Baby Basics: Guide to the Products I Love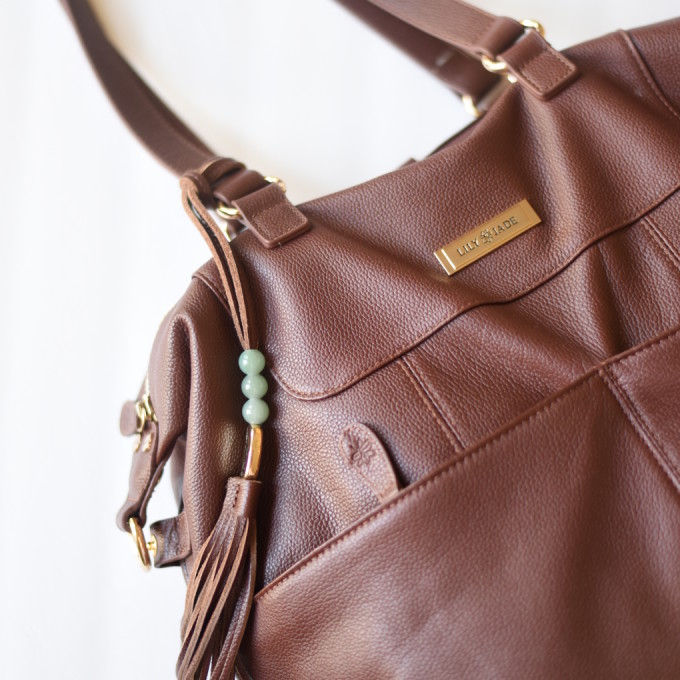 Big Purchases
All of our kids have slept in a pack 'n' play before moving to a traditional crib.  We've loved having the pack 'n' play set up in our room during the first several months of our baby's life, and it also makes adjusting for travel easy.  Our kids have slept well when we've traveled because they are used to the pack 'n' play already!  Easy to assemble and take apart.
This was a new purchase for baby Theodore.  He sleeps in it for naps and at night (we'll move him to a pack 'n' play when he gets older).  It's very portable (even more so than a pack 'n' play) and it doubles as a "swing" of sorts (since it rocks and plays music).  So glad we bought one!
Stroller
A stroller is on my must-haves list!  We have a single stroller that fits our infant car seat (it's a Graco… no longer sold), as well as a double stroller (similar to this one) and two little umbrella strollers.  We use all of these for different purposes.  The double stroller is the one we use the most often.
After the above purchases (something to sleep in and a stroller), a diaper bag will be the baby item you use the most, so invest in a good one!  I adore my Lily Jade diaper bag (Shaylee in Brandy) and you can read my full review here.  It's something you'll use every single time you go anywhere, and you can even use your Lily Jade bag once baby is grown!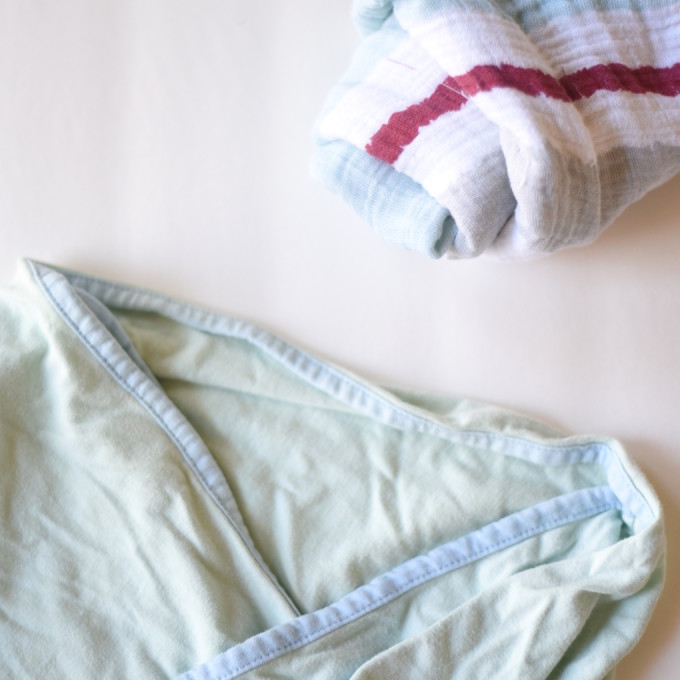 Sleeping/Swaddling
I can't stop singing the praises of the Miracle Blanket!  We've used one for all of our kids (I have the same three blankets that I use in rotation, so they last well) and I know they have helped my babies sleep earlier, better, and longer.  Totally worth it.  (I shared more about swaddling in this post.)
Aden & Anais Swaddling Blankets
I use these all the time!  They are great for swaddling in the early days (before they learn how to get their hands free).  I use them in the carseat whenever we go out so that baby is nice and snug no matter what temperature it is.  I even use them as a nursing cover in a pinch, and I've definitely changed a few diapers with one of these protecting the surface on which I'm changing my baby!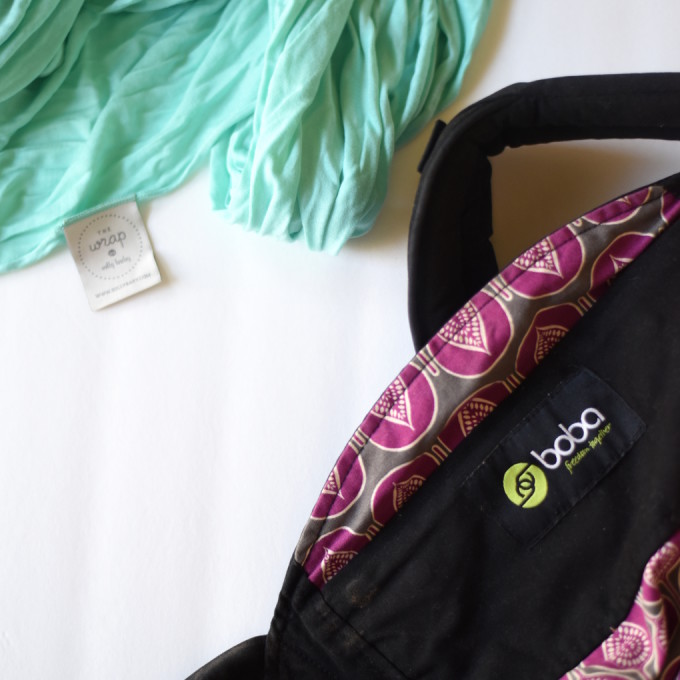 Baby Wearing
When your baby is little, a soft baby wrap is so nice to have.  It keeps your little one close to you and helps them adapt from womb to world.  The Solly Baby Wrap comes in gorgeous colors and prints, and I have the Mint. I'll be posting a full review soon!
My favorite structured carrier is the Boba. This carrier is awesome for when your baby starts to get heavier and the wraps aren't quite as supportive (though the Boba adapts to fit a young baby too!).  Read my full review of the Boba Carrier here (and…awww! baby CC!).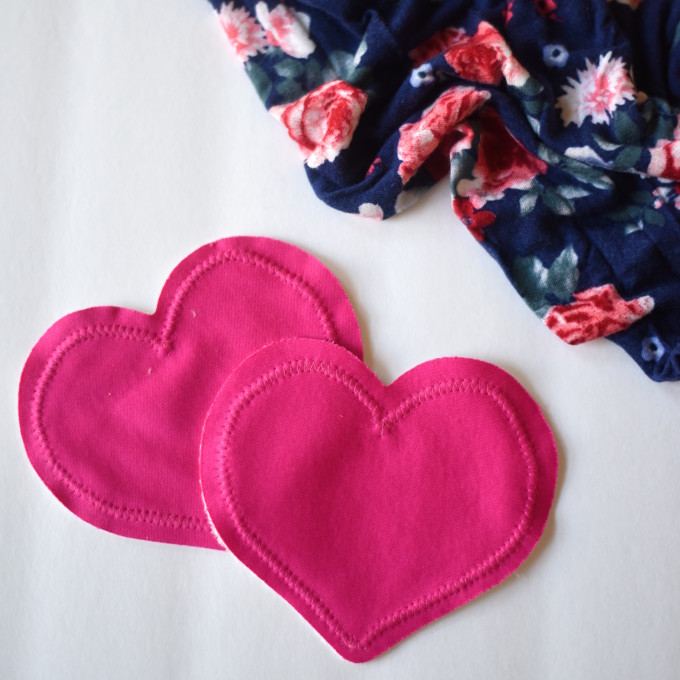 Nursing
Couldn't make it without these babies!  Cloth nursing pads are so nice to use (they don't crinkle the way disposables do) and I like that Bamboobies come in two sizes: overnights and regulars.  I wrote a review on this post over three years ago.
This nursing cover actually covers everything (including back and sides!) while you're breastfeeding, and it comes in a bunch of beautiful prints. This is more than just a nursing cover, though!  It functions as a carseat canopy, cart cover, and scarf as well!  Read my full review here.
This nursing tank is unique in that it attaches to your favorite nursing bra to make it into a nursing tank. (The advantage here is the support and comfort of your favorite nursing bra, because, let's face it, most nursing tanks are lacking in the "oomph" department.)  I have it in a few different colors (white, grey, and black). I reviewed it in detail here.
An awesome nursing bra is a must if you're breastfeeding!  I really like Bravado nursing bras, but I have found others I like at Target.  The Bravado Bliss is my current favorite.
Update: I wrote a whole post about nursing bras! Read it here!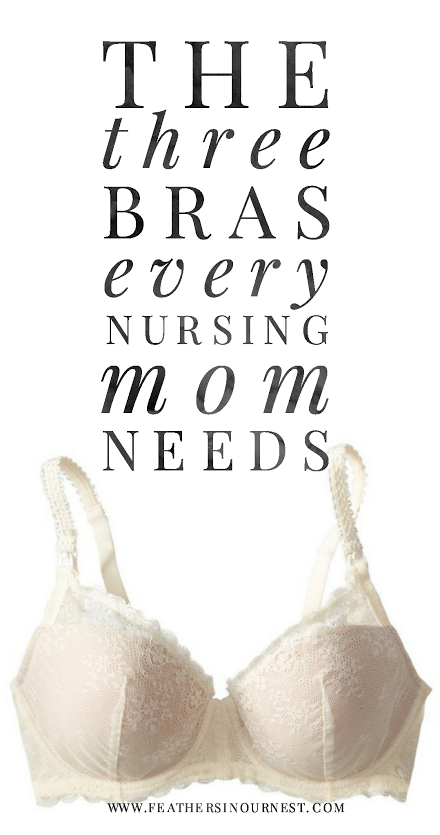 Forget the thin, tiny burp cloths… buy these instead (but they are cheaper at Walmart or Target).  They are absorbent and hold up beautifully to tons of washings!
Breast Pump
Did you know that you can get a free breast pump through your insurance company?  I got one before Jude was born and I really like it.  I don't pump much, but when I do, it's quick and simple with this double electric pump.  The one I have is similar to this one.
I like these storage bags, but I've used other brands as well. It's nice to have bags like this for freezing excess breastmilk (for you to use in the future or to donate)!
The Womanly Art of Breastfeeding book
A great reference book is so helpful when you want to succeed at breastfeeding.  This one is a classic.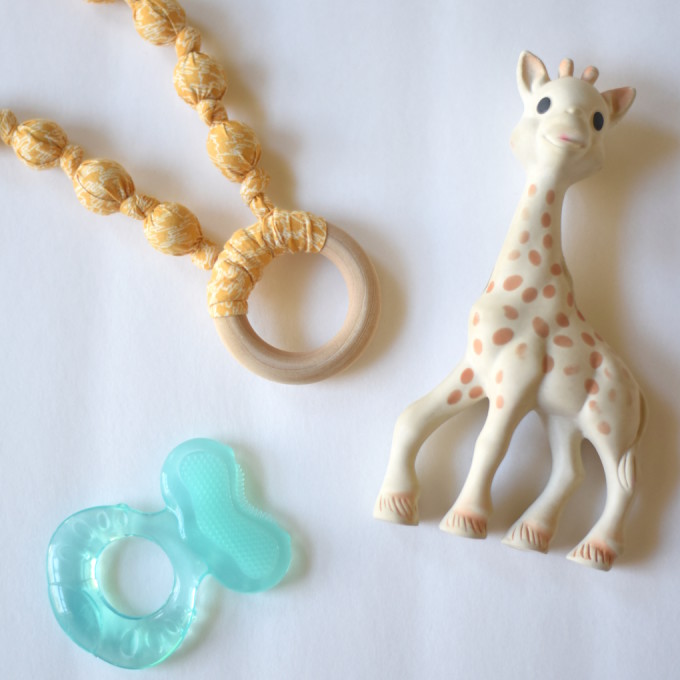 Teething
I know. This is the most expensive teething toy ever.  I didn't cave and buy one until Jude was born (we gave it to him for his first Christmas), but now I wish I had bought it sooner.  This toy is awesome!  I don't know what it is about Sophie, but kids adore her.
Vintage Honey Shop Teething Necklace
I love my teething necklace from the Vintage Honey Shop.  They make beautiful teething necklaces that are perfect for young babies to enjoy while mom is wearing the necklace.  They also offer something for babies to play with while they are nursing, plus they add style to mom's outfit!  I mean, can you even believe all the cute designs?  Use code FEATHERSINOURNEST for 15% off your order!
Nuby Teethe-eez Silicone Teether
Jude loved this when he was teething.  It's really soft and kids can use it at a very young age.  We keep it in the freezer so it's chilled when they need it!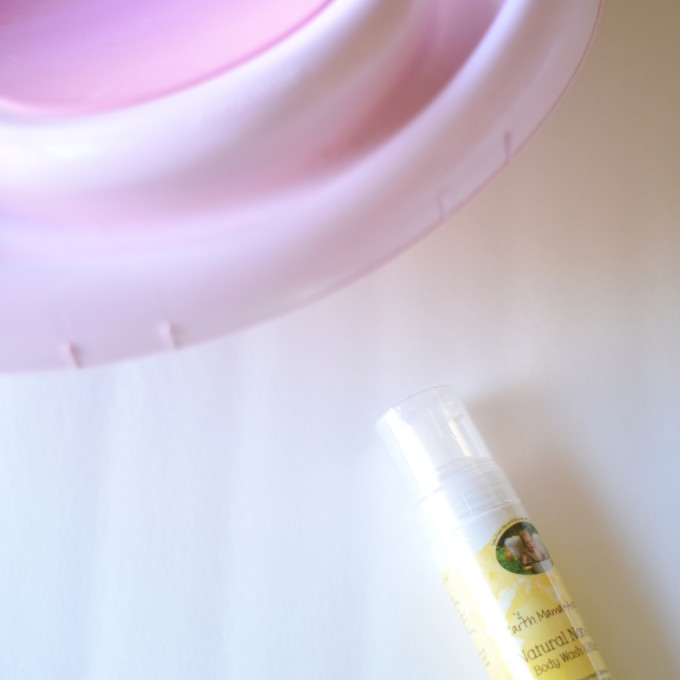 Bathing
A baby tub is a good thing to have.  Babies are slippery when wet, so I feel much safer using a baby tub.  We have a pink one that matches our pink bathroom, but our boys haven't complained about it yet!  It's similar to this one.
Earth Mama Angel Baby body wash
I really like this gentle baby wash from Earth Mama Angel Baby.  It's in a foaming dispenser, so it seems to last a long time.  It comes in unscented or a light scent.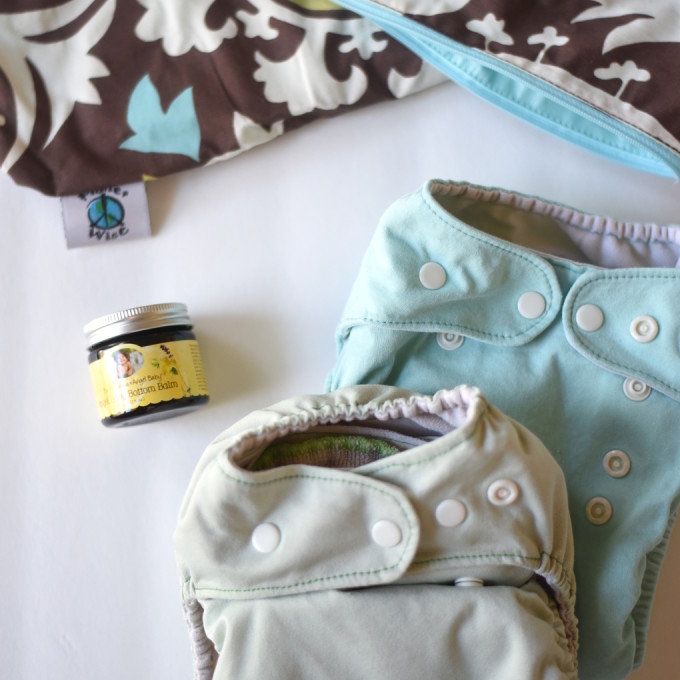 Diapering
We love Smartipants cloth diapers.  We have some other diapers in our stash, but these are our favorites.  The snap system allows them to size down to fit young babies (Theodore can fit them now at just shy of 2 months), but they also size up to fit older toddlers (Jude can wear them as a not-petite two-year-old).  I talk about why I love Smartipants diapers here.
Huggies Natural Care wipes
We're not using cloth wipes at the moment, so these wipes are our go-to.  I get them through Subscribe & Save on Amazon, so they're a great deal.  One thing we've learned over the last 5 years is that off-brand wipes are not a good buy because you have to use twice as many to get bottoms cleaned!  Better to go with the name brand ones.  Huggies Natural Care wipes are great for sensitive skin.
Earth Mama Angel Baby Bottom Balm
We use two diaper rash creams with our cloth diapers.  The first one, Earth Mama Angel Baby Bottom Balm, we use for redness and minor irritation.  It is very healing.
Made On Diaper Cream
For more severe rashes, we use Made On Diaper Rash Cream.  It contains zinc oxide and it really helps heal more stubborn rashes.
When rashes are really bad (not very often), as a last resort we switch to disposable diapers and slather on Desitin.  It clears the rash up quickly!
We use this wet bag (size large) for storing our dirty cloth diapers.  It holds odors and doesn't leak, plus it comes in lots of colors and patterns.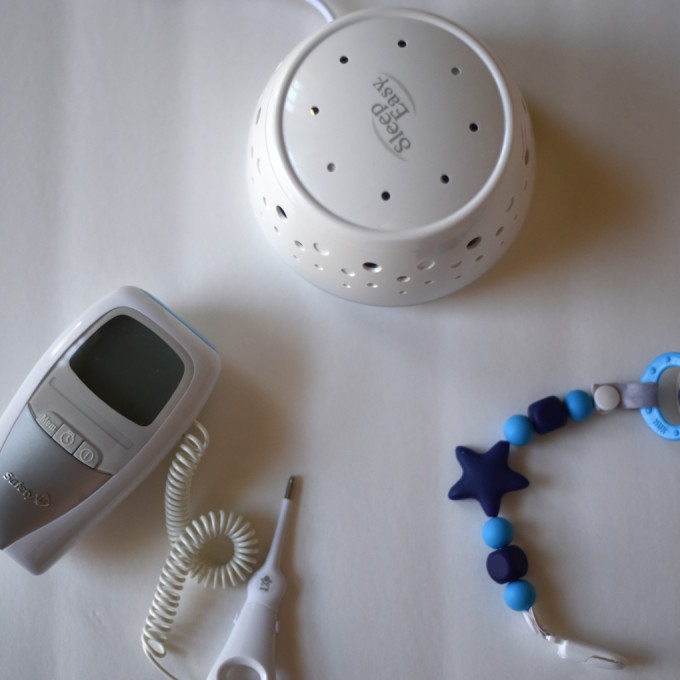 Other
Crib Sheets
These are the softest sheets ever.  I love them!  I also like the crib sheets that IKEA sells. They're also soft and they are a great price.
I recommend using a white noise machine as soon as your baby is born in order to help them sleep better.  The sound mimics what they are familiar with inside the womb and it also helps block out ambient noise.  We have two of this one.
I think one of my favorite practical gifts we were given when Vera was born is this thermometer.  It allows you to take their temperature three different ways and it's very easy to use.
Vintage Honey Shop Pacifier Clip/Teether
This is a more recent purchase, since my girls didn't take pacifiers.  I bought one of these to help keep track of Jude's paci (which he didn't have any interest in until after he weaned).  Made of silicone, it also doubles as a teether for your little one.  I have one for Theodore as well.
Until I had a video monitor, I never would have considered this to be an essential baby item.  But now that we're used to having it, I love the freedom that comes with knowing what my kids/toddlers/babies are doing in their rooms.  It gives peace of mind when they're infants, and allows you to keep tabs on them when they are toddlers as well (you'll know if they're staying in bed without having to go in the room).  We have this one. (I reviewed it in full here.)
What else would you add to this list?
Did you know you can create a Baby Registry on Amazon.com?  It's super fun and easy to add everything you need for baby's arrival!  And, once your baby arrives, Amazon will send you a completer discount for 15% off any of the remaining items on your registry that you want to buy. Sweet deal!
ALIESHA CALDWELL IS A PARTICIPANT IN THE AMAZON SERVICES LLC ASSOCIATES PROGRAM, AN AFFILIATE ADVERTISING PROGRAM DESIGNED TO PROVIDE A MEANS FOR SITES TO EARN ADVERTISING FEES BY ADVERTISING AND LINKING TO AMAZON.COM.