Disclosure: Lily Jade provided me with a diaper bag for the purpose of writing this post. All opinions are my own.
Almost a year ago I started using a Lily Jade diaper bag (Shaylee in Brandy), and I can truly say that it is one of my favorite mom/baby essentials!  All the pockets… the leather… the removable insert… what's not to love?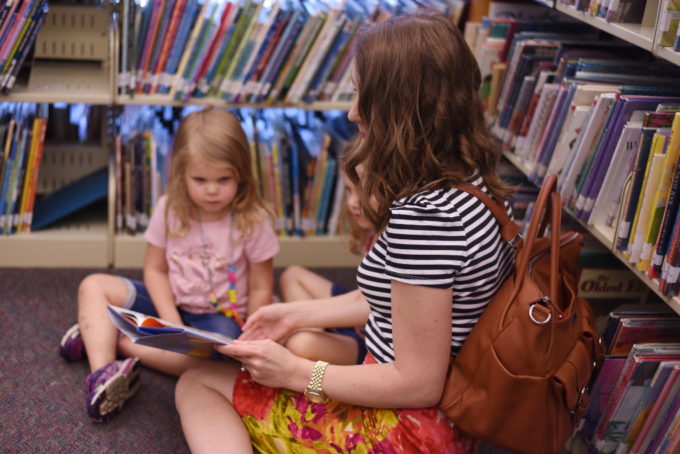 I thought it would be fun to try out a new leather color, so this time I chose the Lily Jade Elizabeth diaper bag in Camel.  This color leather is lighter and so fun.  The Elizabeth has shorter shoulder straps as well as a long strap that can be worn at hip length, crossbody, or converted to a backpack (clearly the BEST way to wear it!).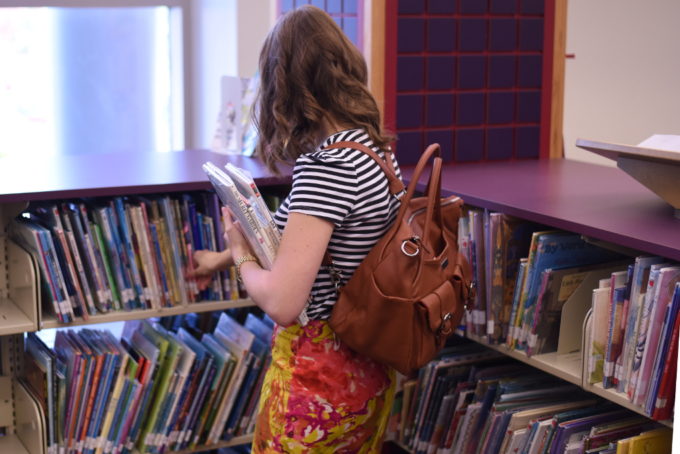 Being a mom requires bringing a load of stuff everywhere you go, so having a large, gorgeous bag makes me feel less like a bag lady and more like a fashionista.  Still, the many pockets (count 'em… 23!) contain all of the things I need with me anytime I leave the house.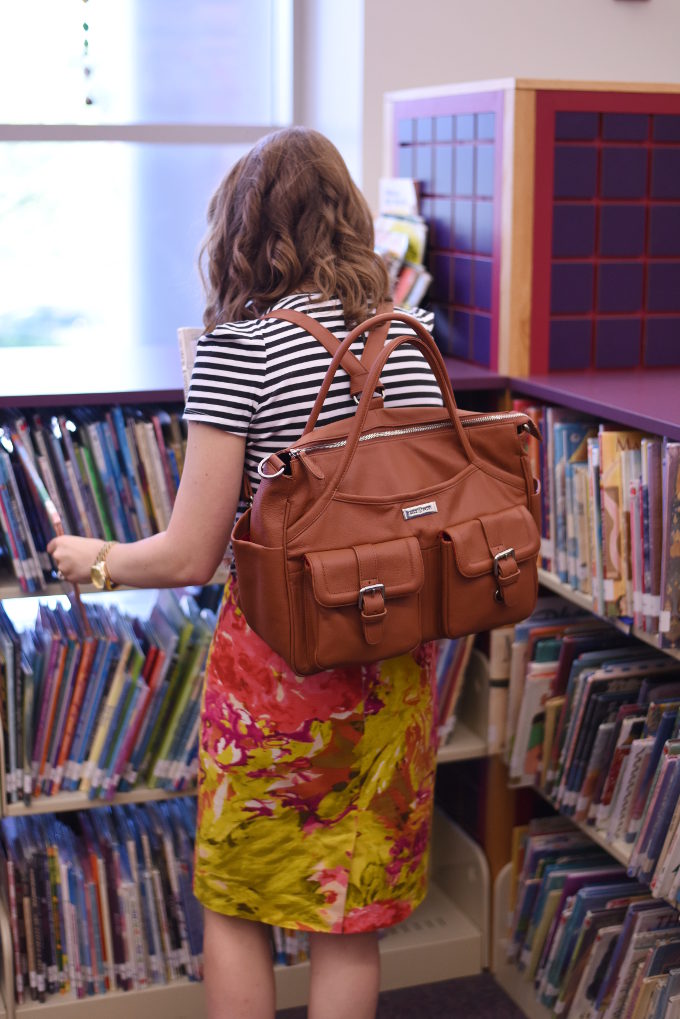 The insert that keeps everything organized inside the bag is wipeable and washable (a lifesaver when something leaks or spills inside the bag).  It's also a fun, cheery red which makes finding stuff in the bottom a total breeze!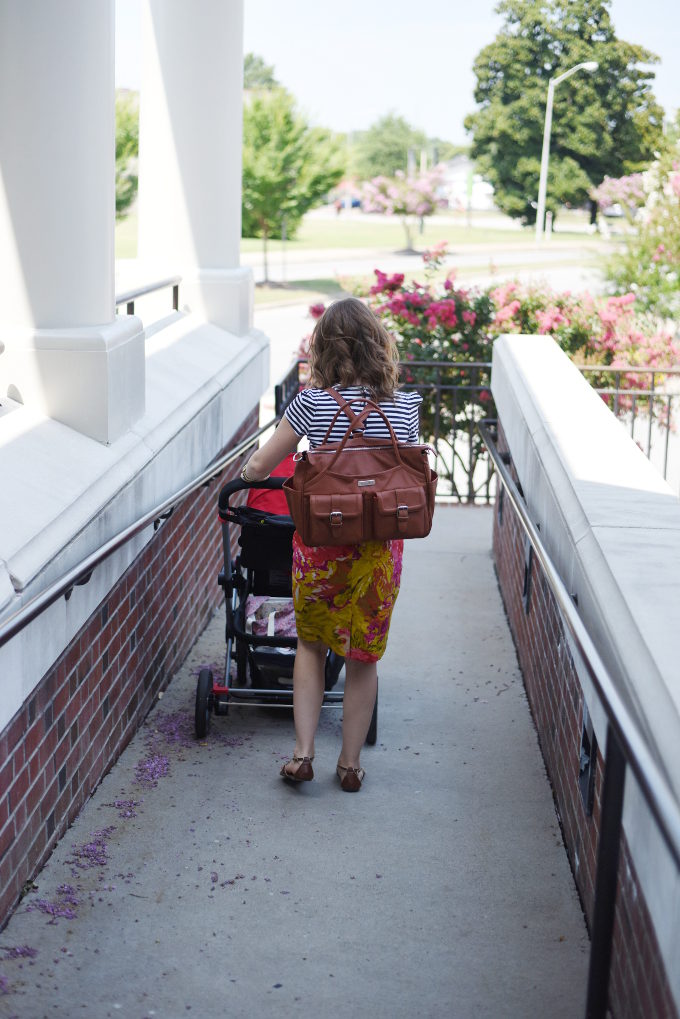 I love wearing the Elizabeth in the backpack carry because it feels like I have an extra arm free.  It's perfect for outings where I'll be wearing it for a while, as it evenly distributes the weight across both of my shoulders!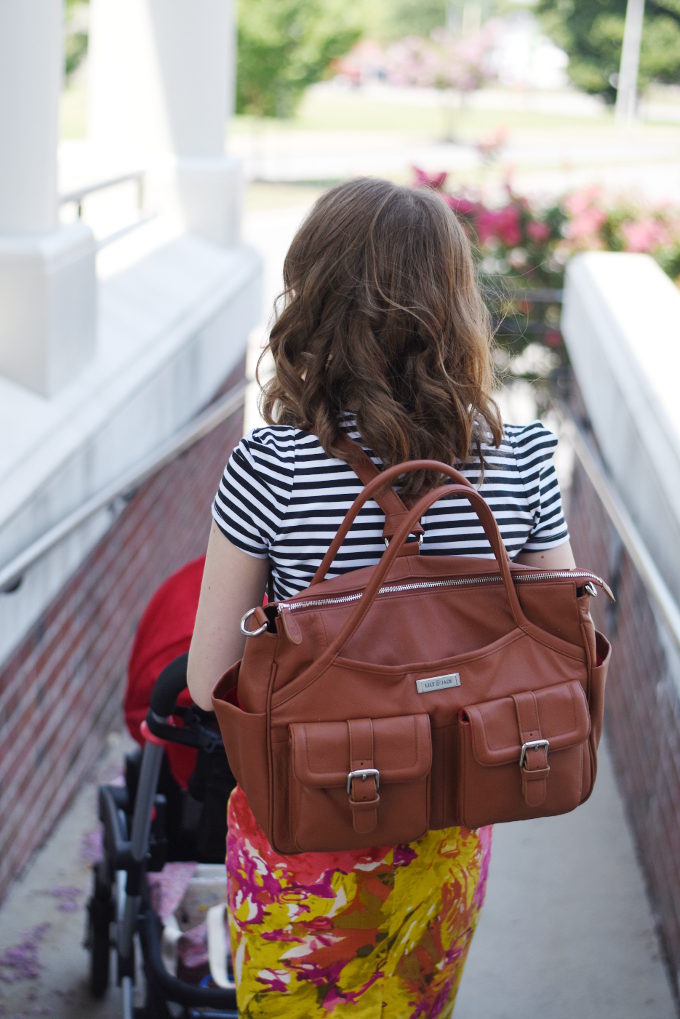 As I mentioned, I love that this bag is made out of beautiful, soft leather.  It's built to last!  The hardware on it is so nice too.  While Shaylee in Brandy came with gold hardware, the Elizabeth in Camel comes with silver hardware.  It's fresh and pretty!  (But the hardware tone is so preferential, so I love that Lily Jade provides choices everyone can love!)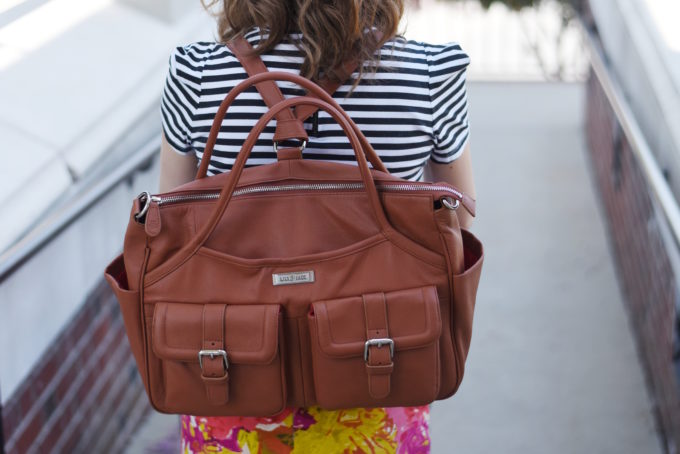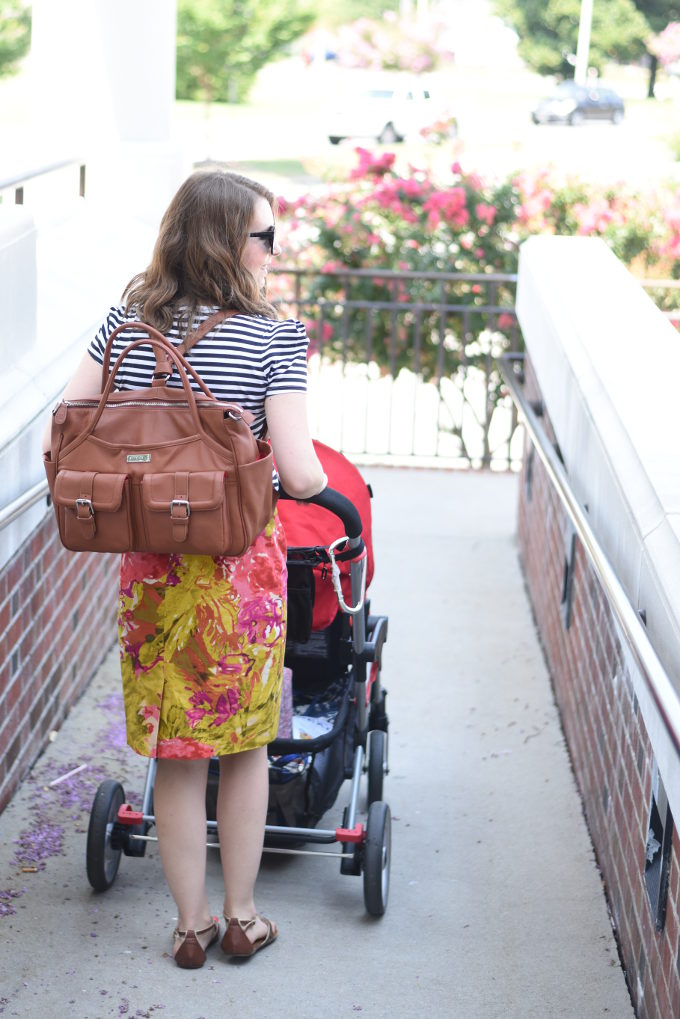 I can't neglect to mention that the inner organizer includes a matching changing pad (in the signature cheery red).  This is perfect for diaper changes on the go.  Once again, it's washable, so you don't need to worry about ruining anything!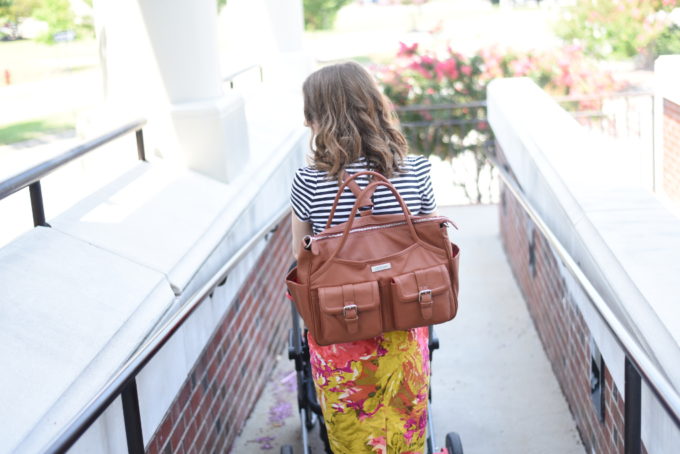 I use the outer pockets for things I access often… phone, keys, lip balms, & sunglasses.  I can quickly grab exactly what I need!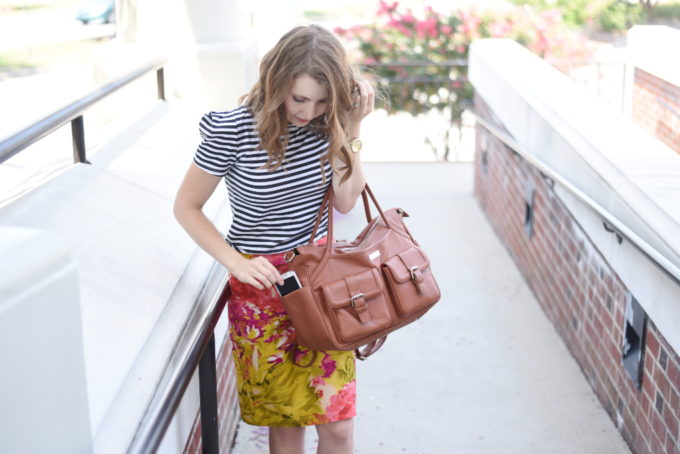 I'm pretty sure no one has any idea that this bag is a diaper bag on the inside!  It's just so stealthy (in a very stylish way).  Great work, Lily Jade!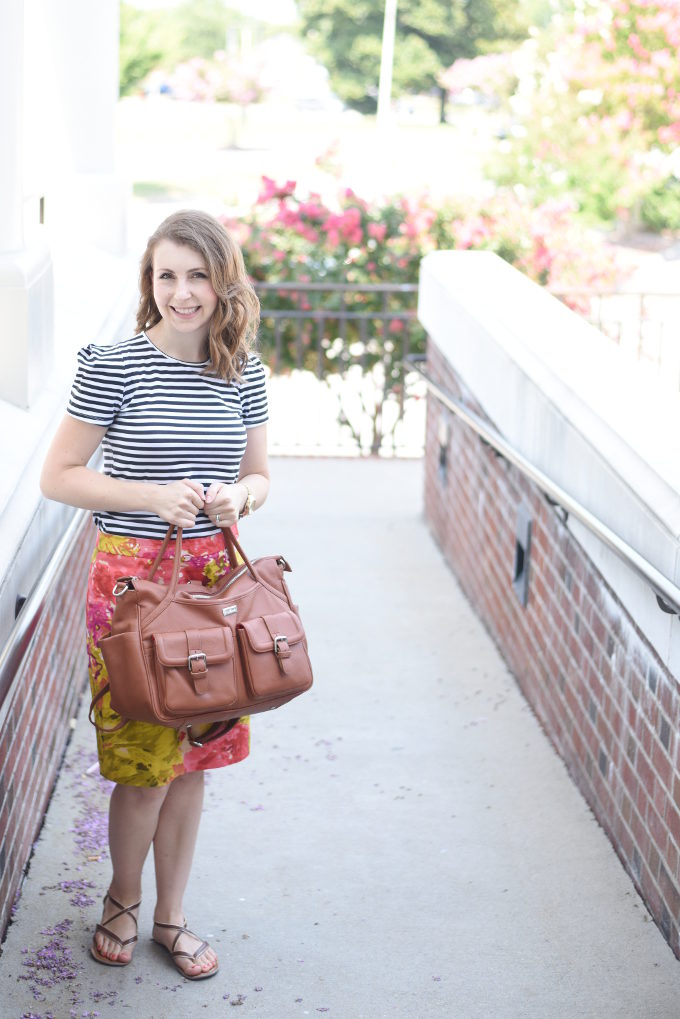 I realize that the Lily Jade bags are a bit of an investment, but if it's something you can find money for in the budget, I think they are definitely worth it.  These are beautiful bags made to last (you can use it for all of your babies, then take out the baby bag insert and use it as a regular purse).  They are timeless in style and look great with any outfit.  I use my bag every single time I leave the house, so it certainly gets a lot of use!  I'm glad I have a bag I love and can count on to last through the years.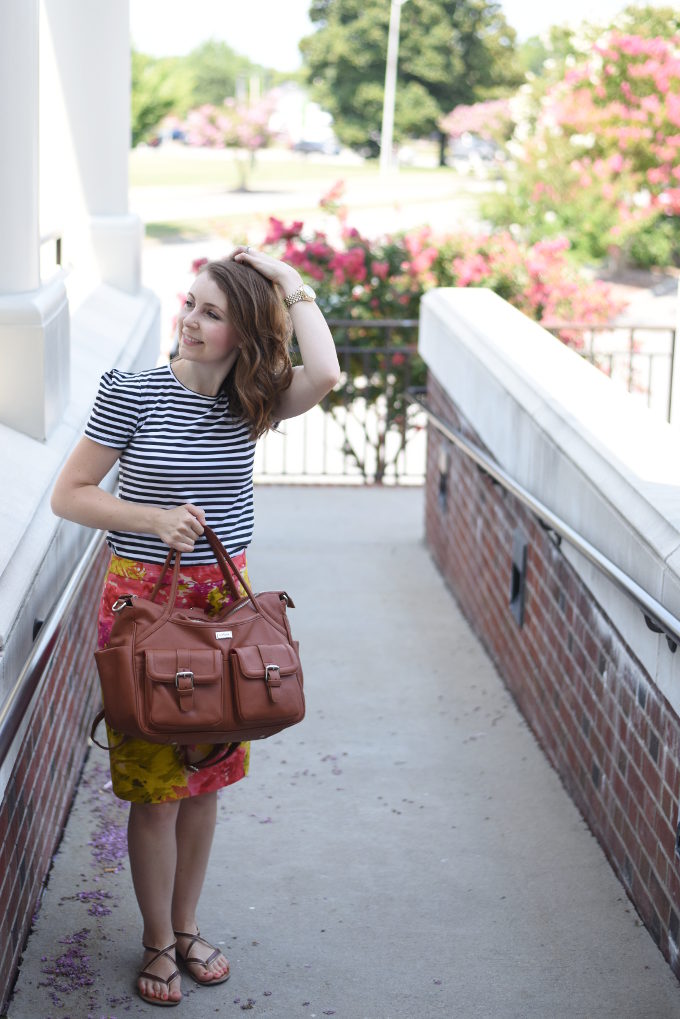 You can learn more about Lily Jade bags here!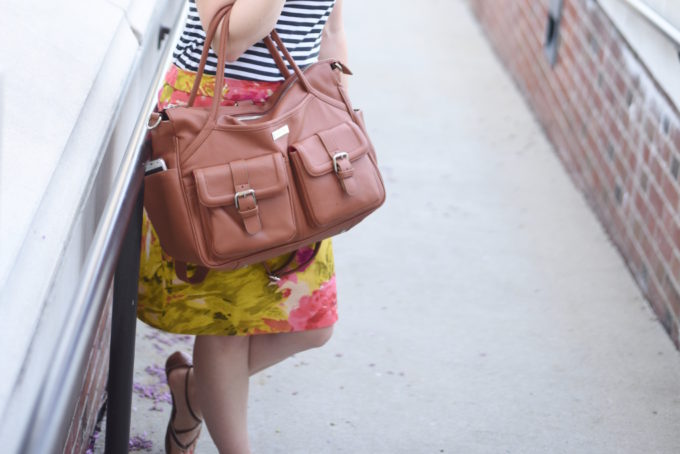 Want to learn how to convert the Elizabeth to a backpack carry?  Well, you could just slip the shoulder strap through the loop and call it a day (like I did with Shaylee in this post), but I recently learned a new technique that you can see in the photos in this post!
If you're curious, stop by the blog this afternoon for another post detailing exactly how it's done (as well as a peek at the interior of the bag)!