If you're not following me on Instagram, you should be, because you're missing out on REAL LIFE gems like this one from last night: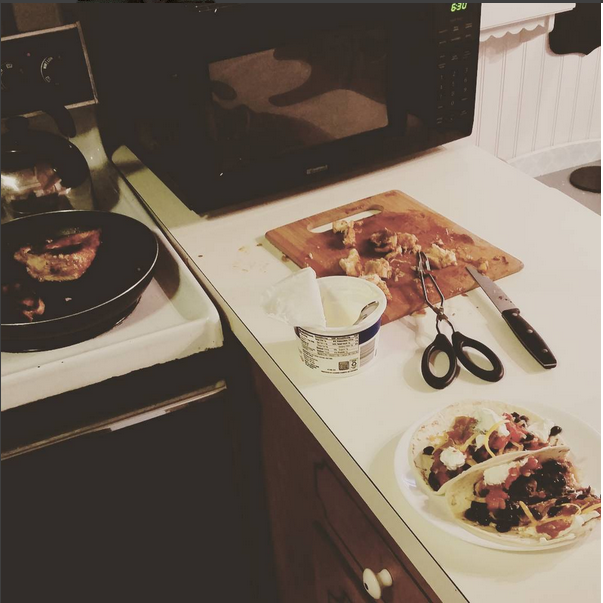 6:36 Making dinner is hard. Thought you may get some enjoyment out of a brief chronology of the last hour at our house! 😂 (Intended purely for humor, not to complain.) I thought I was ahead of the game today because I had already marinated the chicken, so all I would need to do to make dinner was cook the chicken and throw together the tacos. Easy enough, right? After his nap, Theodore takes a longer time nursing and then doesn't want to be set down. So I decide to start cooking dinner one-handed. I find Jude eating deodorant and writing with it on the windows. He quickly abandons this activity to "help" me grate cheese. (Putting grated cheese into a bowl faster than your toddler can grab it and eat it should be its own gameshow. Actually completing ANY task faster than your toddler should be.) All this while I'm still cooking chicken with one hand and holding Theodore who won't be set down. Theodore finally falls asleep so I go lay him down and I come back to find Jude and CC eating butter. Yes, with their fingers. While I'm cleaning that up I hear water running in the bathroom and it's Jude (IS HE OMNIPRESENT?!!?). Come back to the kitchen and all the cheese has been eaten. I smell burning chicken! Finally get everything cooked and plated (while Jude is strapped into his high chair). The kids are finished eating just as I sit down and they immediately want seconds. I get their food and eat standing up. It's now t-minus 14 minutes until Tad gets off work, and as far as I'm concerned, Jude can just hang out in his high chair until then. I'm off to eat secret chocolate in the bathroom! #momconfessions #momlife
Please tell me I'm not the only one eating secret chocolate in the bathroom!