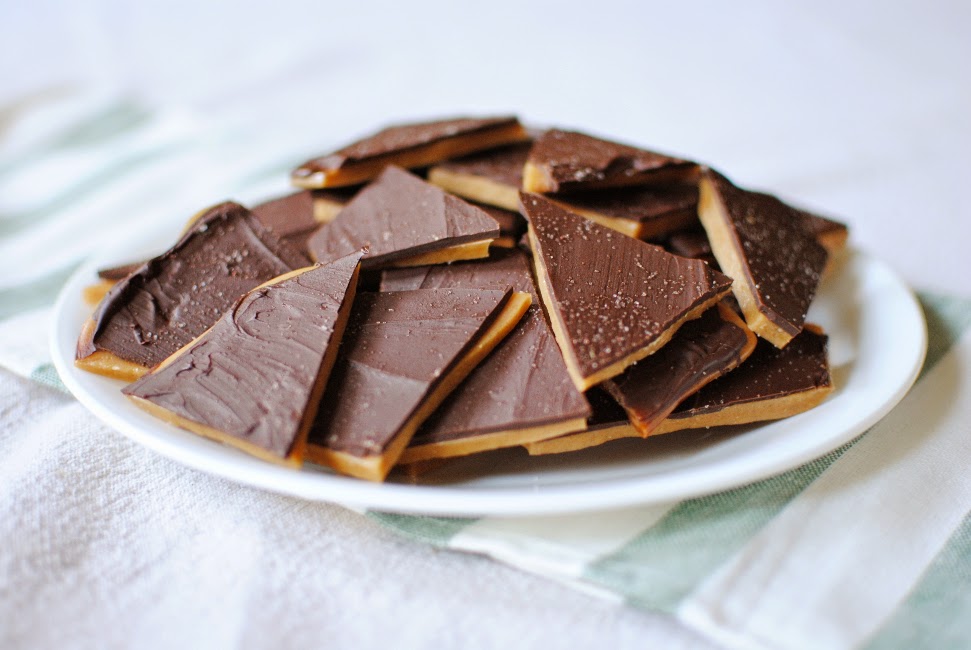 Every time I make this candy recipe, I get requests for the recipe!  It's so addictive (so, either plan on giving it away or hiding it from yourself in the back of the fridge so you don't eat it all).  The bottom layer is crisp toffee, and the top is dark chocolate with a sprinkle of sea salt.  It's a match made in heaven.
After this is made, I store it in the fridge, so if you're giving it to people for Christmas, make a note about that.
Best part: this recipe doesn't require a candy thermometer… just "eye it"!

Dark Chocolate Sea Salt Toffee
This recipe for Dark Chocolate Sea Salt Toffee is originally from Bread and Wine. It is addictive and delicious, and also gluten-free and egg-free!
Author:
Aliesha @ Feathers in Our Nest
Ingredients
2 sticks butter
2 cups white sugar
1 cup dark chocolate chips
sea salt, for sprinkling
Instructions
Prepare a rimmed cookie sheet by covering it with a piece of parchment paper or a Silpat mat.
In a heavy saucepan over medium heat, melt together butter and sugar.  Stir constantly.  It will start to bubble, then the color will begin to change.  Keep stirring.  What you are looking for is a dark amber color (the color of toffee).  Stir constantly so the bottom doesn't burn.  It will thicken and darken in color by around 8-9 minutes, but let the color be your judge, not the time.
When the toffee is done, pour it onto the prepared pan and spread evenly.  I have a big sheet, so I don't spread all the way to the edges.  Do not lick the spoon at this point NO MATTER WHAT.  Put the sheet in the fridge to cool.
In a double boiler (or a glass bowl securely set over top of a saucepan of water), melt 1 cup dark chocolate chips, stirring as they melt.
When toffee is cool to the touch, pour melted chocolate over the top and spread it to the edges of the toffee.  Sprinkle with coarse sea salt, OR wait several minutes until chocolate is almost hardened, then sprinkle with regular sea salt.
Return cookie sheet to fridge to finish hardening.  When completely hardened, break into pieces.  Store in fridge.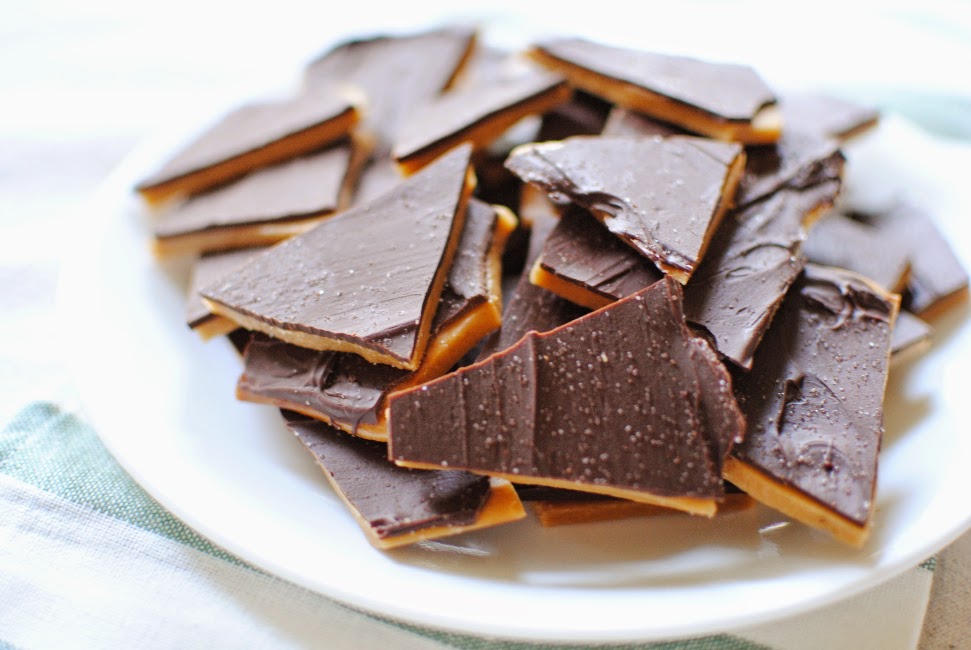 Enjoy!