I've posted bits and pieces about our new nursery, but I decided it was time to post about the whole room! We love how the room turned out. There are still more things we plan on doing in there as time goes on, but for now, we're quite pleased with it!
Longtime blog readers will recognize many DIY projects from Vera's nursery, which we moved to a different room so we could accommodate both chickadees. For a full list of those projects (with links to how-to's), visit our original nursery reveal post.
We plan on hanging Vera's quilt behind her crib, so that's why there isn't anything on that wall at the moment.
I love this little corner… so happy and colorful! It will be perfect for cuddling, reading, and nursing.
I already shared the hoop art that we made for above Mango's crib. It's still one of my favorite parts of the nursery!
Currently, Vera's baby doll is demonstrating where Baby Mango will sleep. Vera helps tuck her doll into bed several times a day, and also enjoys changing the tiny cloth diapers that I made for her.
We "made" a closet in one corner of the room using spring rods and curtains. There is a LOT of space in there, especially since baby clothes are so little!
We also have a beautiful dresser to use too.
We hung a big mirror above the dresser next to the kite hairbow holder I made for bow storage. I love that the mirror reflects so many colorful things!
This corner is the "play" corner and is not finished yet. I hope this area can be used for toy storage and the table can be used for art/craft projects in the future. I also hope to decorate these two corner wall in a gallery style, with lots of framed pictures of the girls as well as some fun art.
Of course I can't leave out the bird mobile hanging above the changing table! I made this for Vera's nursery two years ago and I love it just as much now as I did then. Vera adores it too, and it works as a great distraction for her while we change her diaper. I thought by putting it over the changing table, both girls could enjoy it.
I made pink houndstooth shades for the room to add a pop of color since I was using white curtains. (IKEA Vivan curtains are the only ones I've found that are long enough for our massively high ceilings!) I hemmed the fabric to the right width, then attached it to the old roller shade roll using hot glue and a staple gun.
Like I said, there are still a few more things we'd like to do in the nursery, but for now we are thankful for all we've been able to accomplish in just a couple of weeks! The painting of the room took us much longer than we were expecting, but we are so pleased with the results.
This is what the room looked like BEFORE (when we moved into the house), so I think we've come a long way, baby!
AFTER!
Linking to: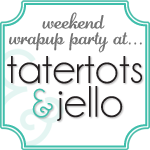 Pin It