While this doesn't exactly fall into the category of a SMART goal, eating less sugar is definitely something I would like to do this coming year!
Here are some ways to break that goal down into measurable bites:
-take a sugar detox (I did this January 1-3 to help me recover from my holiday indulgences!)
-continue (or start!) replacing white sugar in recipes with healthier alternatives, such as sucanat, honey, and pure maple syrup
-limit daily sugar intake to just one special treat a day or less (we were given a box of Godiva chocolates for Christmas, and just one of those rich chocolates more than satiates my sweet tooth!)
Really, this area, like many others, comes down to self-control! To serve as a funny little reminder, I made a printable for you to put up somewhere in your house. Enjoy!
Printable for personal use only. Please link back to this post at Feathers in Our Nest when sharing it with others. To use, right-mouse click on the image, then press save image as. To print, open the image and print on a 4×6 sheet of photo paper using your printer's photo settings.
Is eating less sugar something you want to do this year? If you already feel like you've arrived in this area, please share your tips with the rest of us!
Linking to: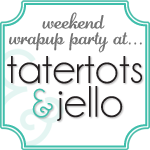 Pin It