Today I wanted to share with you a few of my tips for staying healthy during pregnancy! I would say that Felicity's pregnancy was one of my healthiest, and I'm so grateful for the great recovery I've had from her birth! I think that the choices I made during her pregnancy have really helped my postpartum season be better so far. (I say "so far" because she's just three weeks old! But I'm almost back to feeling like myself again.)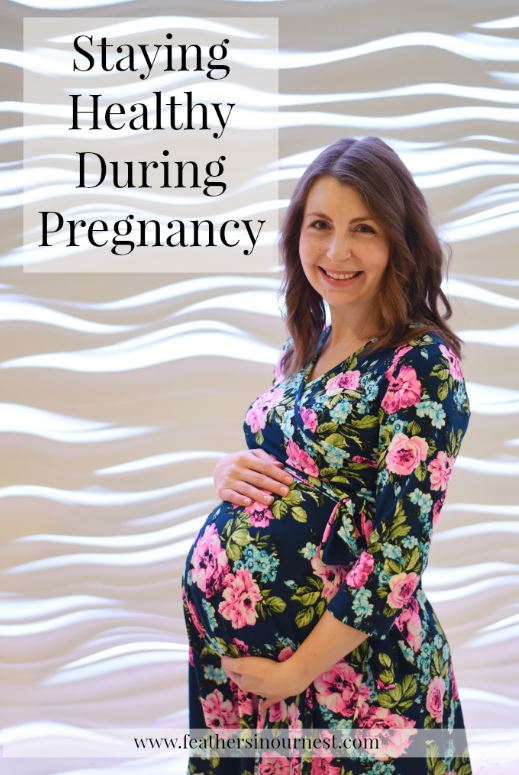 Staying Healthy During Pregnancy
Exercise
While I deeply respect my friends who are able to do kickboxing workouts at the gym every day of their pregnancies, that hasn't been my story. Nevertheless, I did prioritize exercise this pregnancy. I mainly exercised by taking brisk walks each day. I aimed for at least 30-60 minutes of "active time" (according to my fitness tracker) which meant my heart rate was up during my exercise. Staying active helped me to have more energy during my pregnancy, be well-prepared for labor, and "bounce back" faster after birth. At minimum, strive for 30 minutes of exercise a few days a week. It's also important to remember that it's not recommended to start a new workout regimen during pregnancy, so stick to what you know!
Proper Nutrition
As soon as I stopped feeling sick (around the end of my first trimester), I started eating a healthy diet once again! I had to give myself some grace in the first trimester when I couldn't keep much down (let alone anything green), but the moment I felt better I got back to eating a more plant-based diet. Proper nutrition is key to a healthy pregnancy. Aim to eat lots of vegetables, fruits, and (if your body tolerates them) a moderate amount of whole grains (I love old-fashioned oatmeal!). Keep sweets and processed foods to a minimum.
Supplement
Even with a healthy, varied diet, many of us are still not getting all the vitamins and minerals our bodies need during pregnancy. I always take a good prenatal vitamin as well as other supplemental vitamins. Did you know that approximately 68% of women are calcium deficient? It is important to meet the recommended 1000mg of calcium each day of your pregnancy in order to help your baby's development (for healthy teeth, bones, muscles, and heart) and to maintain your own health as well. Just a prenatal vitamin may not be enough, as they usually contain only 20-30% of your daily calcium requirements.
Viactiv Calcium Soft Chews can help you get the calcium you need. They are individually wrapped (so you can easily take them on-the-go) and provide 100% of the daily calcium most women need, plus Vitamin D and K to aid in the absorption of calcium. Viactiv Calcium Soft Chews come in two delicious flavors–milk chocolate (my favorite… so fudgy!) and caramel. I also love that Viactiv Calcium Soft Chews contain half the sugar and half the calories compared to the leading calcium gummy supplement!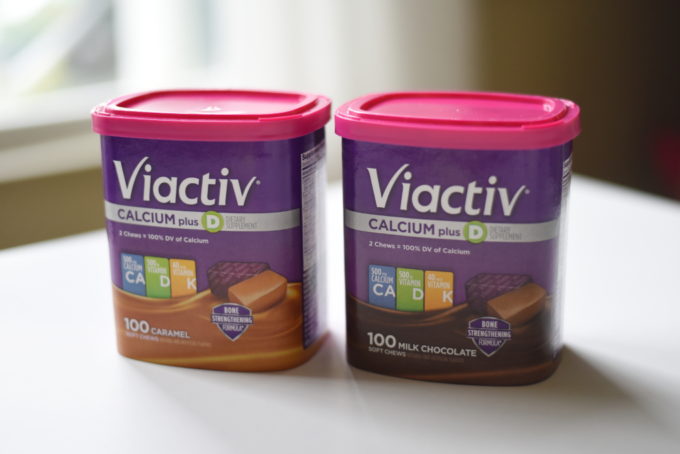 You can find Viactiv Calcium Chews at grocery stores, drugstores, and major retailers, including CVS, Rite Aid, Target, and Walmart. Find a retailer here! Visit Viactiv online at their website, on Facebook, and on Instagram.
#BumpUpYourCalcium #Viactiv
Sleep
Lastly, getting enough sleep each night can help you stay healthy during your pregnancy. As you near the end of your pregnancy and you are waking up more frequently at night, going to bed earlier can help you still meet your necessary hours of sleep each night. Shoot for seven to eight hours of sleep when you can!
If you're currently pregnant, congratulations! Hope these tips I shared help you have your healthiest pregnancy yet!
Viactiv Calcium Soft Chews are available in milk chocolate or caramel flavors at major retailers including CVS, Rite Aid, Target, and Walmart, as well as supermarkets nationwide.
Learn more about Viactiv and pregnancy here.
This is a product-provided, sponsored conversation on behalf of Viactiv that contains affiliate links. I received Viactiv Calcium Soft Chews for my own personal use. This post is not intended to address or diagnose any medical conditions. All opinions, text and experiences are my own. These statements have not been evaluated by the Food and Drug Administration. This product is not intended to diagnose, treat, cure or prevent any disease. If you are pregnant, nursing or planning on becoming pregnant, speak with your healthcare provider if you have any specific health questions or prior to taking any dietary supplements.