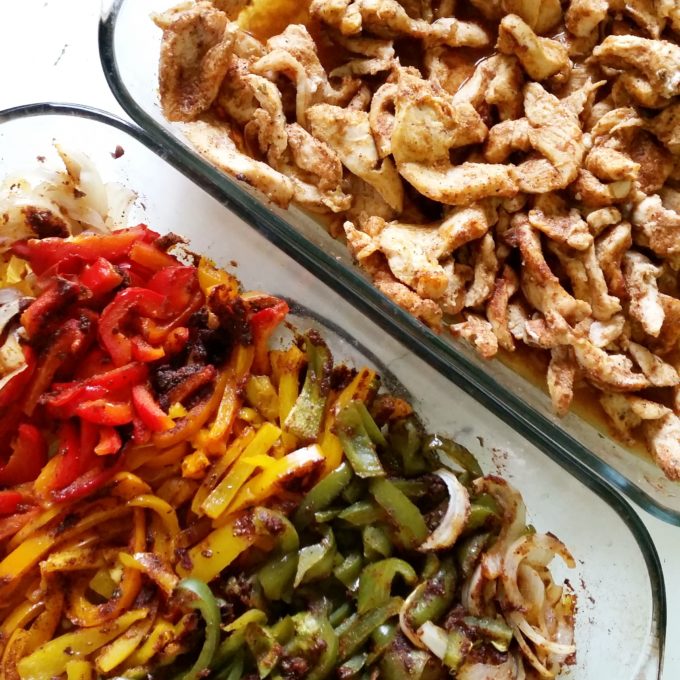 Well since I've been making this delicious recipe in regular rotation for at least two years now, it's about time I shared it with you!
Oven fajitas are the EASIEST way to make fajitas… no standing at the stove and stirring required! I've made these oven chicken fajitas for our family dozens of times, for company quite a few times, and to take to friends with new babies a handful of times as well! There's been a baby boom at our church this spring/summer, and this has been my go-to meal for taking to my friends! (And as a reminder, you don't have to know them to take them a meal!)
When I make this meal for new moms, I leave out the cayenne pepper (since nursing moms don't typically want to eat spicy foods), and I throw in a pack of tortillas, a bag of chips, and sometimes a jar of salsa if I have an extra one on hand!  I make black beans and rice to go along with the chicken and veggies.  My favorite dessert to pair with this is my salted caramel cheesecake! Yum!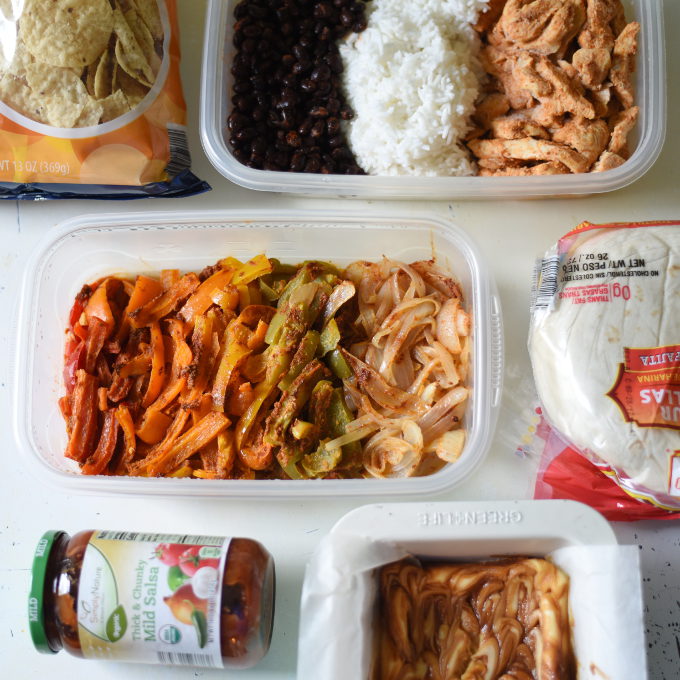 A little tip: you can make this entire meal, place it in freezer-safe containers, and freeze it!  It thaws out really well and is totally delicious!  I've also prepared the chicken and veggies (with olive oil and seasonings) and frozen them RAW to then thaw and bake at a future time. Both options work great!  You can also make extra of the seasoning blend to make tossing this meal together another day a total snap!
This recipe makes enough for my hungry family (two adults and four kids) with plenty for leftovers too. When we have leftovers, we love to eat them hot over a bowl of rice or cold on top of a salad!

Oven Chicken Fajitas (One of My Go-To Meals!)
This is a wonderful meal to serve for company, to take to friends who have new babies, or to stash away in the freezer! The leftovers are wonderful served over a hot bowl of rice, or cold on a salad!
Author:
Aliesha @ Feathers in Our Nest
Ingredients
2 Tbsp. chili powder
1 Tbsp. paprika
2 tsp. onion powder
3 tsp. garlic powder
½ tsp. cumin
¼ tsp. cayenne pepper (leave out if you don't want it to be spicy)
2 tsp. sugar
1 tsp. salt
1 Tbsp. corn starch
2 onions (I use yellow, but white or red work too!)
3-4 bell peppers, any color
2 lbs. chicken breast
2 Tbsp. olive oil
Instructions
Preheat oven to 400 degrees.
Combine spices (first nine ingredients) in a small bowl.
Slice onions and peppers into strips.
Trim chicken and slice into strips or cubes.
Place veggies and chicken into a large glass baking dish (9x13 or larger) and toss with olive oil. Add spice mixture and toss to coat.
Bake for 35-40 minutes, or until chicken is cooked through and veggies are tender. Stir once during the cooking time.
For serving: serve on flour or corn tortillas with your favorite toppings (we like Monterey Jack cheese and cilantro), along with rice and black beans on the side!
Enjoy!
I adapted this recipe from Budget Bytes.

Hope you love it as much as our family does! Enjoy!