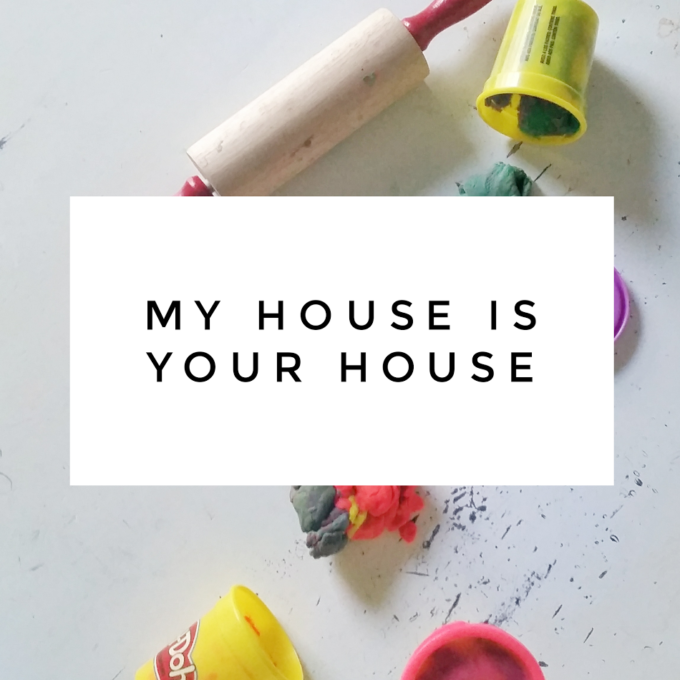 Certainly one of my goals in hospitality is to communicate to our guests: Mi casa es tu casa, or "my house is your house." I want our guests to feel welcomed, loved, and comfortable, which is why I greet them warmly, light candles, and cook food I hope they will enjoy.
I was thinking about this phrase as it relates to my children.  Do I really display this same attitude of hospitality towards them?  Do I live like I think that my house is their house? Do I invite them to spread their toys out all over the living room and sprawl on the kitchen floor to play? Or do I act like my house is a pristine museum (the term "pristine" used very, very loosely)?
Before this realization, I used to find myself scrolling through my Instagram feed at lunch rather than engaging my children in meaningful conversation, something I would never do with guests around my table.  I wouldn't so much as glance at my phone during a dinner party.
I have found myself at the dinner table, instead of lingering around our table and drawing out my children's hearts, rushing to clear the table, put away the food, and hurry everyone along towards bedtime. Would I rush my guests that way? Or would I intentionally sit and listen, letting the dishes wait for a few minutes (or hours)?  I would assure my guests that the dishes can wait.  I'd tackle them at 10PM before I would think of shooing anyone away from our table.
As I've been contemplating this, I've realized that for me hospitality towards my children at this particular season looks a lot like playing "fabric store" on Tuesday.  Lighting candles at dinner time, and baking cookies for no reason on Thursday.  Saying "yes" to Play-Doh even though it makes a royal mess.  Decorating their rooms in colors that make them smile, and looking at them in the eyes during lunch while listening to their stories.  It means loving them in all the ways I know how, and giving the best of myself to my children, rather than just saving the best for company.
Consider this post merely an "in progress" shot.  This isn't the "after;" this is the messy middle.  An honest confession in the midst of my imperfect parenting as I strive towards this goal that Christ's heart of hospitality would permeate every part of my being.
May God develop in me a true heart of hospitality, and let it begin first and foremost with my own family!