After Christmas, I was so overwhelmed with the state of our home I almost hired a housekeeper.
As I surveyed our living areas, all I could see were bits of wrapping paper, pine needles, candy wrappers, dozens of small stocking stuffers, books, crayons, socks, and so much more.
I felt defeated after cleaning the whole house soon after Christmas, because, despite all my effort (and Tad's too!), the house remained dirty.  Sure, the kids rooms were back to order, our bedroom wasn't a disaster, and the dining room table was cleared.  But the kitchen needed a deep clean, both bathrooms were still out of hand, and don't get me started on the windows.
Please tell me I'm not the only one who's ever come thisclose to hiring someone to help them clean!  No judgment from me!
All six of us are here in our home 98% of the time (Tad works from home and we homeschool), so Proverbs 14:4 most definitely applies to our family.  ("Where there are no oxen, the manger is clean, but abundant crops come by the strength of the ox.")  I don't need someone to help me every day or even every week.  I just needed some help digging myself out of the chaos!
As it turned out, the cleaning lady couldn't come that week, so I buckled down, grabbed my tote of Mrs. Meyer's cleaning supplies, and got to work. (Again.)
We vacuumed and swept and wiped up spots and scrubbed and disinfected and dusted.  By New Year's Day, the house was definitely presentable, and we were even able to keep it nice all week.
In the past, I've made a lot of homemade cleaners, but in this season of life, I keep reminding myself that I cannot do everything.  Right now, I'm totally happy with my Mrs. Meyer's and Seventh Generation cleaning supplies, and I just have to give myself some grace on the days I don't get much cleaning done.
I've chatted about ePantry here on the blog before, but I wanted to share with you a current special they have going on that I think you'll be interested in!
First of all, ePantry is a service that ships natural cleaning supplies, toiletries, and other items for your home directly to you (think Amazon Subscribe and Save… but eco-friendly!).  You get to decide what you want shipped and how frequently.  You pick all the products and you can cancel at any time.
I'll be honest… when I first started hearing people talk about ePantry I thought it was a bit overrated.  I figured I could just grab the products I needed at Target or on Amazon.  Turns out, most of the natural products (toiletries, etc.) I use can't be bought on Amazon currently (or at least not for a great price).  And we all know that a "quick trip" into Target can sometimes often result in a $40 splurge at the dollar section (why do they have to put that right by the front door??). Who walks into Target and just buys cleaning supplies? No one, because cleaning supplies are boring, so we throw a few "fun" items in the cart to make ourselves feel better.  Another bonus of shopping with ePantry is it's really easy to know exactly what you'll be spending for the month on those necessary supplies, so if you're sticking to a budget, you'll know what to expect.
I've been a member of ePantry for 5 months, and I have to say, I'm never more inspired to clean than when my monthly box arrives!!
So here's the current offer.
***This offer is now sold out, but you can get $10 off your first order here***
Spend $20, get a FREE Mrs. Meyer's Cleaning Kit that includes:
-Mrs. Meyer's Hand Soap (you pick the fragrance)
-Mrs. Meyer's Dish Soap (you pick the fragrance)
-Grove Walnut Scrubber Sponges
-Grove Kitchen Towel
-Casabella Cleaning Caddy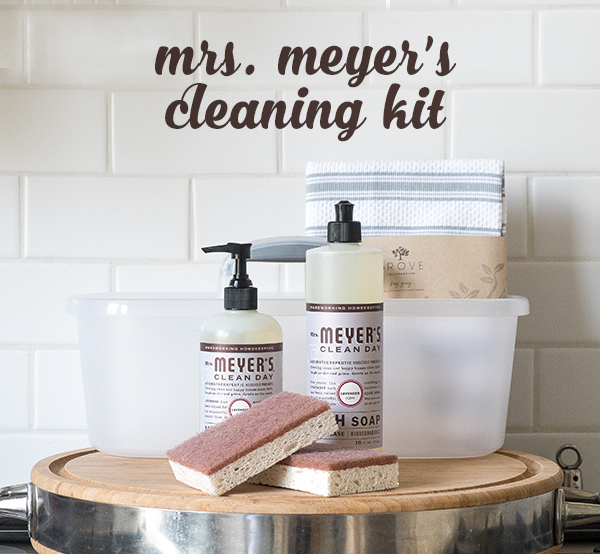 A little about these items
I love Mrs. Meyer's hand soap (cranberry scent is mmmmm!!!). The dish soap is great too and comes in an easy-to-use bottle.  The Grove kitchen towels are my absolute favorite. They are so incredibly soft, absorbent, and thick! I haven't tried the walnut sponges yet, but they should be arriving any day.  And of course you need a great caddy for carrying cleaning supplies from room to room!
As I mentioned, you'll need to spend at least $20 in order to get this awesome freebie.  It's totally worth it, since you'll get around $58 worth of eco-friendly, natural products for just $20.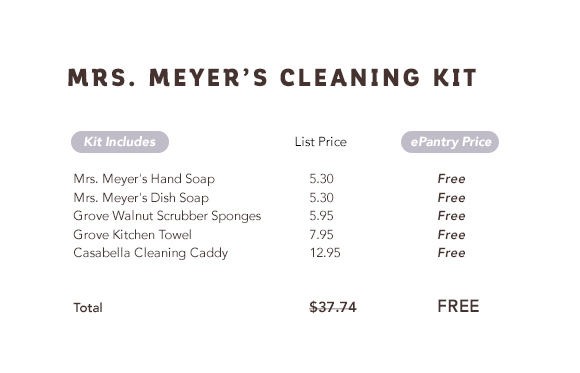 When you sign up with this link, you'll be prompted to answer a few quick questions about your household (only takes a minute).  Then, they'll automatically fill your cart ("pantry") with some suggested items.  Don't worry… you can change any of them.  (Just don't remove any of your freebies!)
Here's one way to get a big bang for your buck: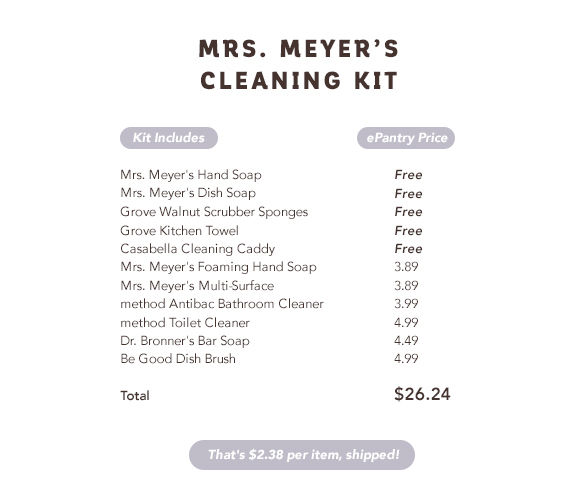 But that's not the only option.  Here's another:
-Mrs. Meyer's Cleaning Kit ($37.74 value – FREE)
-Dr. Bronner's Pure Castile Bar Soap ($4.49)
-method Antibac Bathroom Cleaner ($3.99)
-Mrs. Meyer's Glass Cleaner ($5.19)
-Mrs. Meyer's Multi-Surface Cleaner ($3.89)
-Seventh Generation Dish Soap ($3.89)
In this scenario, you would receive 10 natural cleaning products for $21.45 – only $2.15 per item!  (All of the above products are ones I use regularly and love. I especially like the Rosemary scent of the Mrs. Meyer's Multi-Surface Cleaner.)
It's really up to you to decide what products you need, will use, and just want to try!
To receive free shipping on your next order, make sure you select the free 60 day VIP Trial after you check out.
And there's no catch.
While, yes, this is a subscription service, you can cancel after your first order ships and never get another box from ePantry again. (But that would be sad.)  So take advantage of this incredible offer knowing that you're not locked into anything permanent!
Currently ePantry does not ship to Canada, Hawaii, or Alaska.
But it's more than just cleaning supplies!
While housecleaning has been the main topic of this post, ePantry has SO much more than just cleaning products!  In the last few months, I've bought eye cream, toothpaste, candles (the Grove Collaborative soy candles are the best), Argan oil, vitamins, and even coffee from them!  They also have diapers, toilet paper, feminine supplies, laundry detergent, and more.  You can compare prices with what you're used to paying and see if things are a good deal for you!
I should mention too that the customer service at ePantry is awesome.  They are so helpful, and I've found the best way to contact them is through the chat box on the website!
For existing customers too…
If you're already an ePantry customer (yay!), you can also get a sweet deal. You can have the Mrs. Meyer's cleaning kit for 50% off by clicking here.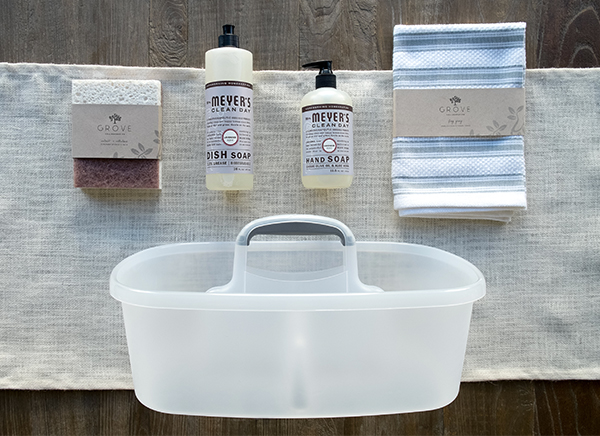 As I mentioned earlier in this post, I am learning that I really can't "do it all" right now. (Where did that myth of "doing it all" even come from??)  I can't make all my own natural cleaning products while cooking 21 meals a week from scratch while taking care of 4 kids while being a supportive wife while blogging while serving at my church while maintaining friendships.  So when I have the chance to use systems that will help save me time and money, I jump on board!  ePantry is a blessing in this season… keeping me both stocked up on cleaning supplies and natural toiletries, AND motivated to clean!
This awesome ePantry offer ends Sunday, January 17th, 6pm PST (or when 3,000 kits have been sold).  Grab your free cleaning kit now!
***This offer is now sold out, but you can get $10 off your first order here***
Disclosure: This post contains affiliate links. All opinions are my own. Your purchase through this site helps support this blog and our family. Thank you!