I don't know why, but January always makes me want to clean my house from top to bottom!  Maybe it's because taking down the Christmas decorations seems to start that process anyway, or maybe it's because there's a need to clean and reorganize in order to find a place for all the new Christmas gifts.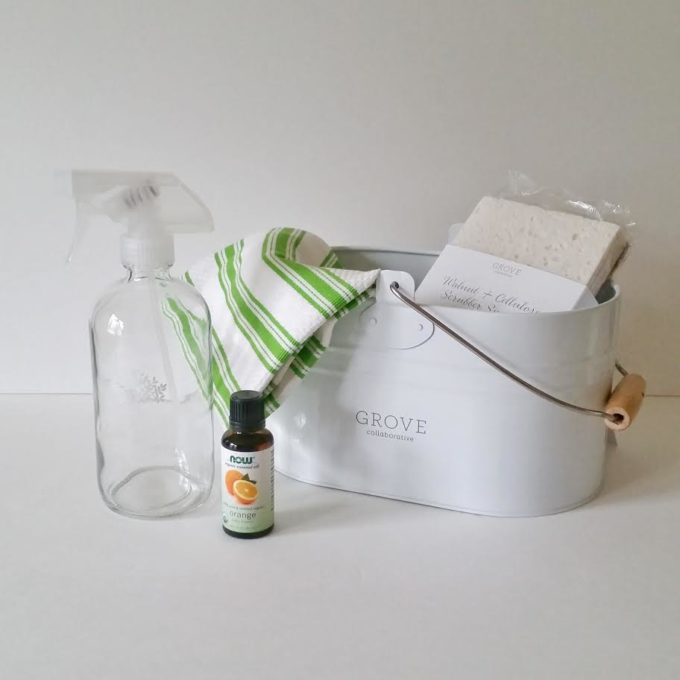 At any rate, I strive to clean my home with non-toxic products, such as homemade cleaners (made with simple ingredients) and products from companies I trust, like Seventh Generation.
Today I wanted to share with you a really great offer that will get YOU off to the right start cleaning your house with non-toxic cleaners.
You've heard me talk about Grove Collaborative (formerly ePantry) before.  I love Grove!  I use their service to purchase cleaning supplies, natural shampoo, and much more for my home.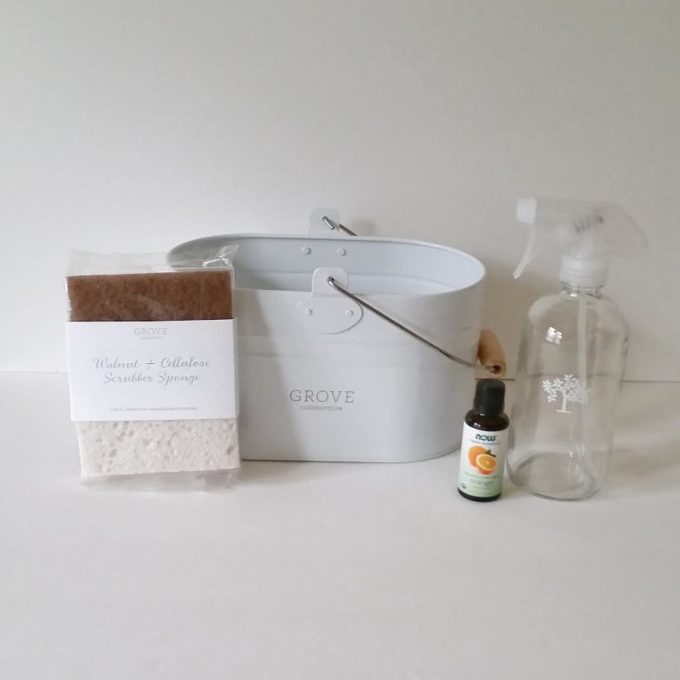 This week only, Grove is offering a special freebie for new customers!  New customers will receive a cleaning caddy, a glass spray bottle, two scrubber sponges, and a bottle of organic orange essential oil!!  Wow!  Existing customers still get a special offer: free scrubber sponges.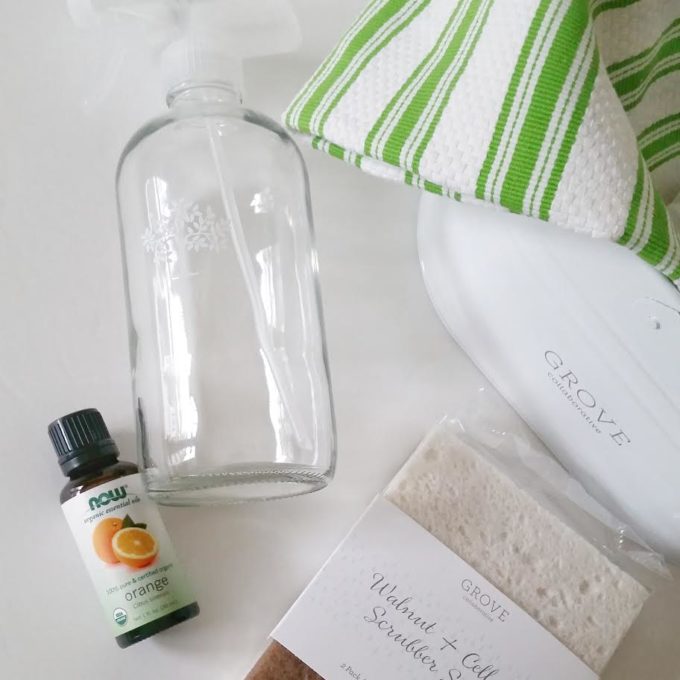 You can use the orange essential oil and the glass spray bottle to make an all-purpose cleaner that will tackle all the messes at your home!  Orange oil is excellent for purifying and disinfecting since it has antimicrobial properties!  I've included a few simple recipes at the bottom of this post.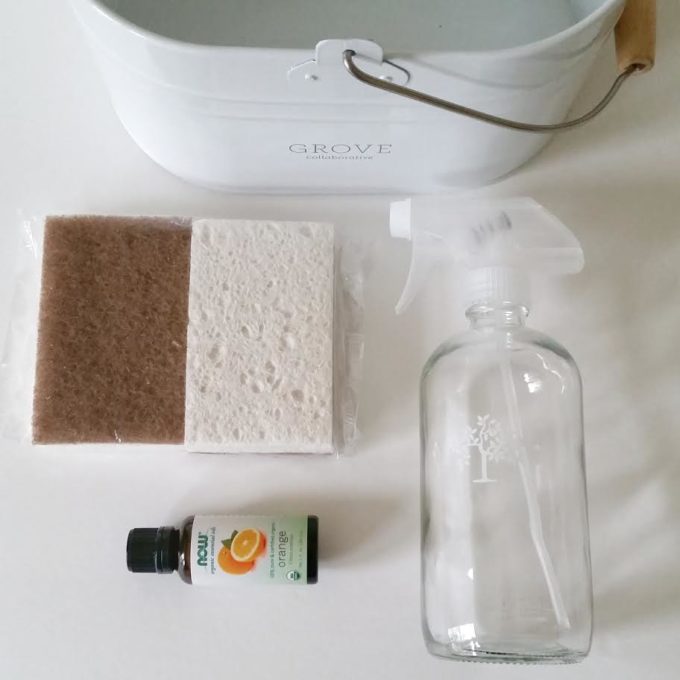 The glass spray bottle is SO nice and looks pretty if you leave it out!  Using a glass container is important when making homemade cleaners with essential oils because some oils can eat away at plastic!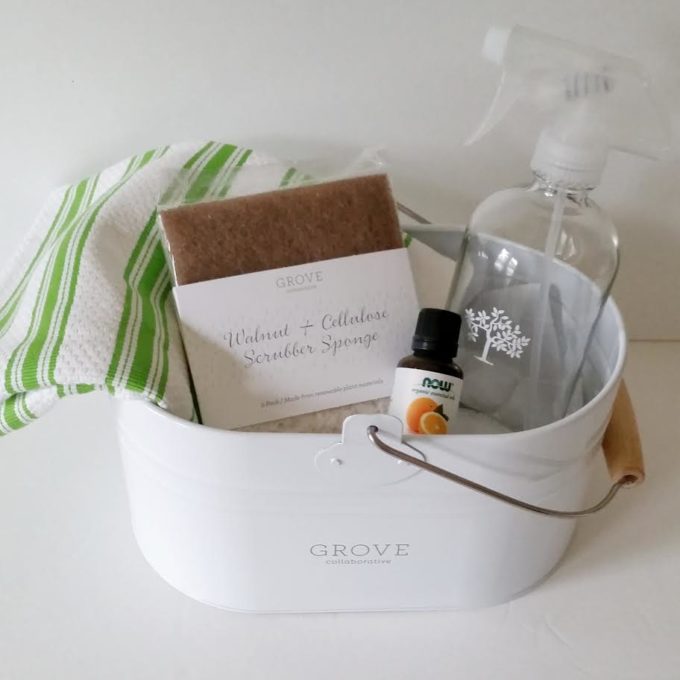 The caddy is so awesome too!  I love using it to tote my cleaning supplies from room to room.  I can think of a bunch of other uses for it too!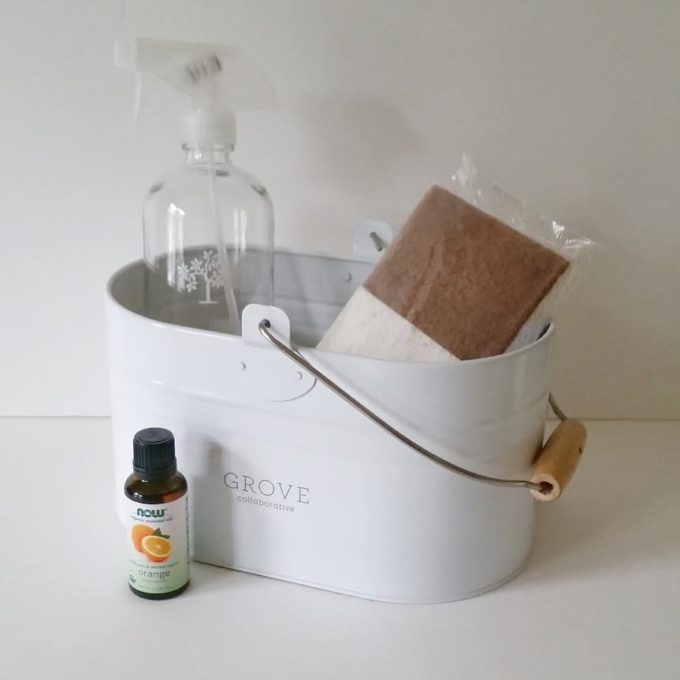 So are you ready to get your freebies?  Here's all you need to do:
1. Sign up for Grove Collaborative here. You will receive the Toxin Free Kit for free when you sign up! Existing customers (click here) will receive free Grove Walnut Scrubber Sponges with your next order.
2. Answer 4 quick questions about your home that Grove Collaborative will then use to customize your first basket — this takes under 30 seconds!
3. Once you've answered the questions, you can finalize your basket of products to suit your household needs by adding or removing items.
4. To receive this offer, your order needs to be a minimum of $20. Choose the combination of products and scents you love and want to receive in your first box.  (Need some ideas?  I love Earthpaste toothpaste, Caldrea hand/dish soap, Dr. Bronner's liquid castile soap, Grove Collaborative dish towels, and Grove soy candles!  Even more ideas in this post!)
5. You made it! Click Finish & Pay and place your order.
Tip to save: Once you've submitted your Grove order, you'll be signed up for the free 60 day VIP trial. As a VIP, you'll get free shipping, free gifts, price matching, exclusive sales and personal service. It's a great way to try out Grove and discover some new products you'll love!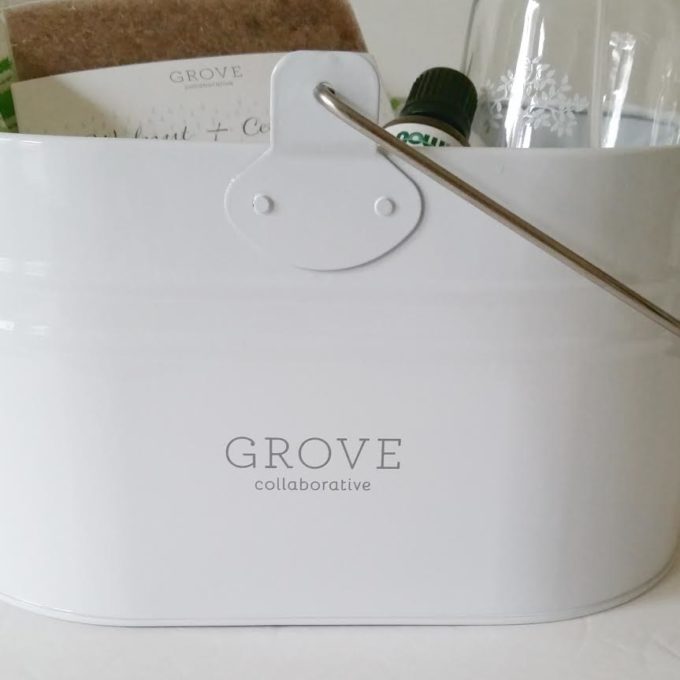 And now, for the orange cleaner recipes I promised!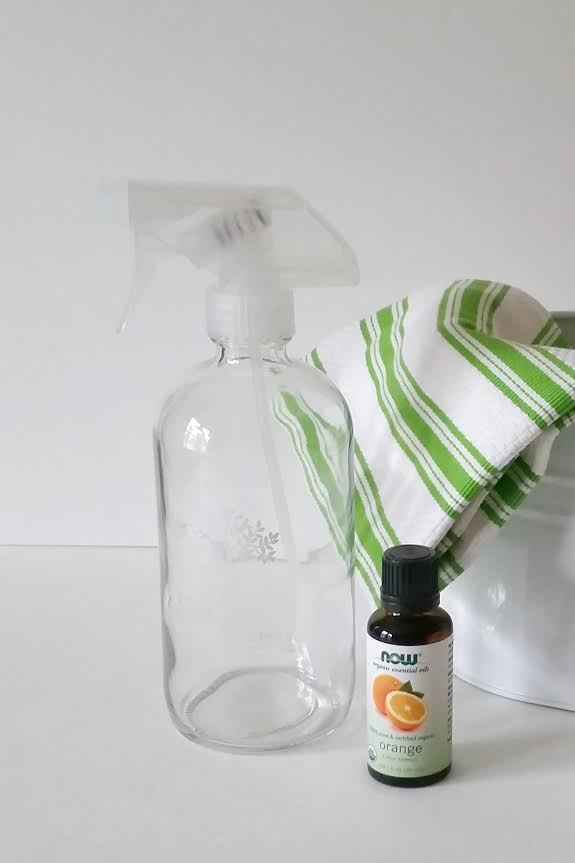 DIY All-Purpose Cleaning Spray
This cleaner works wonders for cleaning a grimy stovetop or sticky fridge fingerprints.
Combine 2 cups of water, 2 tablespoons of liquid castile soap, and 10-20 drops of orange essential oil to a spray bottle and shake well.  For tough messes, spray it on, wait 5 minutes, and scrub with the Grove walnut scrubber sponge.
DIY Orange Countertop Disinfecting Spray
This orange spray helps give me peace of mind knowing that the counter, sink, and cutting boards are disinfected!
Fill a small glass bottle bottle halfway with water, then fill almost to the top with vinegar. Add 5-10 drops of orange essential oil. Shake well.  Spray on counters, sink, cutting boards, and anywhere you want to disinfect!
DIY Orange Soft Scrub
This scrub is perfect for cleaning tubs, tile, and toilets!
In a glass bowl, combine 3/4 rounded cup baking soda with 1/4 cup liquid castile soap.  Add in 1 tablespoon water and stir.  Finally, add 1 tablespoon vinegar and 5-10 drops orange essential oil.  The consistency should be a soft paste.  Store in airtight container.  When you're ready to use, apply to the surface and let it sit for 5 minutes (10 for bigger messes).  Scrub, then wipe clean with a soft cloth.
Hope you enjoy these easy non-toxic cleaning recipes!
Don't forget to grab your FREE orange essential oil, walnut scrubbers, cleaning caddy, and glass spray bottle from Grove Collaborative HERE!
Last day to get this special offer is Tuesday, January 17 at 6pm PST.
Disclosure: This post contains affiliate links.