This post was originally published in September 2016. I am reposting it today because this special deal is back for just 48 hours! If you want to join me in making healthy lifestyle changes in 2017, keep reading!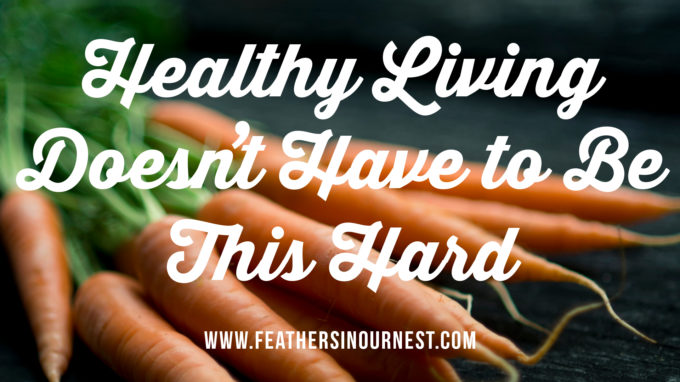 Do you ever feel overwhelmed by healthy living?
It's not that you don't understand or agree with why it matters. You know the benefits of eating whole foods, raising healthier kids, getting fit, and using alternative remedies.
But sometimes it's a whole lot easier to say than to actually do, right? Believe me, I've had the same struggles and questions as you. What on earth do you eat (and especially, what do you feed your kids)?  How do you afford to buy healthier products? And where do you find the time to make and do all this stuff?
I know what it's like to feel that healthy living shouldn't be this hard, and it shouldn't have to cost so much, either! Don't you ever wish someone would just tell you exactly what you need to know and how to make these changes for less?
Because when you have the best info and resources right at your fingertips, healthy living comes together so much more easily.
You know what to cook for your family (what is "real food," anyway?). You're more confident in choosing natural alternatives (tell me again when to use essential oils…). You find ways to save money without comprising on what's important to you (isn't eating "healthy" more expensive?).
You learn to replace store-bought products with DIY options that actually work and are easy to make (I can make that?!). You feel better (and even look better, too). Healthy living becomes less stressful and more enjoyable.
That's why Stephanie and her team have put together the popular Ultimate Healthy Living Bundle for the fifth year in a row (yay!).  I've been buying this bundle every year and I'm truly blown away by the quality of the bundle each year.  Over 64,000 families (and counting!) have snatched up this complete library of natural living resources for one teeny tiny price.  Many of you dear readers bought the bundle back in September!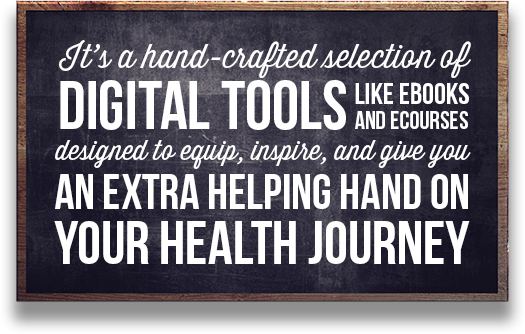 You'll have to see it to believe it, but the package includes 83 digital products and it's worth over $2,400!
Now I know this sounds too good to be true, but here's the main reason they can sell such a high-quality bundle at this price: it's only for sale for 48 hours.
For the cost of a bag of groceries, you'll get a complete healthy living library to help you:
prepare whole & delicious real food
get the toxins out of your house for good
understand and use natural remedies
breathe new life into your exercise habits
learn about important women's health issues
raise exceptionally healthy kids in an unhealthy world
plus learn about gardening & homesteading, meal planning, weight loss and so much more!
These are such high-quality resources… no junky eBooks in here!  Each and every item included in this bundle is excellent.  While you may not read every eBook or take every eCourse, there will be MANY resources that you do glean from.  It's worth it just for those!
Could you do something for me for a second?  Click over to see the bundle.  Then pick out the five resources you are most interested in, and write down their value.  Then come back to this post and tell me the value of those five things.
I'll wait.
…
Are you back?  When I did this, the five resources I was most excited about came in at around $80! To me, that made buying the bundle a no brainer!  I get those five resources I KNOW I'll use, plus 78 others to have on my "shelf" (ahem, digital library) for when I want to reference them in the future.  Sweet deal!
Tell me in the comments which resources make this bundle a "no brainer" for you!
Plus, it comes with almost $250 worth of bonus products including:

And if all of that isn't enough, I also have an exciting EXCLUSIVE bonus offer for Feathers in Our Nest readers! I created a 2-Week Clean Eating Meal Plan as a special thank-you gift to all readers who purchase the 2016 Ultimate Healthy Living  Bundle through my link. You all are so sweet to support this blog & my family… this is the least I can do to say thank you!!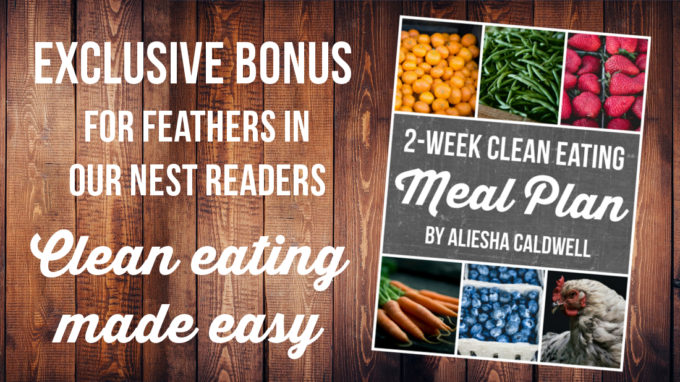 Each week contains five real food dinner recipes that are gluten-free, grain-free, legume-free, low-calorie, dairy-free optional, and DELICIOUS!  These are veggie-loaded, lean-protein recipes that I make over and over for my family!
Just fill out this form once you have purchased your bundle!  After the sale is over, I will email your bonus to you!

Besides being so incredibly helpful and inspiring, one of the things I like best about the bundle is the price. By offering the bundle for a short time only, they're able to give you access to over $2,400 worth of high-quality eBooks, eCourses, and printables for a whopping 98% off!  Dare you to find a better deal than that!
Here's how it works.
Visit their website (a video will autoplay, so if you have a baby napping, lower your volume a bit first), take a quick look at all the amazing stuff that comes in this bundle, then click the green "Buy now!" button to go through their simple and secure 3-step checkout process.
You'll receive an email with a login to the online access portal, where you'll begin downloading your eBooks, signing up for your eCourses, and redeeming your free bonus offers.  (You can download it ALL in one click! But no sweat… you have a whole year to download everything.)
Use their Getting Started Guide to pick the topic you want to tackle first (eczema, paleo, picky eaters, etc.) and start making healthy changes!
The most important detail, though, is that this bundle is available for just 48 hours! After Thursday night, December 29th, the sale ends and you'd have to buy all of these products individually.  No more flash sales. No more chances.
The bundle is even backed by a full money-back happiness guarantee, so you can make sure it's right for you.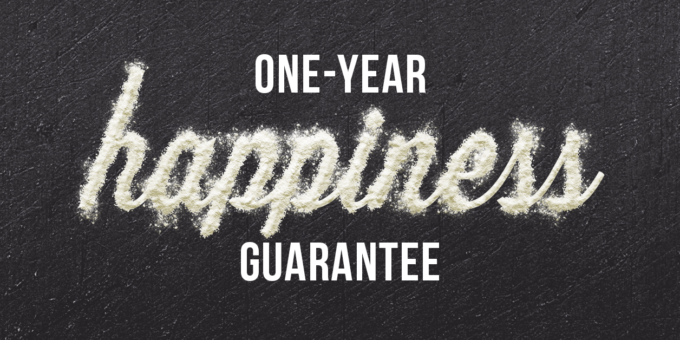 No one should have to put off a healthier lifestyle because it costs too much or they can't get the help they need!
Our family has felt so much better by making changes to the way we eat, the products we use, and how we take care of ourselves. It's made such a difference in our family and I want the same for you.
Get the healthy living mentors you need for your lifestyle. Learn more or get your bundle HERE.
(Psst… the bundle goes away at 11:59pm EST on Thursday, December 29th, so don't wait!)



Disclosure: This post contains affiliate links. Thank you for supporting my family and this blog!