I hope you all had a wonderful Thanksgiving!  We had a great weekend with family (and, of course, enjoyed TONS of good food)!
Now that it's officially the Christmas season, it's time to talk about holiday cards!  I love taking the time to design, order, and mail out greetings to my friends and family members, and while I know some people prefer not to send out cards anymore, it's a tradition I don't think will ever go out of style!
Today I'm partnering with Minted to share some tips for creating perfect holiday cards!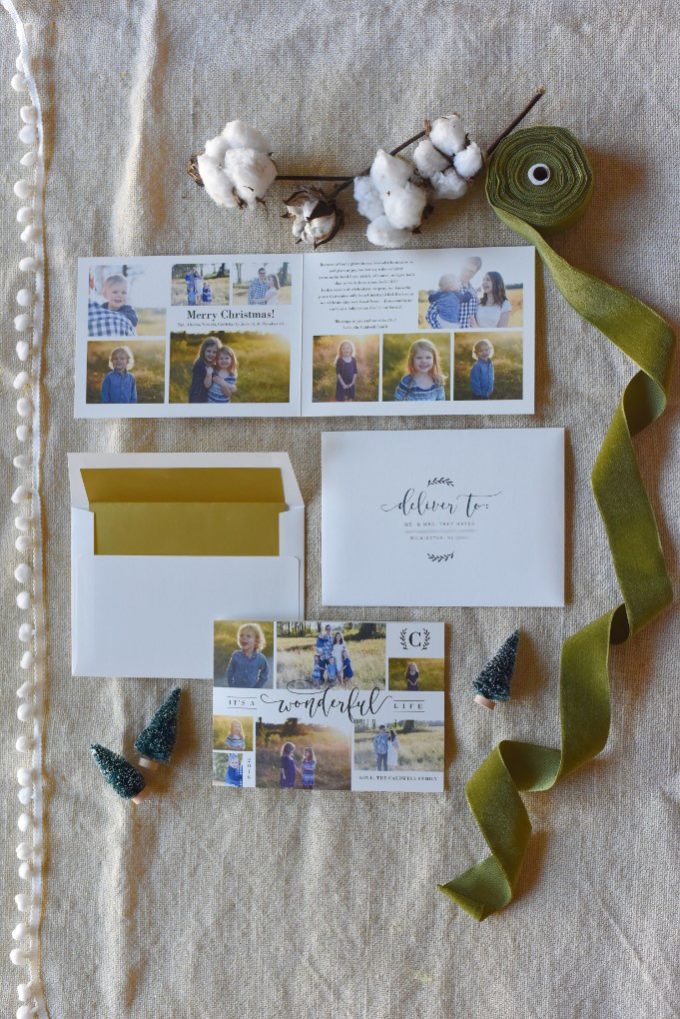 Tips for Creating Perfect Holiday Cards
Decide on photos first
With so many options to pick from when it comes to card designs, I find it is easier to decide on the photo (or photos) that I want to use, and then pick the card that fits best with my photo plan!  On Minted.com, you can easily select which designs you want to see based on the number of photos (1, 3+, etc.).
Pick a style that reflects you
Select a design that fits with your family's personal style.  I'm obviously all about photos and scripty text, so the design I chose was perfect for us!  Maybe you like clean, minimalistic designs, or bright, non-traditional holiday colors.  You'll definitely be able to find a design that fits your aesthetic!
Make it personal
Besides adding family photos, you can also personalize your design (in many cases) by changing the colors, the shape of the card, or (my favorite) adding a little paragraph about your family's year or a special personalized greeting.
Order early
Now is the time to order rather than waiting until mid-December.  You will have more flexibility in shipping options, plus you'll have more time for stuffing envelopes and still getting your cards out on time!
Have the envelopes addressed
Did you know that Minted will address your envelopes for free?  I know!  It's amazing.  Pick your card design, then look for the little note on the sidebar that says "FREE Recipient Addressing."  All I did was upload my addresses, and then Minted printed the recipient addresses for me.  This saves a ton of time and will definitely help you get those cards out in the mail on time!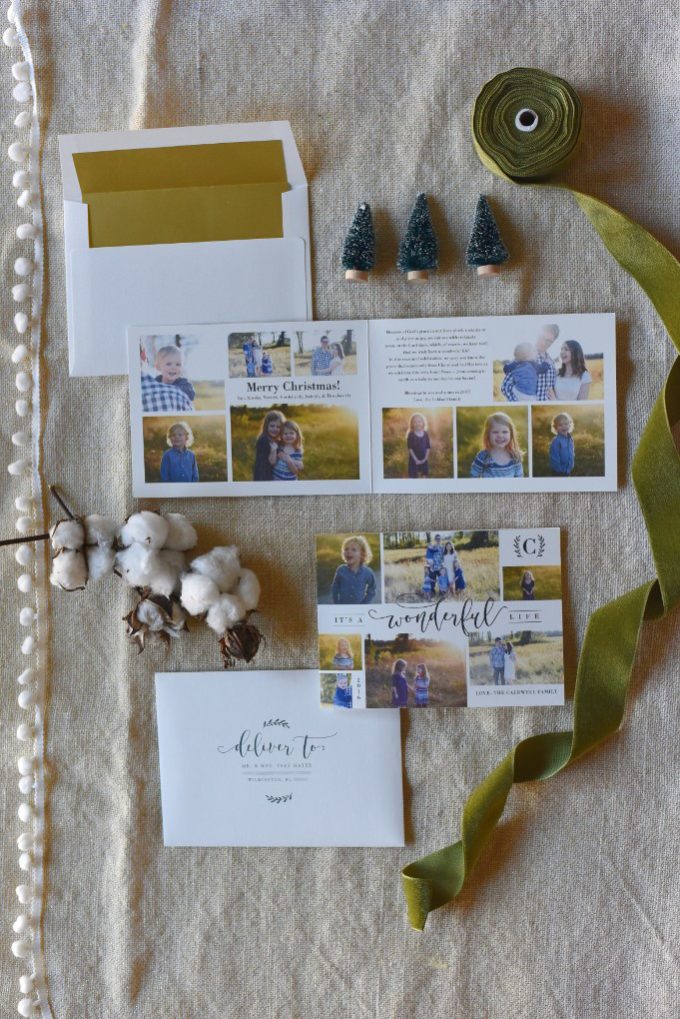 I was so excited with how my Christmas cards turned out!  I picked a design that had lots of spaces for pictures (this one) so I could share a whole bunch of our family photos!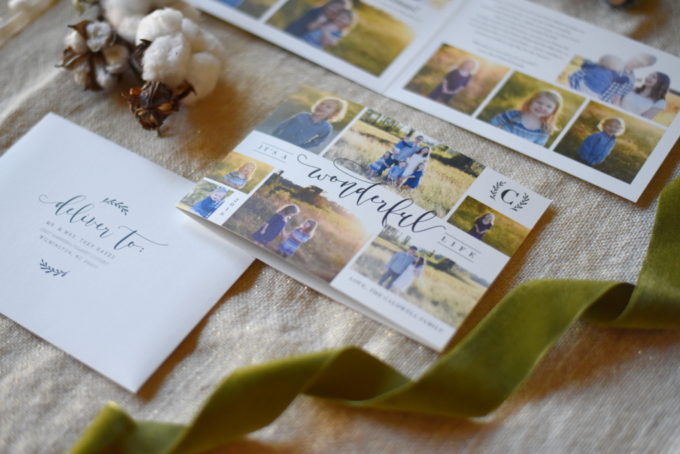 I loved how easy it was to add my photos on Minted's website.  I could easily swap photos around and resize them as needed.  So simple!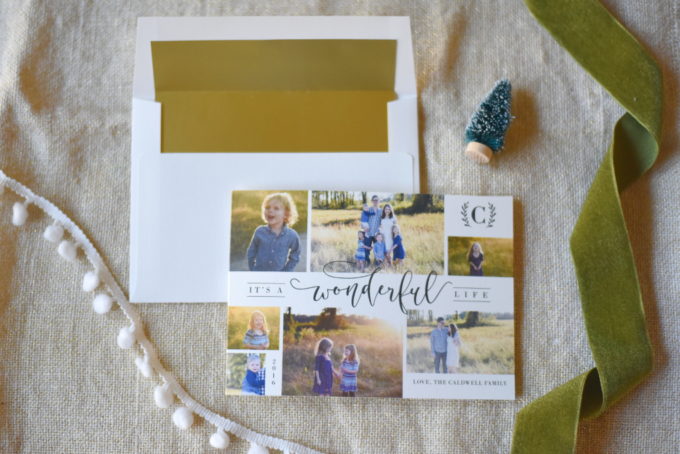 I chose gold envelope liners to add a little something extra special to my greetings.  I love that it makes such a beautiful first impression!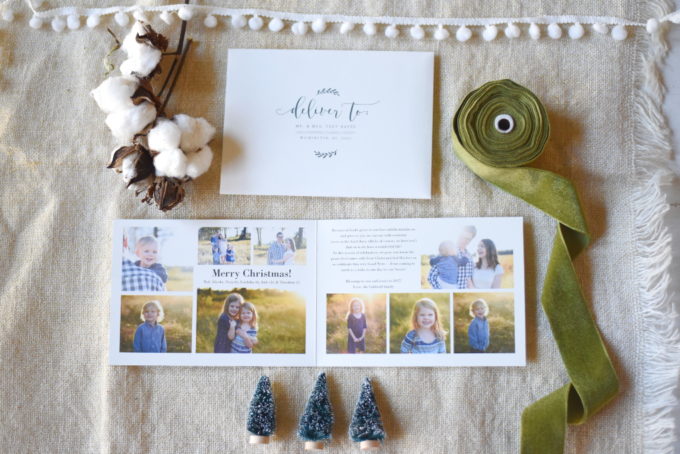 I chose a design that opened up for even more sharing potential!  I was able to add even more photos, as well as a little personal paragraph with some special words I wanted to say.  The back of the card is blank, which gives me a space to write a little note if I want to.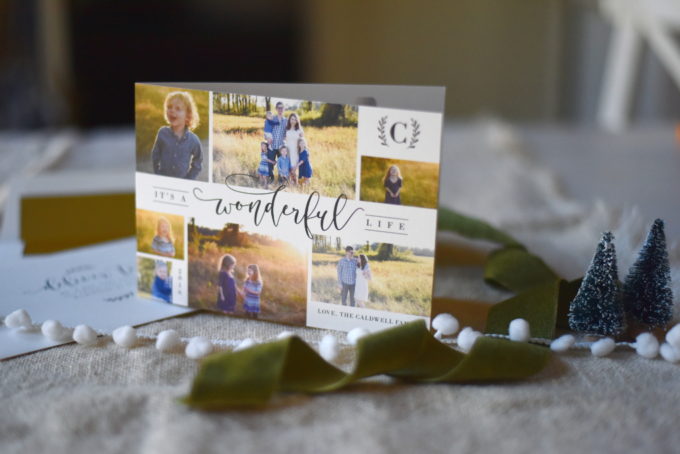 Isn't the little "C" monogram on the front fun?  It's sweet little touches like that which make our card feel personal and designed just for us.  Love it!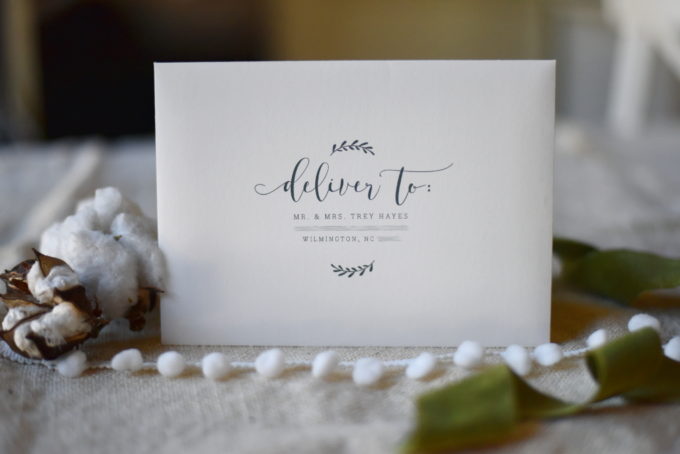 Like I said, having Minted address our envelopes for us is a HUGE timesaver!  Of course I always love the chance to practice my hand-lettering, but I'm so glad that this year I can just add stamps and call it a day.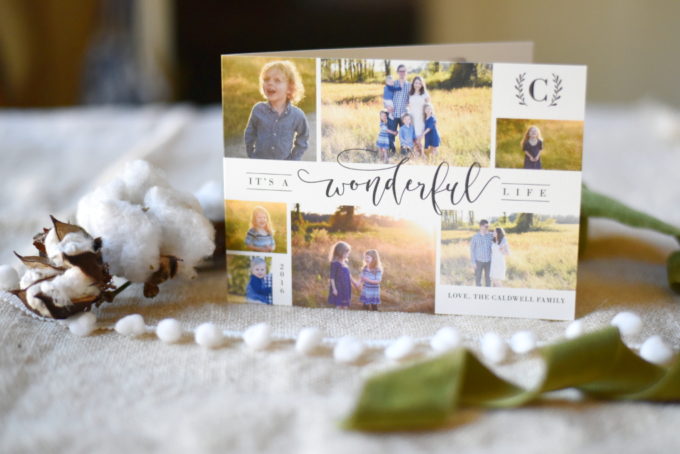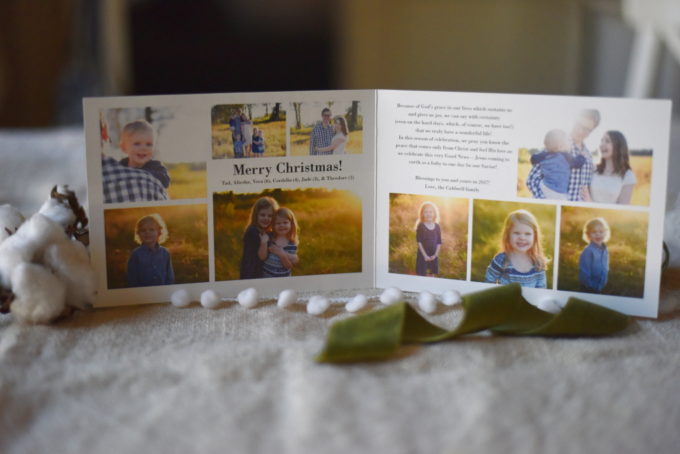 I know I'll treasure this year's card and enjoy looking back at the sweet photos of my children and family.  I hope that the Christmas greetings we send will be a blessing to others!
Here are a few other Minted holiday card designs I LOVE! (Click on the image to go to the card design at Minted.)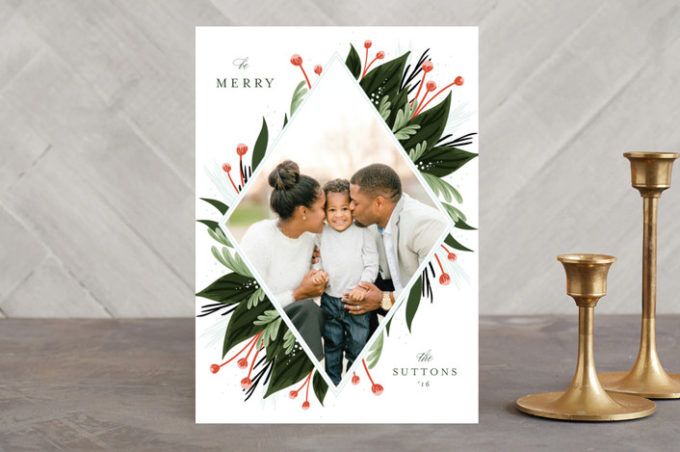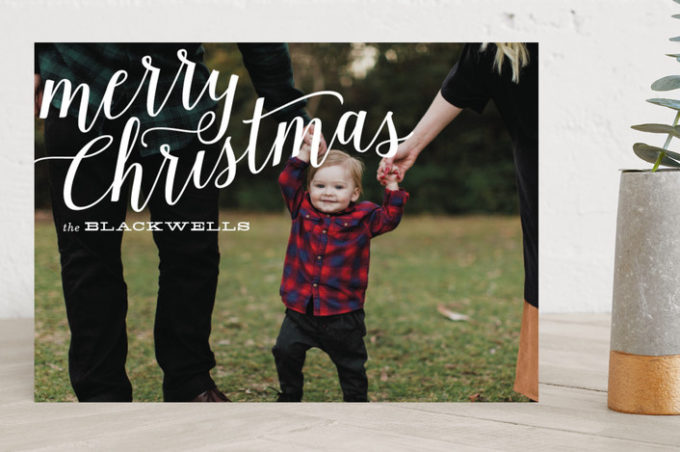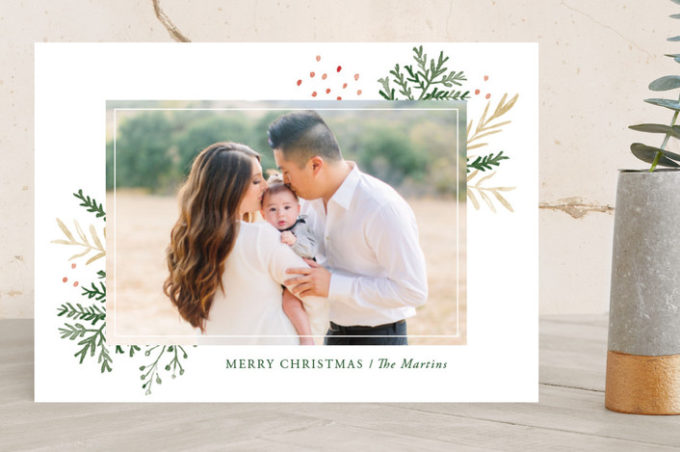 AND NOW… I am SO excited to share with you two very special things!
First of all, Minted is having a big Cyber Monday sale!  You can learn more about that right here and start shopping for your holiday cards!
Secondly, Minted is generously giving away $125 credit to Minted.com for TWO Feathers in Our Nest readers!*  How great is that?
Click here to enter the giveaway!  Good luck!
*Open to U.S. residents
Feel free to pin this post for later!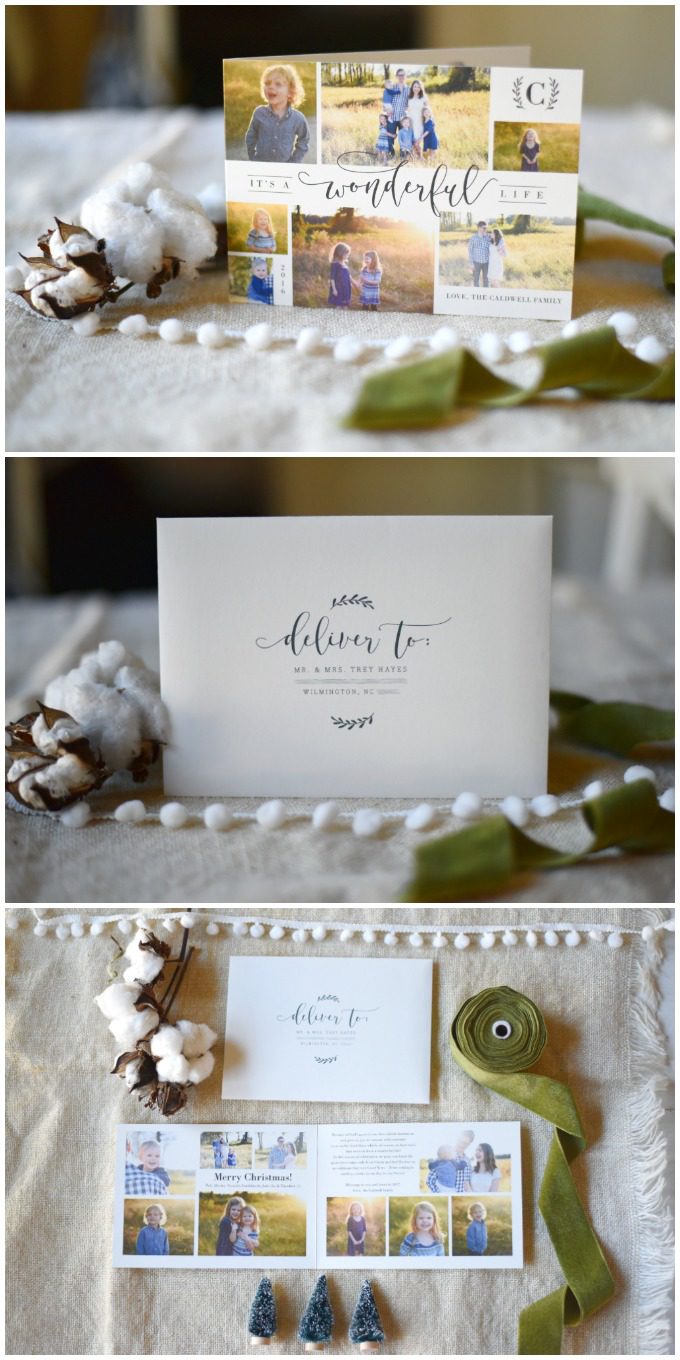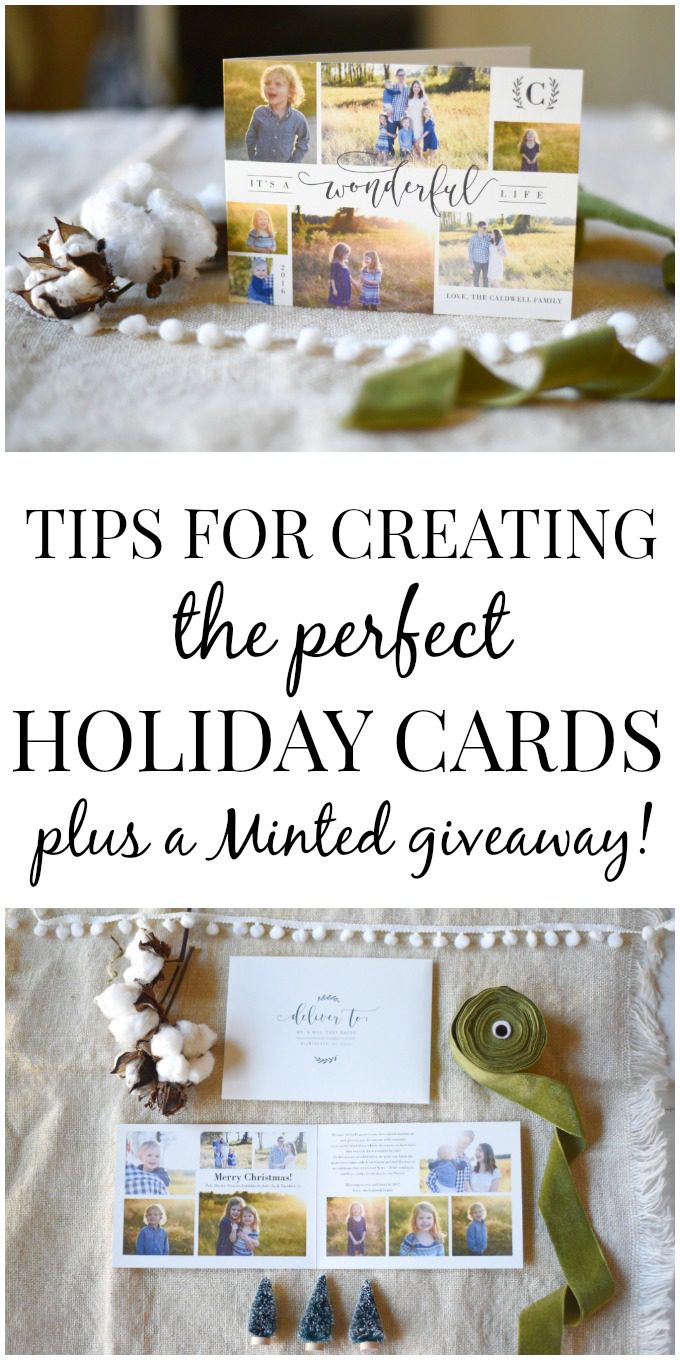 Disclosure: I received compensation for writing this post in the form of product from Minted. All photos, text, and opinions are my own. This post contains affiliate links.