As you all probably know already, I love to thrift shop!  I've been shopping at thrift stores since before it was "cool," and I am always excited to tell people who compliment my outfit that I bought it at Goodwill!  Unfortunately, we don't have an abundance of thrift stores in our area.  The ones we do have are not as good as the ones I used to shop at, plus my time is a lot more limited now for clothing shopping than it was before I had kids.
This year I became acquainted with thredUP (through another blogger, actually!) and I've been so thankful for the wonderful bargains I have been able to find without ever leaving home!  (Not to mention the fact that I haven't had to sort through racks and racks of things that aren't my size!)
The first order I placed with thredUP was for maternity clothes. I bought 8 items (a dress, two skirts, a bathing suit top, and a few short-sleeved tops) and ended up paying an average of $7.50 an item!  The brands were mostly Merona (Target), Motherhood Maternity, and Old Navy.  It took one week to get the box (from California to North Carolina).  The awesome thing about buying used maternity clothes is that they hardly look worn!  They may have only been worn for 3-4 months.  This box of clothing would have cost $243 new.
I just got my second order from thredUP this week.  I paid an average of $9.59 for each of the items (10 total), and the order included long sleeved tops, blouses, a blazer, jeans, sweaters, a dress, and more. These are items I needed for the fall, and all of them are nursing-friendly (score!).  The brands were mostly Ann Taylor LOFT, Nine West, Caslon, and Gap. This clothing would have cost $466 at full retail value. Again, it took about a week to arrive after placing the order.
I also have another order on the way.  I decided to go ahead and get a classic trench coat I've been wanting for a while!  I've looked at several stores, but it's not the right season to buy one, apparently. ThredUP had lots of options and I was able to find an awesome one for a great price (from Banana Republic)!
Each order comes in a cute polka dotted box and the contents are wrapped in tissue paper.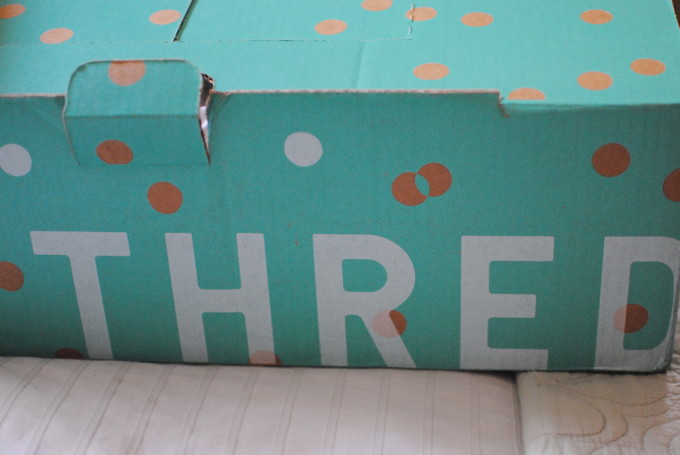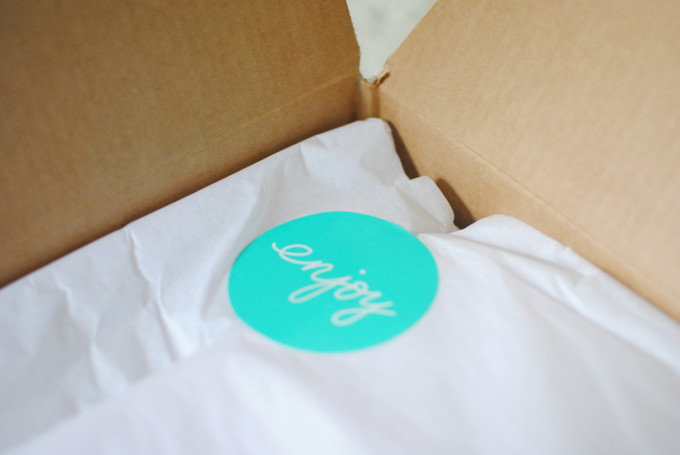 So today I wanted to share with you my best tips for shopping at thredUP!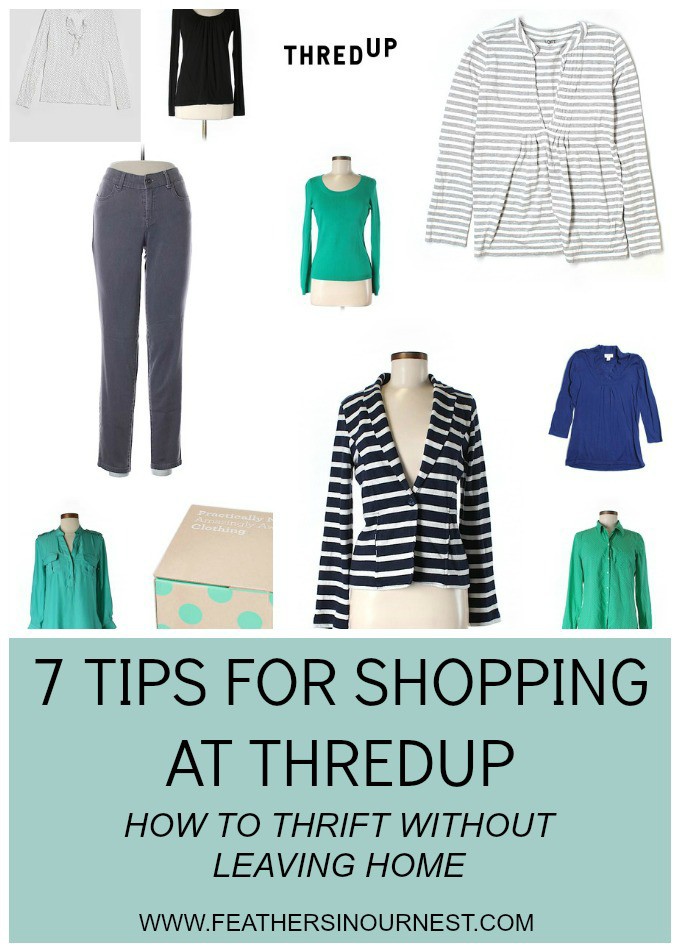 7 Tips for Shopping at thredUP
1. Browse on the full web version of the site
While I often use the mobile site and the app (more on that in a second), I have found that the best way to find great items is by using the full version of the site.  I love how easy it is to select sizing info (clicking multiple sizes is OK and recommended!) and brands.  Plus, under each category you can select specifics regarding cut or fit (skinny jeans only or just long-sleeved blouses).  When I first became acquainted with thredUP, I only visited the mobile version and was pretty overwhelmed by how MUCH they had for sale.  When I realized how awesome all of the browsing features were on the full site, it really helped me find exactly what I was looking for!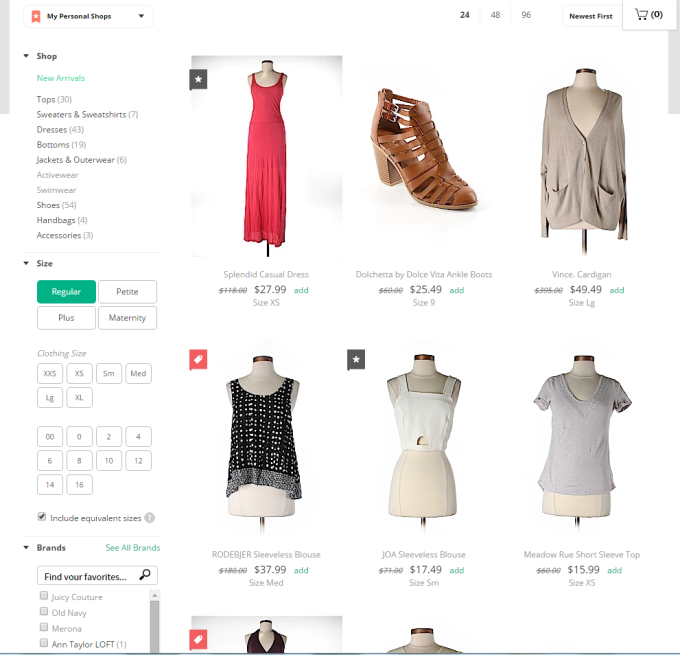 2. Install the app for coupon codes
I also have the app installed on my phone so that I can browse easily from my phone, but also so that I can receive coupon codes!  The codes are usually only valid for a couple of hours, so act fast if you receive one.  I just got one yesterday!  I am used to getting 2-3 coupon codes a week from the mobile app.
3. Create personal shops
A really great feature of thredUP is how you can create personal shops!  Simply browse as normal, creating filters based on category, size, brands, etc. and then save as a personal shop.  Then, the next time you visit thredUP, you'll be able to see new arrivals in your shop.  For example, I have a personal "shoe store" with only shoes in my size.  This really makes browsing a lot faster and more fun, since I'm only seeing things that will fit me!  I have a few other shops as well, including Ann Taylor LOFT tops, and classic maternity pieces (in my size, of course).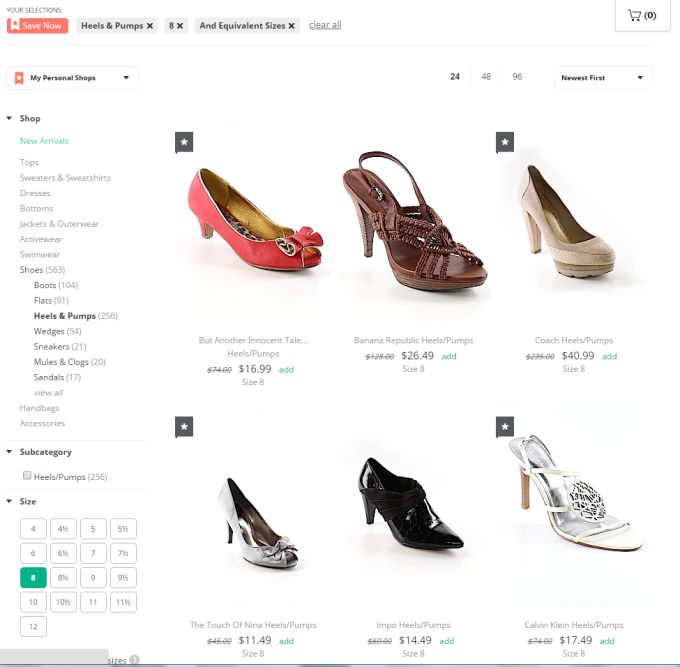 4. Get free shipping by spending $70
I would rather place a big order and get free shipping than place several smaller orders and pay shipping on each one, but I guess that's a personal preference!  The shipping is a flat $5.99 on each order under $70, but free on any size order over $70.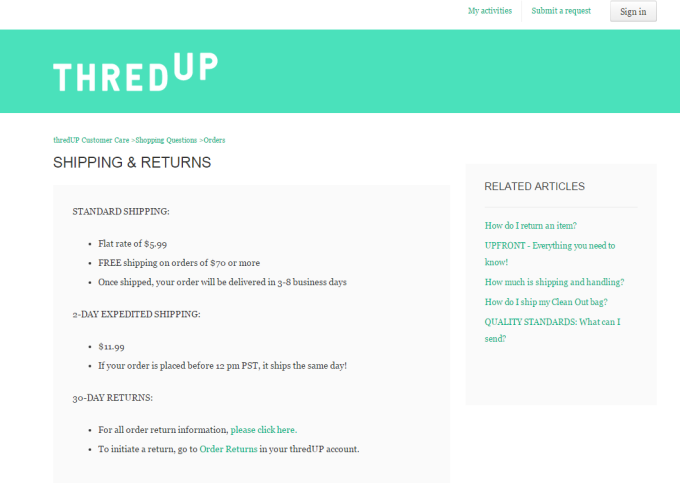 5. Don't be scared off by the "tiny flaw" items
I've purchased lots of items that were marked as having a "tiny flaw," but when the items arrived, I couldn't even figure out what they were talking about!  Everything I've ordered has been in fantastic condition.  I've come to really trust thredUP and I know they only sell items that are completely wearable!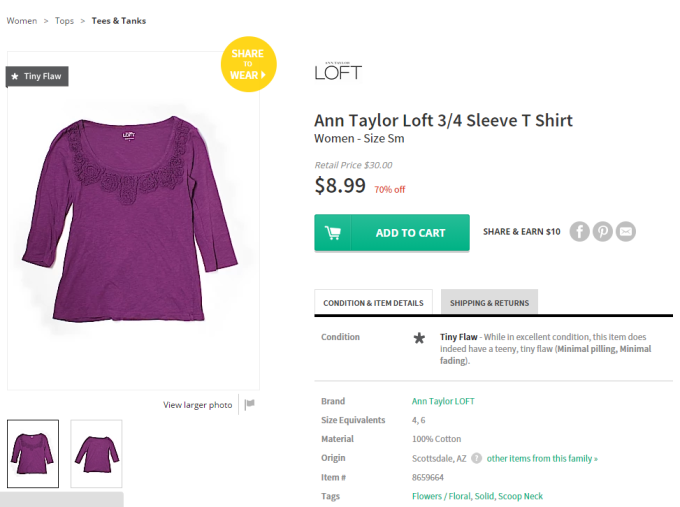 6. Use the search bar to find specific items
You don't have to browse by category all the time.  You can also type the specific item you're looking for into the search bar.  For example, I searched "trench," then used the bar on the left to sort by size and color.  (Wish I could do this at my local Goodwill…ha!)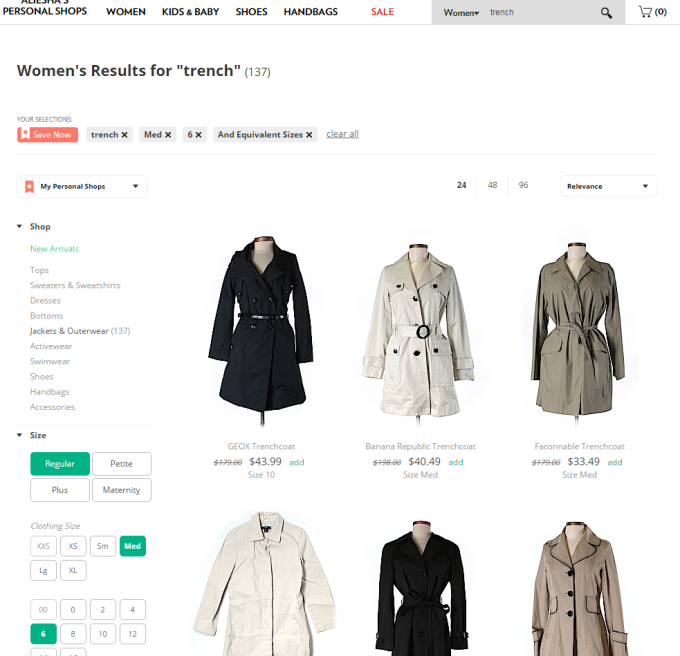 7. Use the referral program
Once you've purchased from thredUP, share the love!  For every friend you refer (through facebook, twitter, email, or otherwise sharing your link), you'll receive $10 store credit and they will receive $10 off their first purchase as well!  Update: For a limited time, the store credit is $20 (and you get $20 for referring)! YAY!  You can mention to them that thredUP has over 50,000 items for under $10, so they can probably score something for free.  You can then spend those referral credits you earn on future purchases from thredUP.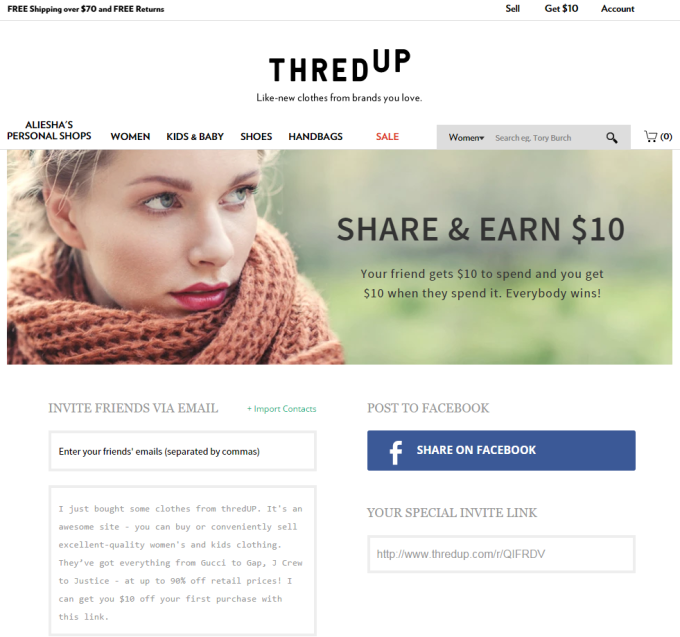 Updated to Add: Bonus Tip!
If you shop through ebates, you can earn 2.5% cash back each time you shop at thredUP! Yay!
Ready to give it a go?  Start shopping at thredUP with a $10 credit!  (If for some reason this link doesn't give you the $10 credit, shoot me an email and I'll send you an invite via email!)
Do you have any other questions for me about how thredUP works? Have you shopped at thredUP before? Do tell!
Disclosure: In this post I have included my thredUP referral link. If you choose to make a purchase through my link, you will save $10 off your first order, and I will also receive $10 credit. Win-win!