We've been using our new meal planning schedule for about a month now, and I wanted to give a little update.
Is this method working for our family?
The answer – YES!
We are loving our new meal planning schedule.  It's taken a huge load (mentally) off my shoulders, and in some ways I think it's actually lowered the amount of time I spend in the kitchen each day since I'm choosing very simple (but delicious) meals that do not involve a lot of work right at dinner time.  I also try to do prep work on the weekend or earlier in the day to make the hours right before dinner time more pleasant.
I know I'm really weird… I adore cooking, but I hate meal planning. I love long, leisurely times in the kitchen prepping a gourmet meal, but I DO NOT do this on any regular basis (see "four children").  I thrive on creativity in the kitchen, but I also want a routine that I can depend on.  I love trying new food, but I need to have a consistent plan or we'll end up in a rut eating the same boring foods.  I think I sound a bit schizophrenic!  But this solution is TOTALLY working for us.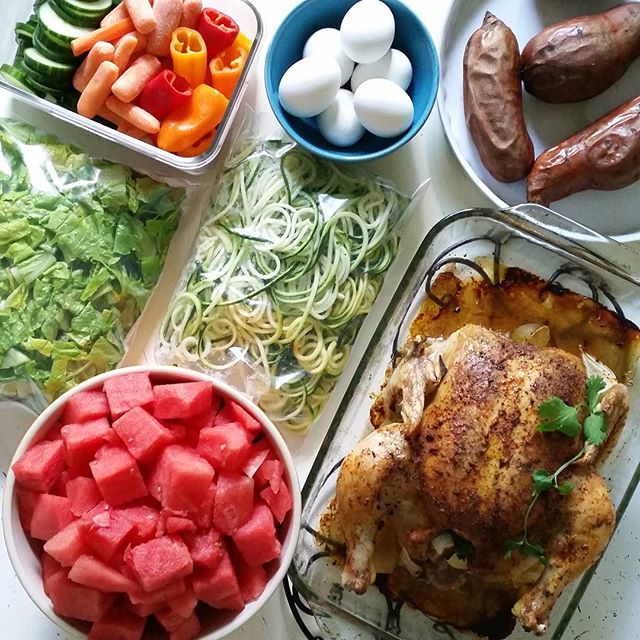 Again, here is our schedule.
Sunday – rotisserie chicken
We haven't done a rotisserie chicken every week, but I do make something we can eat for at least two meals.  I've done London broil or a roasted chicken in the oven.  We eat that on Sunday and also Monday.
Monday – soup or something with chicken
Like I said, we don't always do chicken on Sundays, but I plan on using Sunday's leftovers in Monday night's dinner.  It's working well to do that! If for some reason I don't have leftovers, I make something like frittata or taquitos.  I'm sure we'll eat soup more once it cools down in the fall.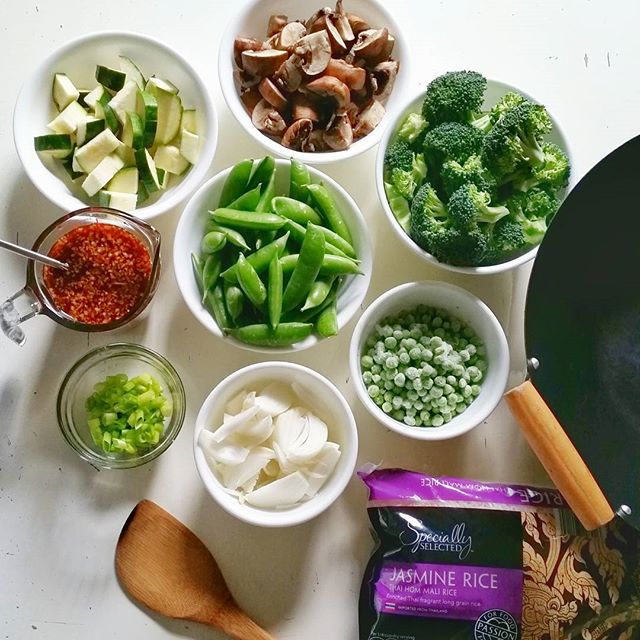 Tuesday – stir fry
Always a win!  I'm sharing about my go-to stir fry recipe in my email newsletter Friday morning, so sign up here if you want to receive that in your inbox.  We do veggie stir fry, beef & broccoli, shrimp & snow peas, chicken & mixed vegetables… whatever we're the mood for (all with the same easy go-to sauce)!  It's fun trying new combinations and using veggies I bought at the farmer's market.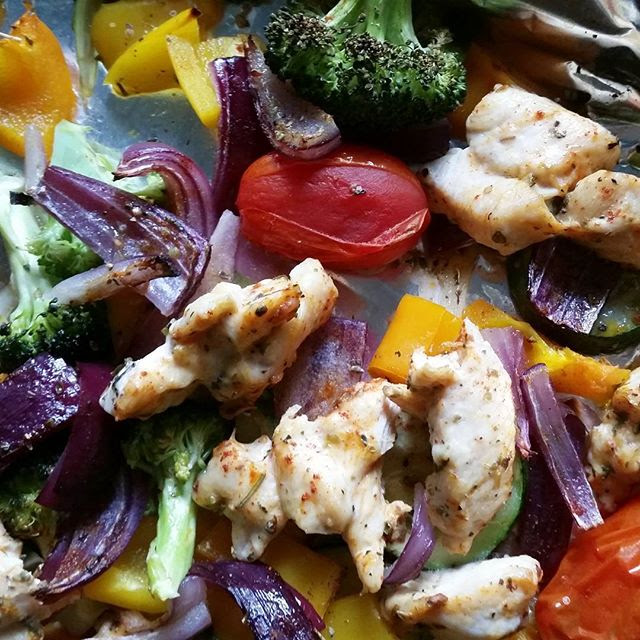 Wednesday – one pot/pan
The one dish rule helps me keep things simple.  We love sheet pan suppers like Cajun chicken, as well as pork tenderloins, roasted chicken & veggies, and more.  Next week I'm planning to do a pot roast on Wednesday (with carrots, onions, and potatoes).  I've also made oven chicken fajitas on a Wednesday since that's also just one pan!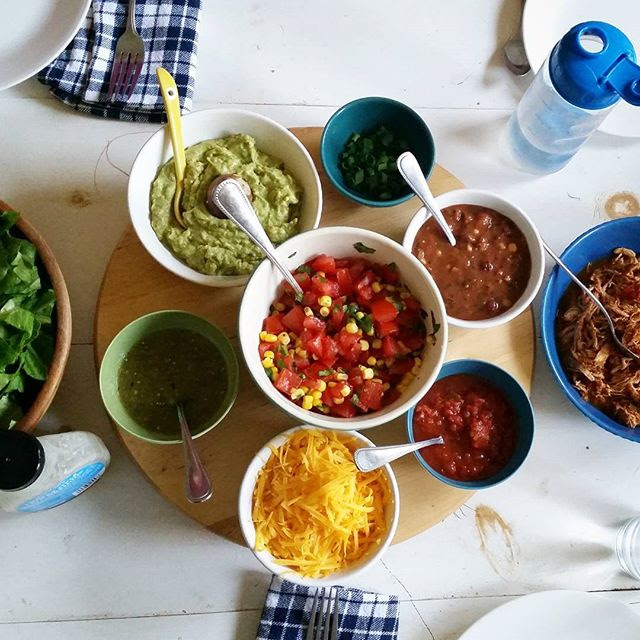 Thursday – tacos
We look forward to Taco Thursdays! If I have leftover chicken fajitas from one-dish-Wednesday, that totally counts. Chicken tacos are brain-dead easy to make in the slow cooker, plus they provide leftovers for days. I also like making cheater fish tacos (using frozen breaded fish fillets), which are always a hit with the family.  I like that this night can be super easy or more elaborate depending on how much time I have in the kitchen.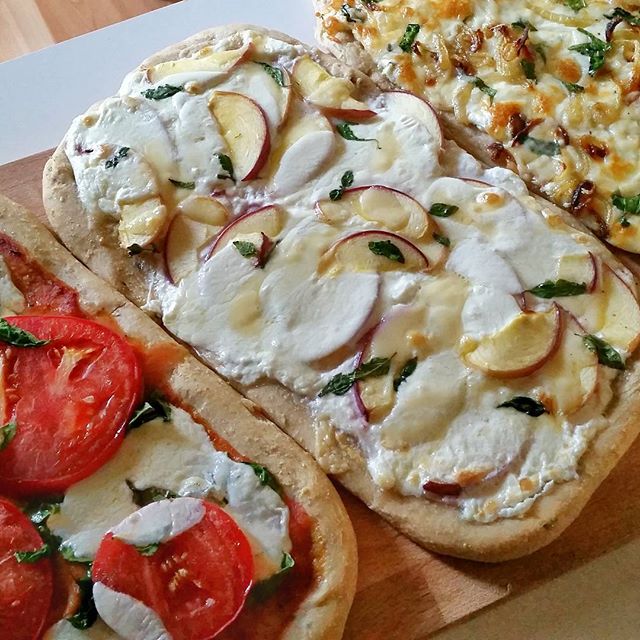 Friday – pizza
This is BY FAR my favorite meal of the week.  I brainstorm all week about the creative new combination I will create on pizza night.  I try to utilize leftover meat and/or veggies when possible.  Taco pizza is fun (homemade refried beans instead of tomato sauce, topped with cheddar cheese, meat of choice, corn, and, after it comes out, tomatoes & cilantro).  A more traditional pizza for us would be tomato sauce, mozzarella cheese, peppers, chicken sausage, and onions.  But I like to have fun too (see this Instagram photo for some delicious combinations)!  You can't go wrong adding caramelized onions or shaved Parmesan or a few fresh basil leaves.  Again, this night allows me to be creative if I have the time or desire, or to just keep it simple with some basic toppings.  I make my dough at lunch time so it's ready to go later!  Another thing that saves me a ton of time is using my food processor to grate the cheese. Life. changing.
Saturday – leftovers or chef's choice
I've actually been making twice as much pizza as we need so that we can just reheat pizza on Saturday nights!  By Saturday I'm ready for a cooking break, so that is the perfect way to feed the family quickly and easily.  If I don't have leftover pizza, I usually have something else that I can turn into a meal (chicken fajita rice & bean bowls, etc.).  If I'm feeling adventurous, I try a new recipe!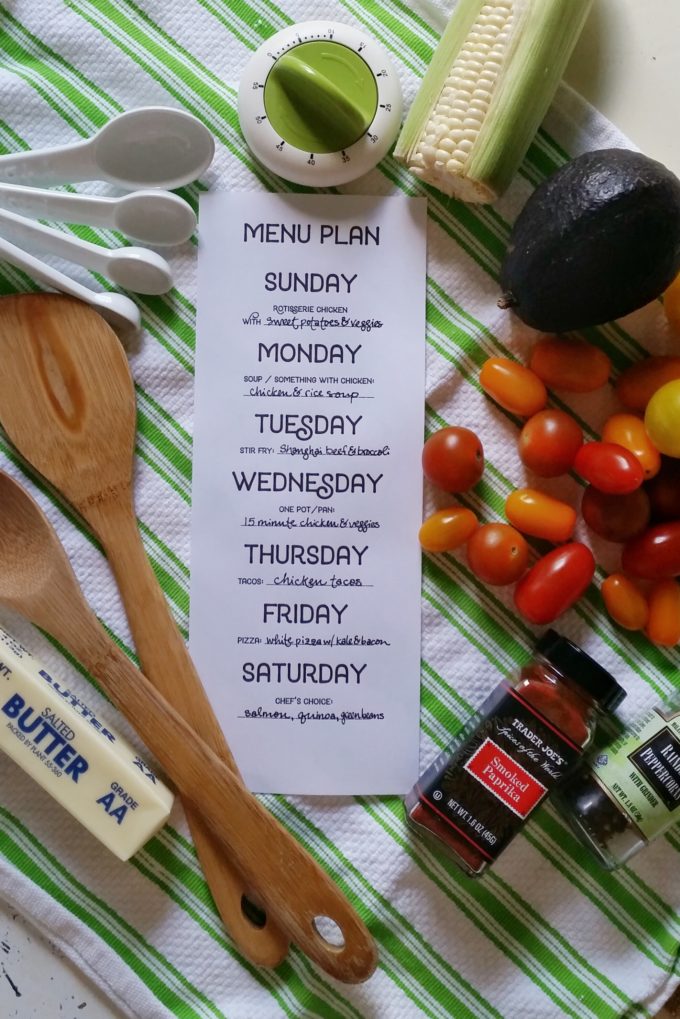 So that's it!  This way of planning meals is DEFINITELY working for us, and I am excited to have a strong plan as we go into our homeschool year.  (THIS MONDAY!)  I could probably plan and shop for a whole month's worth of meals with this system, but I'm not quite there yet.  I admire people who do that, but I think I'd still end up at the store each week anyway for produce, dairy, and eggs.
If you didn't read the original post about this meal planning system, you can read it here.  AND, I'll be sending out my meal planning printable in this week's email newsletter, so sign up for that here if you don't want to miss it!
Also, if you're curious about what else we eat in the week, we eat the same thing for breakfast every day (eggs & oatmeal), lunches are leftovers or simple sandwiches (salads for me) with veggies & fruit, and for snacks we eat seasonal fruit and sometimes a bit of cheese (my kids love trying new kinds)!
Aliesha Caldwell is a participant in the Amazon Services LLC Associates Program, an affiliate advertising program designed to provide a means for sites to earn advertising fees by advertising and linking to amazon.com.