Over the past several years, Black Friday has become less of a day to shop for gifts for others, and more of a day to grab as much as possible for oneself.  Stores across the country are opening on Thanksgiving day, and every year there are reports of customers being trampled in the consumerist madness that is now ThanksGETTING (yes, that's apparently a thing now *cough*Verizon*cough*).
I'd like to propose a change in thinking.  Rather that taking part in the rush to grab and fight and acquire more for ourselves, let's instead recenter our hearts to focus on others.  How can we give? How can we serve? How can we be a blessing?
I know that my heart and desire for giving usually greatly exceeds my financial capacity to do so.  Can you relate?
This weekend I'm offering my very best coupon code of the year for my Etsy shop.  You will not see a better sale this year!  But this sale is special for another reason entirely.  This is a Buy One, GIVE One sale.  I encourage you to give away one (or both!) of the prints you purchase.  Let's seek to give generously in this season!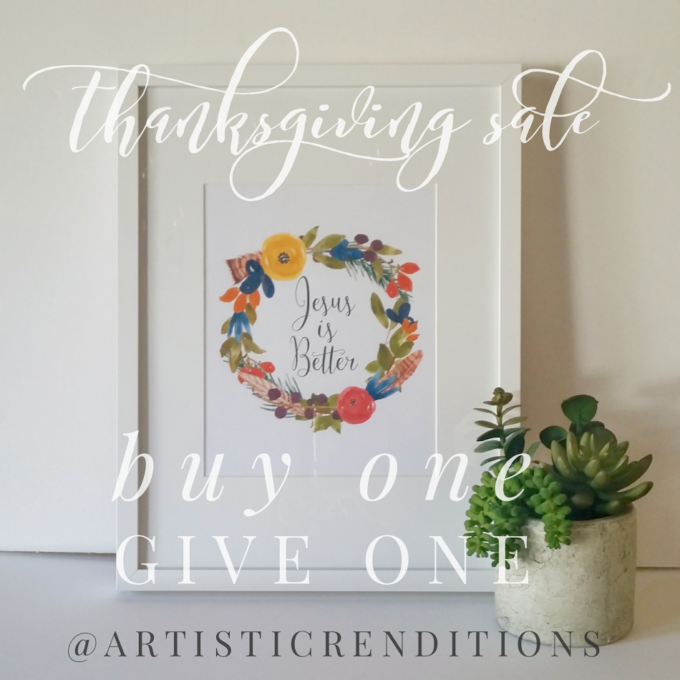 Here's how to take advantage of the Buy One, GIVE One sale:
Add two prints from Artistic Renditions (mix or match) to your cart.
Apply coupon code GIVING16.
This will take off the price of one art print.  (You'll pay shipping for one print, and I'll cover the cost of shipping the one you give away!)
In the "notes to seller" section, tell me which print is the one you want to send as a gift, and tell me the address where you want me to send your gift print.  I'm more than happy to add an enclosure card with your gift print as well, so let me know what you'd like that to say!
TOMORROW (also known as Shop Small Saturday or Small Business Saturday), I'll be adding the NEW Christmas art prints to the shop!  I'm so excited to share those with you!  I'll post details on Instagram!
Rather than just sending a Christmas card, why not send a lovely Christmas art print to a friend or family member?  They can display it in their home all season long as a reminder of the Good News we celebrate at Christmas time!
This special sale is valid all weekend long (through Cyber Monday).  Shop now!