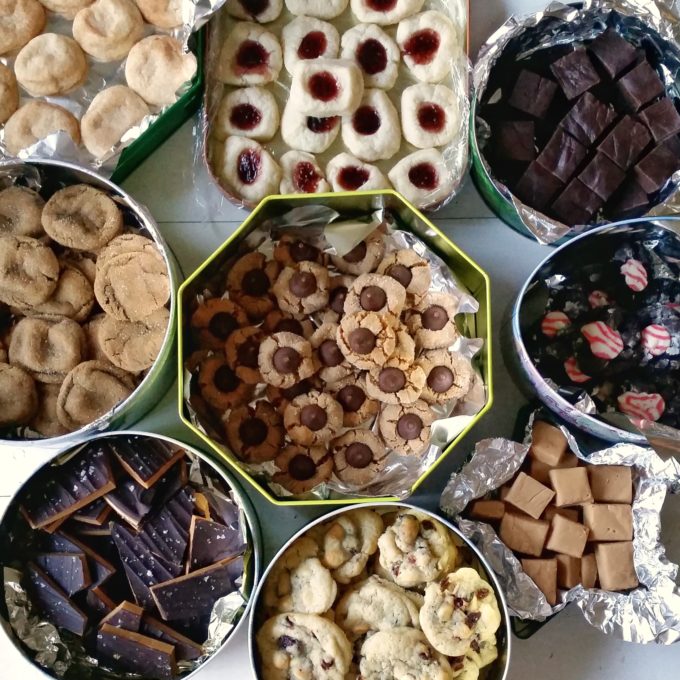 I love baking cookies at Christmas time, but I have learned how to do it in a way that fits into this season of life with little ones (so that I'm not stressed out doing it)!
My number one tip is to make your dough one day and bake another day! And if you're icing the sugar cookies (last recipe), do that step on a third day! So much simpler than trying to do it all in one day! Plus, cookie dough bakes up so much nicer after it's chilled for a while. Full disclosure: I made most of these cookies without help from my kids. They did help roll some in balls, and Cordelia made the fudge, but for the most part I worked during rest time.
You can even make your doughs weeks ahead of time and freeze them! Whether you're storing them in the fridge or freezer, be sure to label them!
My second tip is at the bottom of this post, after the recipes!
Here are some of my favorite Christmas cookie recipes that I made this year!
Ginger Crinkles
Why I love it: These are delicious and chewy, with prominent ginger flavor, but they are simpler to make than cutout gingerbread cookies.
Dark Chocolate Sea Salt Toffee
Why I love it: It's amazingly delicious and tastes very gourmet, but it just uses a few ingredients and doesn't require a candy thermometer.
Double Decker Fudge
Why I love it: Easy, easy! You can't mess up this fudge! Like I said, my five-year-old made it this year!
Tip: Make it as written, or double each "half" of the recipe (peanut butter or chocolate) and make separately to add more variety to your cookie platter.
Raspberry Thumbprint Cookies
Why I love it: So pretty on a cookie tray (and looks fancy), but only requires five ingredients!
Tip: Dough is sticky, so refrigerate and use my method for shaping listed at the end of this post. Also works best when baked on a silicone mat or parchment paper.
Snickerdoodles
Why I love it: This recipe makes a chewy cookie that's just perfect!
Tip: Slightly underbake these!
Chewy Chocolate Crinkles / Chocolate Peppermint Crinkles
Why I love it: They are gluten free, plus you can use this recipe to make two varieties of cookies. One: roll in powdered sugar and omit peppermint pieces. Two: Add 1/4 tsp. peppermint extract when you add the wet ingredients, roll dough balls in powdered sugar, then add a Candy Cane Kiss to the center of the cookies after baking!
Tip: Dough is quite sticky, so refrigerate before shaping. DEFINITELY make these on a silicone baking mat or parchment paper and allow to cool before removing!
Kris Kringle Cookies
Why I love it: These have the tangy flavor of cranberry combined with sweet white chocolate, plus they look so pretty!
Tip: Swap out the mix-ins in half of the dough for another variety of cookie! Christmas M&M's would be cute!
Peanut Butter Blossoms
Why I love it: Who doesn't like these? Haha! This recipe is gluten-free and just uses a few ingredients.
Tip: Unwrap your Kisses while the cookies are baking so you'll be ready when they come out! I usually wait 1 minute before adding the kisses. Add them too soon and they'll melt completely; add them too late and they won't stick!
Sugar Cookies
Why I love it: This recipe is SO easy and I love the flavor the almond extract adds (I use imitation).
Tip: Make this ahead of time and let chill before rolling out!
Method for easy cookie shaping
Make dough as directed. Place on a large piece of plastic wrap and shape into a rough square. Fold plastic wrap over. Label. Chill dough. When ready to bake, unwrap dough and place on a cutting board. Using a large chef's knife, cut dough into even squares. Roll each square into a ball, roll in sugar if directed, and bake as the recipe states. Super fast!!
Happy cookie baking!!