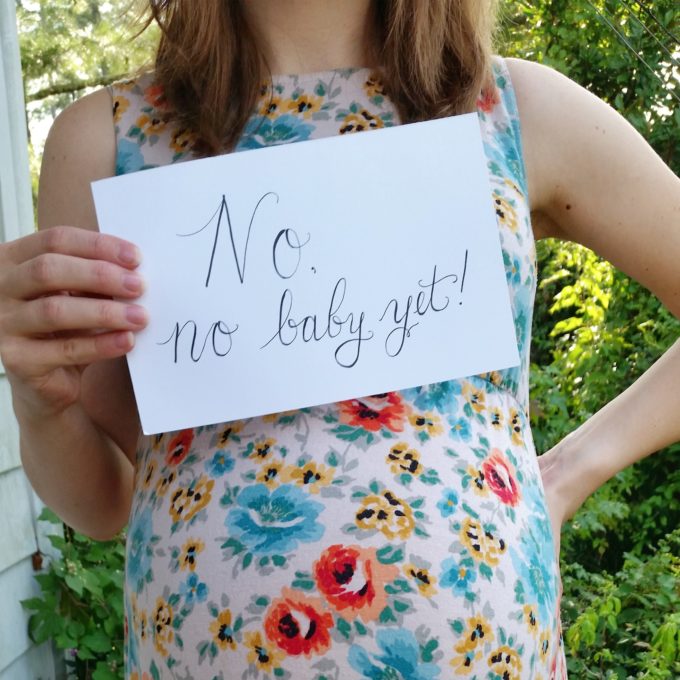 Currently I'm in the purgatory known as prodromal labor. I was convinced last week that Baby Jellybean's birth was imminent, only to be disappointed when she still hasn't arrived after over a week of contractions.
It's one thing to go past your due date in a pregnancy; it's an entirely different thing to have prodromal (false) labor that teases you onto an emotional roller-coaster of thinking the contractions you're experiencing COULD be early labor.
You'd think I'd know what real labor feels like, since I've had four children already. Actually, I do. It feels exactly like this. Exactly. Like. This. Except the contractions don't stop after a few hours, and I get a baby at the end.
What else is prodromal labor?
It's doing your hair and makeup at 10PM at night because you're sure you'll be heading to the hospital within an hour, only to crawl in bed a few hours later when the contractions fade. 
It's loading and unloading, and loading and unloading your hospital bags from the car. 
It's calling in your support people and then sending them home when this (again) turns out to be a false alarm. 
It's having by the book contractions: 1 minute long, 2-3 minutes apart for an hour (or more)… until they abruptly stop. 
It's making plans for an accidental homebirth because, at this point, after so many false alarms, you're convinced the only way you'll know you're in "real labor" is if you see an actual baby's head coming out of you. 
It's spending most of your mental energy deeply concerned that everyone you love thinks you are: A) completely crazy, or B) incredibly dramatic. 
So consider this post my way of trying to explain that I am not crazy, and I'm not being dramatic. I keep saying, "I think I'm really close to having this baby!" because I AM.
The baby will come eventually; I know that. Just keep praying for us as we wait.