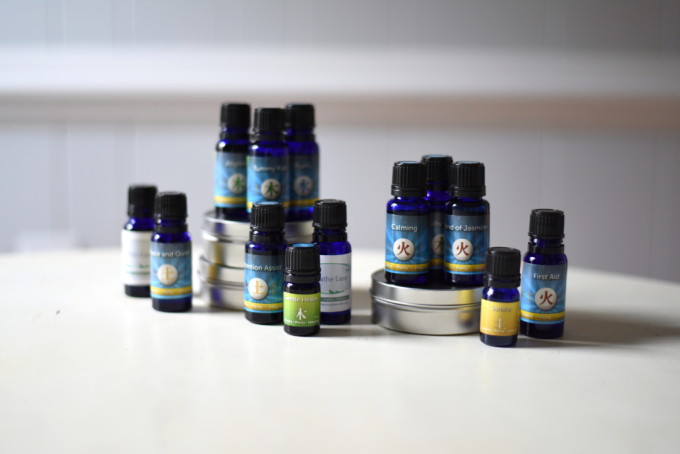 Another thing I love about Rocky Mountain Oils/Native American Nutritionals (same company; different websites) is how they have created a large amount of essential oil blends that are useful in many different ways!  Looking at all the blends can be a little overwhelming, so I've found it's best to hear from people I know about what blends work for which things!
A little tip… all of the blends are available in 15ml OR 5ml bottles.  The 15ml bottles are the best deal, but the 5ml bottles are a great option when getting the larger bottle isn't affordable for you at the moment.  I have some of both sizes!
Here is my stash of essential oil blends from Rocky Mountain Oils (read why I chose this company here).
Note: Always check each essential oil blend's ingredients to make sure that the oils in it are safe for the person you're using them with (kids, pregnant moms, etc.). Also, please test any oils on a small part of your skin first before using them on larger areas of the body or in a bath.  
I got this blend to use for back massages.  It eases tension, relaxes the muscles, and calms stress.
This blend helps with concentration and focus.  I have diffused it for Tad in his home office on days when he's tired or needs a little boost.  I know other moms who diffuse it while homeschooling to help keep their kids focused! One study showed that vetiver (one of the oils in this blend) improved the performance of ADD/ADHD children (source).
This is a very healing skin oil.  If you oil cleanse, you could easily add Baby Skin into your nightly oil cleanse, or you could apply it after your face has been washed.  The oils in this blend help rejuvenate skin, tone and tighten, treat acne, reduce oiliness, treat wrinkles, and soothe rashes and psoriasis.
This is more affordable way to reap the benefits of jasmine (antidepressant, aphrodisiac, sedative, etc.). I bought it primarily to use in homemade soaps, but I also used it in a linen spray recently as well.  I also hope to use this in the fall when I'm in labor as it can help stimulate uterine contractions.
This is a must-have oil blend for adults.  It's not safe for young kids (due to the eucalyptus), but it is awesome for taking care of congestion in adults!  You can put a drop in the shower while you take a hot shower, or you can fill the sink with a bowl of steaming hot water, add a drop of Breathe Ease, drape a towel over your head over the sink, and breathe deeply.  Perfect for cold season!  It's also helpful for laryngitis, sore throats, and asthma. Note: A good kid-friendly alternative to this blend is Respiratory Ease/Deep Breathe!
I just got this blend recently, but I already love it.  It was highly recommended to me, and I'm glad I purchased it.  It smells so peaceful, while at the same time happy and uplifting.  I love inhaling it when I need to chill out.  It's a great one for the diffuser too!
I think this is another must-have, especially if you're constantly bandaging up cuts and scrapes.  When I've used it on injuries, I've been pleasantly surprised at how it actually numbs the pain as well as works to heal it quickly.  The oils in this blend help prevent infection as well.
For more serious cuts or wounds, Gentle Healer (now called Mother's Touch) is the blend to have. This one is pricey, but you don't need much (I diluted it in coconut oil, which is also healing).  I've seen awesome picture testimonials of people using this oil to heal large cuts.  I've used it on my kids and seen their scratches/cuts go away quicker!
If you like wintergreen, you'll enjoy how this blend smells!  This blend is designed to reduce pain of muscles, joints, ligaments, and skin (bruising, etc.).
This blend smells so good to me.  (I love blends that contain vanilla!)  My girls like it too and often ask to smell it!  I sometimes rub it on my heart or use it as a light perfume (dilute and rub on wrists).  It's very uplifting!
Because I have kids, I don't know what I'd do without this blend.  Let's just say… it's great for all kinds of odors and for the cleaning up of all bodily emissions.  Sometimes there's a stink in our house that just won't leave, and this oil always comes to the rescue!  I have sprayed it on various surfaces to help clean and purify them, and I have also diffused it in stinky rooms to purify the air! It's antibacterial, antiseptic, and antiviral.
This oil is helpful for cramps, muscle spasms, Charlie horses, and restless leg syndrome.  It reduces inflammation and it's great for massage, especially for sports-related injuries.  It can relieve headaches too.
Sonata (now discontinued)
This is a romantic oil blend.  It can be diffused in the bedroom, used in a linen spray, or applied as a personal fragrance (dilute and dab on pulse points).  This blend also eases anxiety and stress!
I love how this blend smells and I find it so soothing/relieving for tummy troubles!  I can't use it now that I'm pregnant, so I use something else for morning sickness.  Tummy Rub is great for indigestion, gas, bloating, motion sickness, and many other stomach issues.
I've made a few of my own blends too, but I may chat about those in another post!
View all blends from Rocky Mountain Oils here!


Feel free to pin this post for later (and scroll to the bottom of this post for an exciting giveaway!)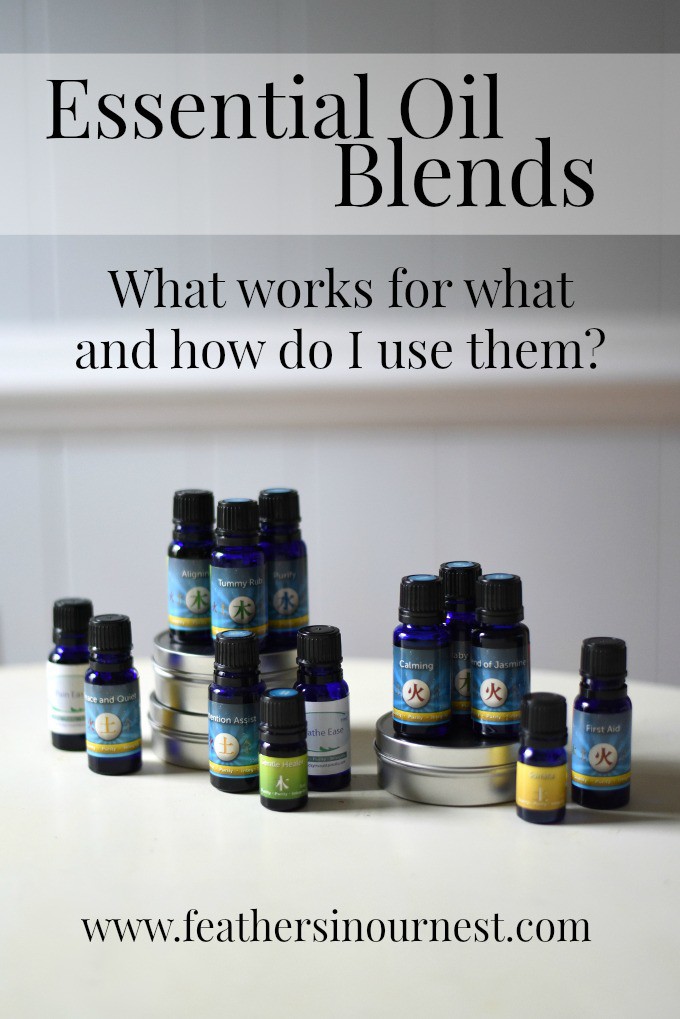 If you've now decided what blends you want, you'll also want to read this post with some frequently-used single oils and research for how to use them.
*Giveaway Now Over* And now… for a fun giveaway!  Rocky Mountain Oils would like to give away one blend to three different readers! You can pick any blend featured in this post! To enter, use the Rafflecopter widget below (you don't need a Facebook account to enter): a Rafflecopter giveaway
Terms: Three winners may each select one (1) bottle of any essential oil blend featured in this post (aligning, attention assist, baby skin, blend of jasmine, breathe ease, calming, first aid, gentle healer, pain ease, peace and quiet, purify, relieve me, sonata, or tummy rub). Giveaway is open internationally, but winner will be responsible for any custom fees or taxes that are incurred.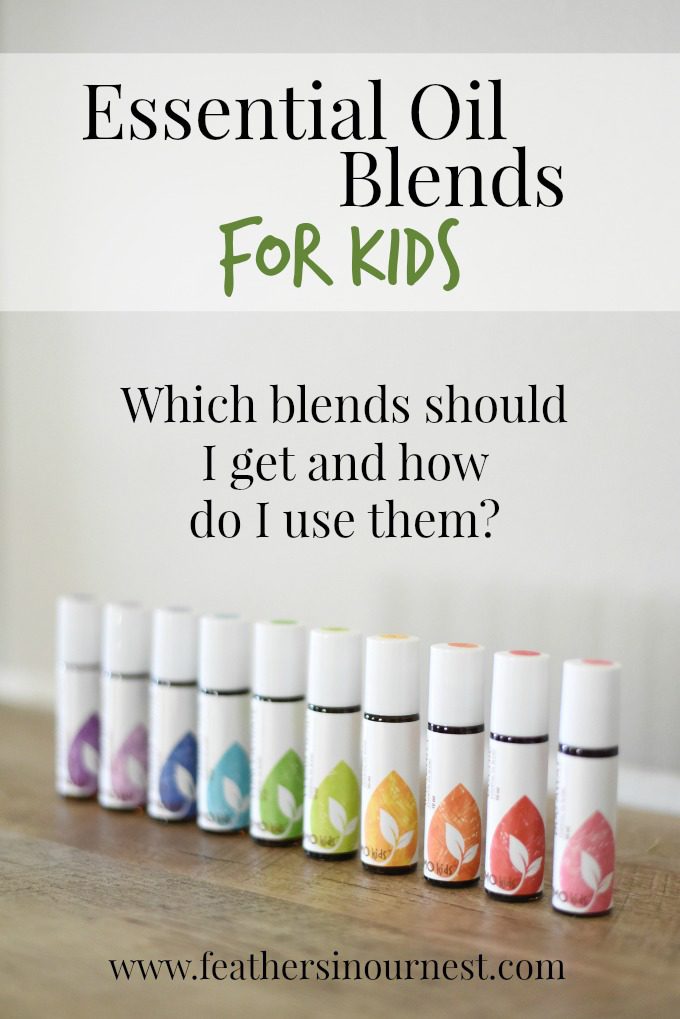 Disclaimer: I am not a doctor, so if you are looking for medical advice, please contact your physician.  Also, in this post I link to the essential oil company I use and love. If you choose to make a purchase through my links, it will help support my family and this blog. Thank you!