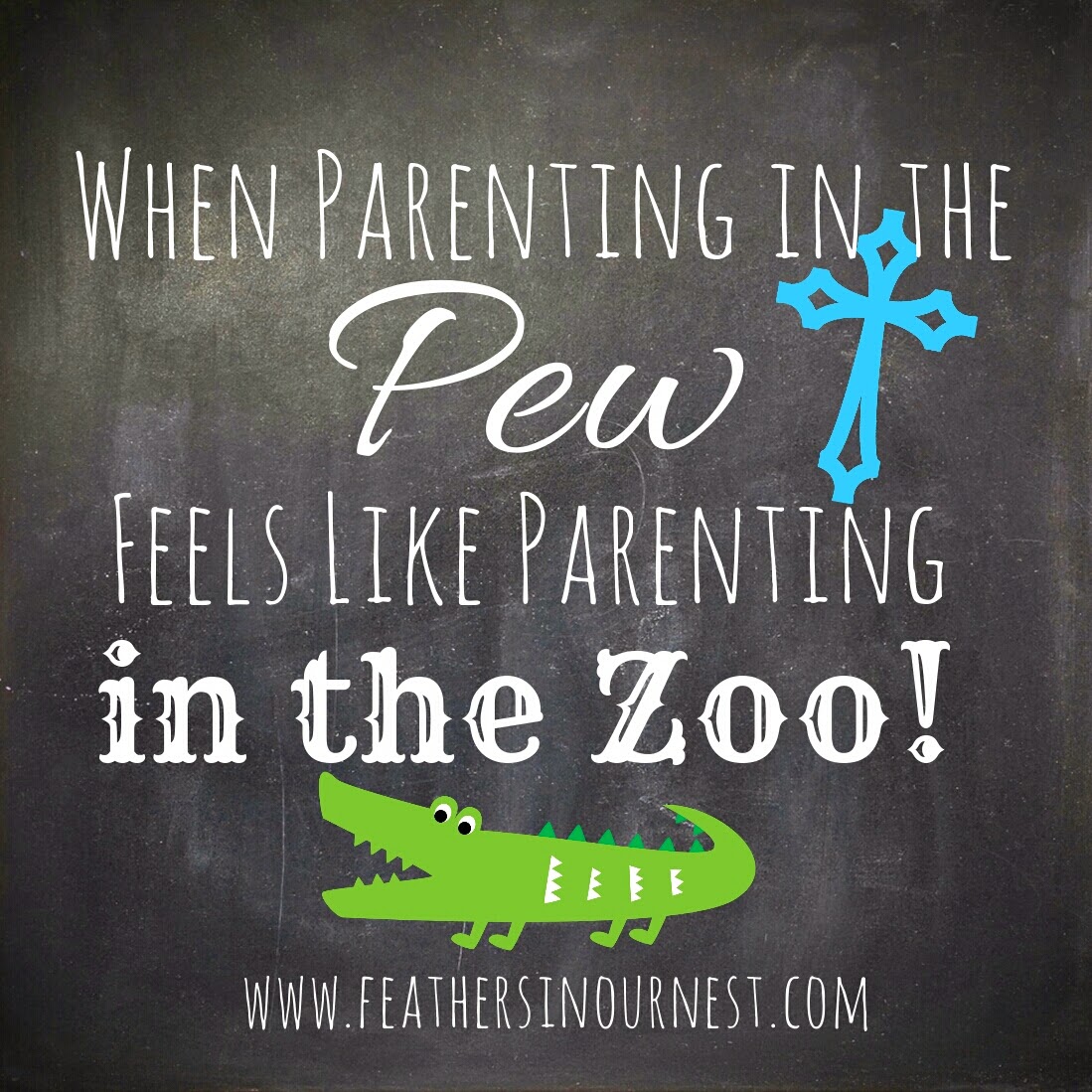 When Vera was a baby, I read the book Parenting in the Pew by Robbie Castleman.  You may recall how Vera started staying in the worship service with us when she turned three (read that post here for a refresher).  Jude has been in the service as well, since he usually has to nurse during that time.
My original post about Vera's first time in the worship service may lead you to believe that having her in the service has been really easy.  While it has been easier than we anticipated, it's still challenging (and kind of zoo-y) each Sunday in various ways!
Most Sundays necessitate a trip out to the hallway for a "talking-to" from Tad, and there are many moments when I am distracted from the sermon because I'm trying to keep Vera from crawling under the chairs, unpacking my purse, making faces at the people sitting behind us, or asking questions loudly.  Oh yeah, and I'm juggling an infant too!
There was one Sunday where Jude cried and I was stuck in the middle of the row and couldn't get out.  There was a week where Vera decided that her legs didn't work, so she laid on the ground for pretty much the whole service.  A few weeks ago, we all sat out in the hallway watching the video monitor of the sermon since everyone was quite "restless."
I'll admit, there are some Sundays where Tad and I realize we missed a major chunk of the sermon due to a little curly-headed distraction, but we wouldn't trade our ability to take perfect notes for having our sweet Vera worshiping alongside us.  (And our church puts the sermon videos up online, which is perfect for playing catch-up later!)
Vera is learning so much by being in the worship service with us.  Even though she is just three, and she seems like she isn't listening for most of it, she actually is picking up on so many things we don't even realize!  She always perks up when she hears a Scripture passage she knows (such as "love your neighbor as yourself," etc.), which tells us she is listening.  She even picks up on big concepts like the Trinity ("Mommy, he said 'the Father, the Son, and the Holy Spirit!'") that we have talked about at home in family devotions.
Vera is being exposed to Christian ordinances like communion and baptism at an early age.  She also loves singing the worship songs each Sunday (and throughout the week as well).
We are so grateful that Vera is learning about Jesus at a young age, both at home and in church.
Here are a few practical things we do:
-Vera has a small snack that she eats during the sermon time (like mini pretzels or goldfish crackers).
-We pack a small Bible for Vera, some crayons, and a little notebook.  She picks up a children's bulletin that has a coloring sheet.  This is pretty much all she has to entertain herself during the service, other than the aforementioned snack.
-When Tad has to take Vera out, she knows that it isn't to run around or play.  They either come right back into the service, or they sit in the hallway with Vera on her daddy's lap.
-We expect Vera to stay between us in our row.  Usually I'm on the end and Tad is on the other side of Vera.  This helps keep her "contained."
-We sit towards the back so we are less of a distraction.
We're definitely all still growing in this … but we are thankful for the progress that is being made!  It's a blessing to see Vera's tender heart being drawn to things of God.
P.S. Cordelia is still in the childcare, but she'll move to the main worship service with us when she's ready. 

This post contains an affiliate link.