I've had so many people asking me lately about my schedule… what our homeschool day looks like, how I homeschool with a baby and a toddler, when I work on my book business, etc. so I thought I'd do a post giving you a glimpse into one of our days. (This might also give you an idea why blogging has taken a back-burner lately!)
This was just an average day in our week. Of course none of my days look exactly the same, as I'm sure yours don't either! We certainly have a rhythm to our days, particularly our homeschooling days, but each day does hold different plans and activities.
I love reading other people's Day in the Life posts, and it's been a LONG time since I did my last one! Hope you enjoy reading it!
A Day in February 2018
5:55AM Tad gives me a kiss before leaving the house (he's leaving early today to meet with someone before work). I fall back asleep.
6:40AM I wake up and get out of bed. I exercise, drink water, eat breakfast (leftover sweet potato hash & a fried egg), and make a cup of Chai tea.
7:20AM I do some Usborne Books & More work at the dining room table. Around 7:30 the older kids start waking up. At 7:50 the girls begin making breakfast.
8:10AM The kids eat their breakfast and I turn on some Bach to listen to while we start our day. I put my makeup on, take my vitamins, and strip the sheets off the bed. I wash the sheets and towels, then lay out the girls' seat work (math, handwriting, etc.).
8:30AM Felicity nurses, and I read my Bible. The girls begin their seat work at 8:45.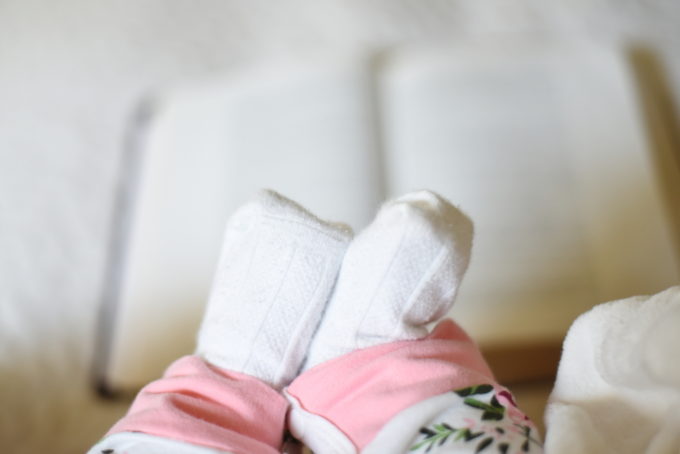 9:00AM Cordelia comes in and reads to Felicity. She's just taken off in her reading and she loves to read to her little sister, who is a captive audience!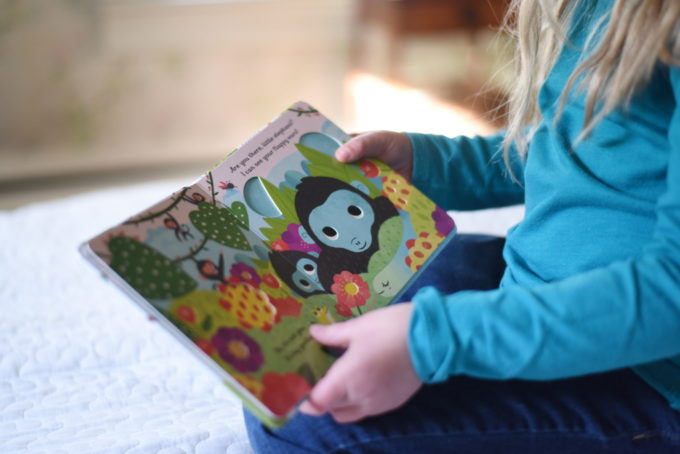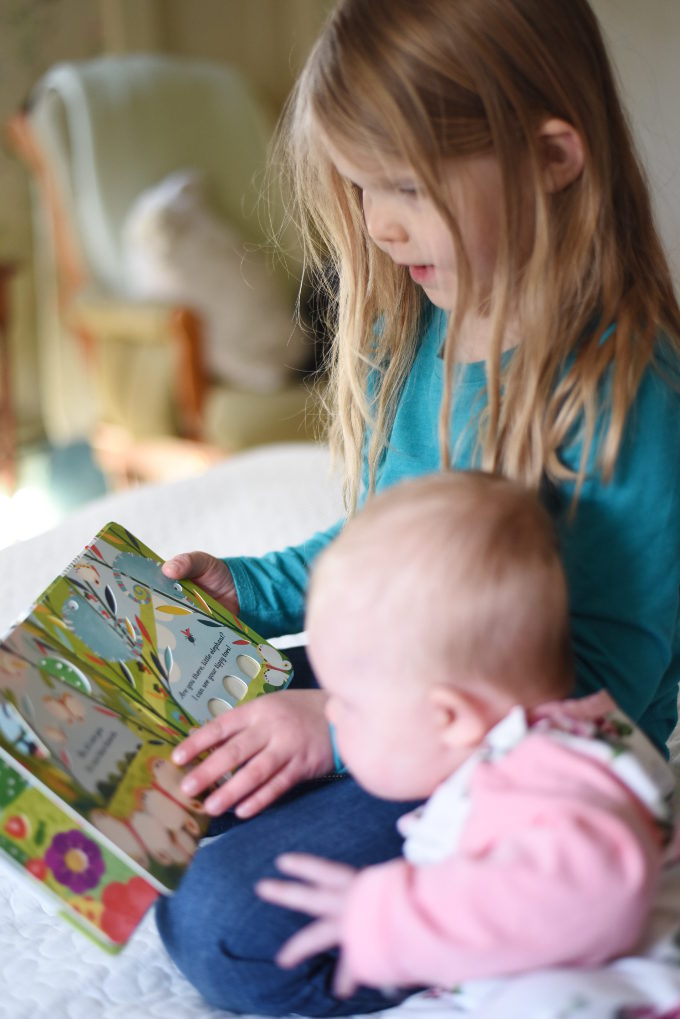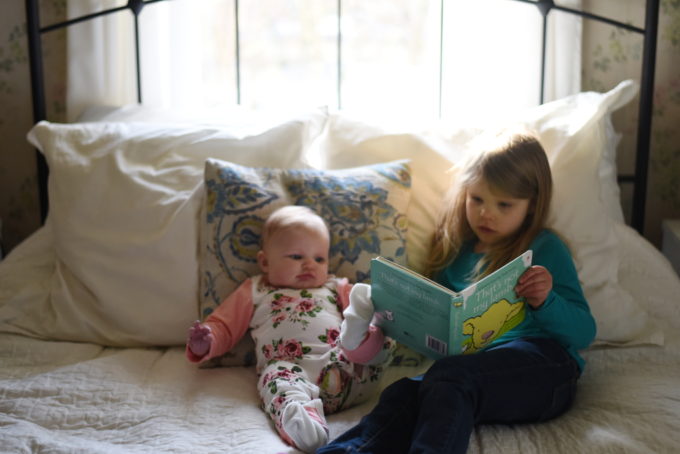 9:10AM I check Cordelia and Vera's seat work and I help Vera with a writing assignment. I put the laundry into the dryer and get Felicity dressed. During this time, the boys are playing with Duplos.
9:40AM Vera does her reading aloud to the other children. We sit together and sing a hymn, then do Bible, Scripture memory, poetry, world history, and science. Nothing glamorous… just reading together and learning about our world! (Here's the curriculum we used last year and this year.)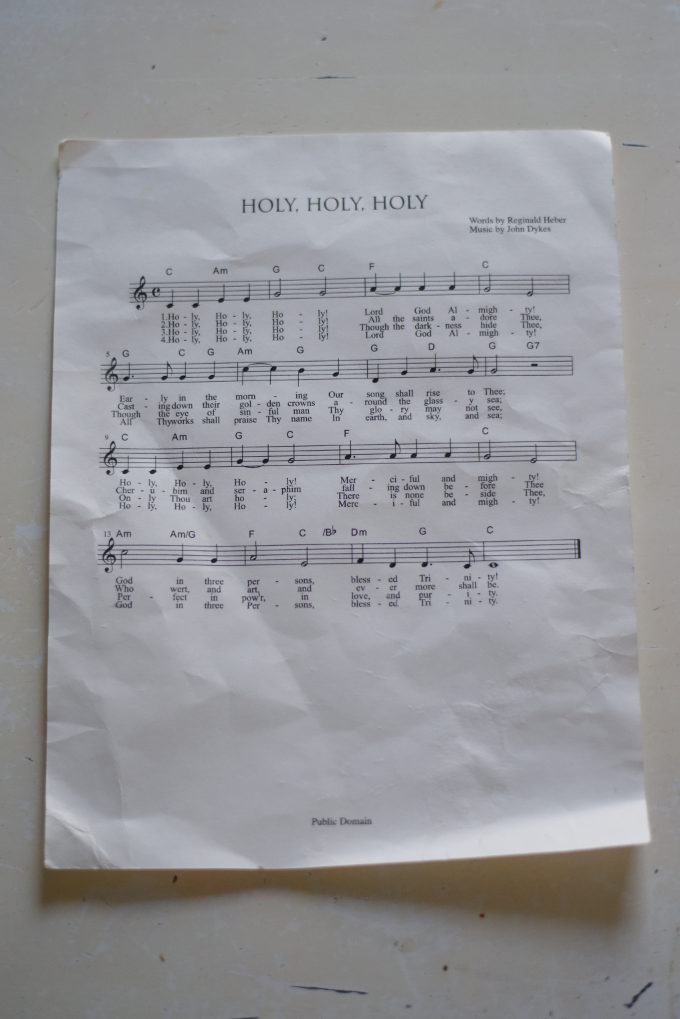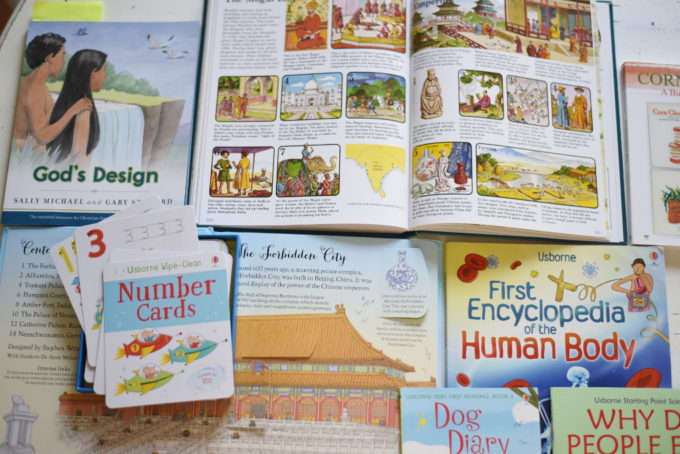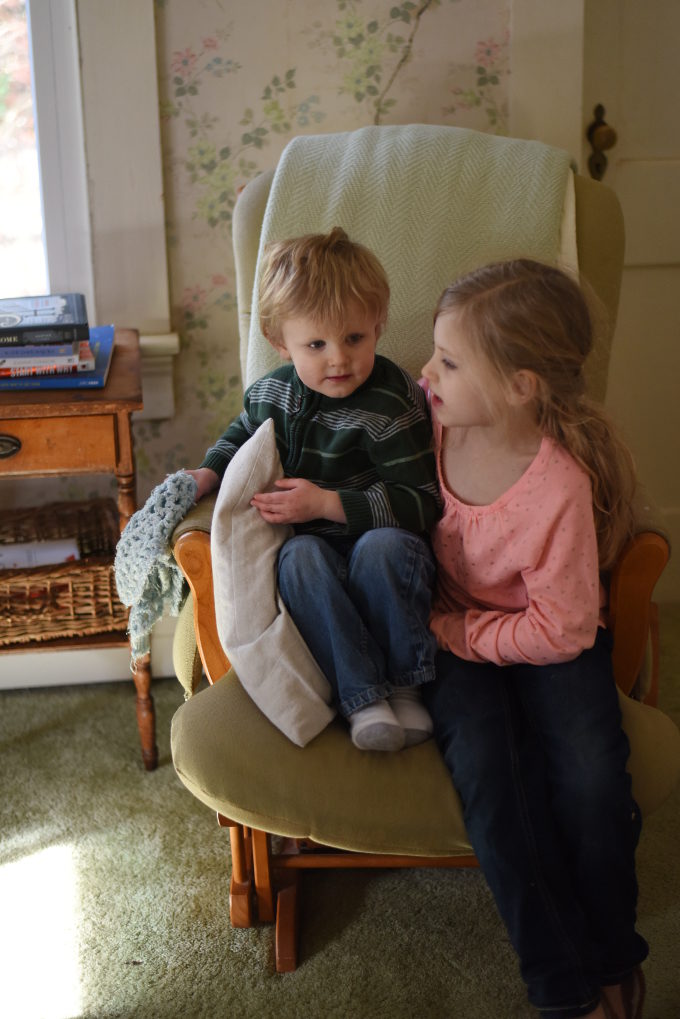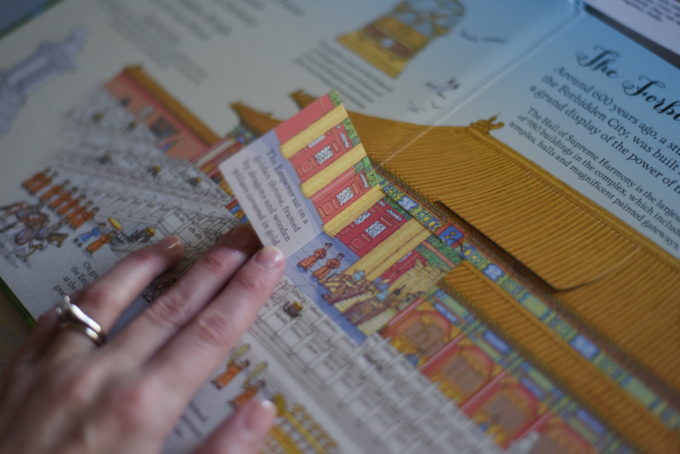 10:20AM Jude reads with me. Cordelia practices writing her numbers, and Vera writes down some notes from our lessons (this is something she wanted to do, not something I make her do). Theodore colors at the kitchen table. Or colors the kitchen table. You decide.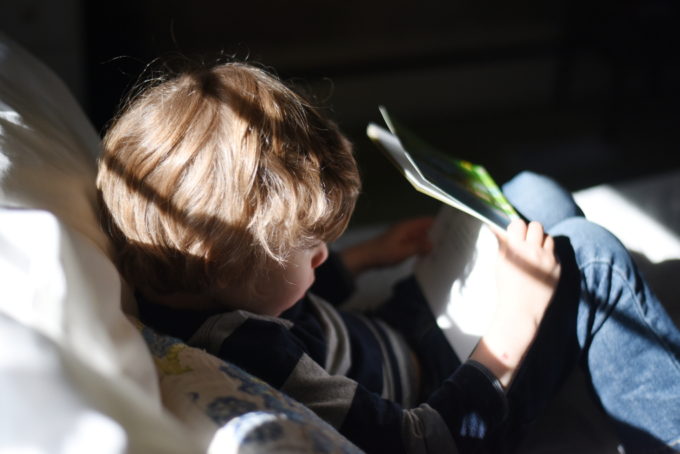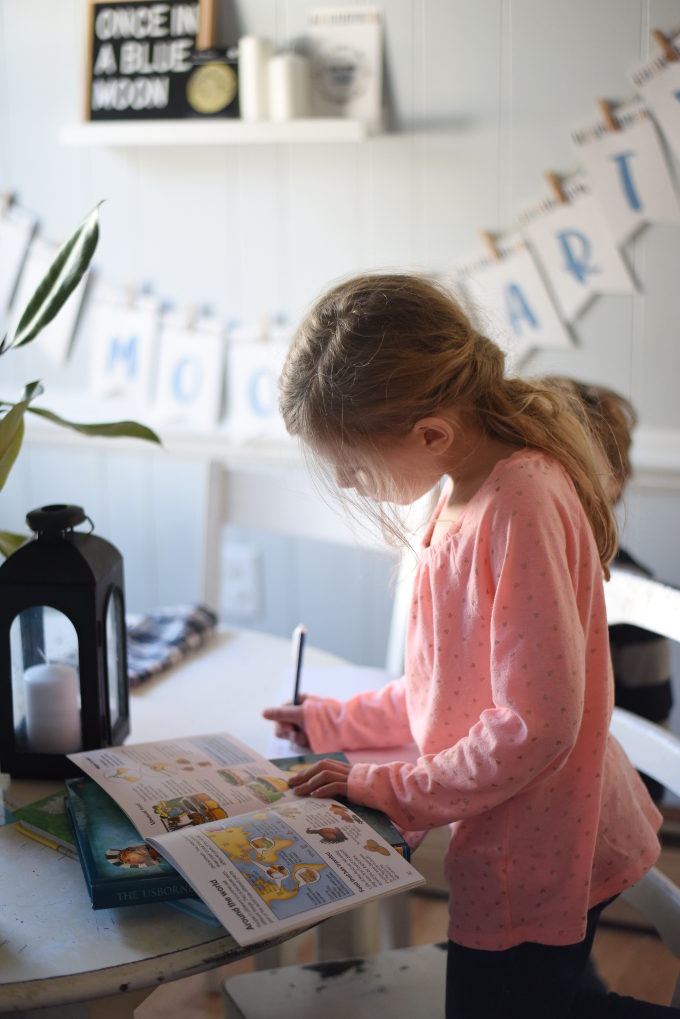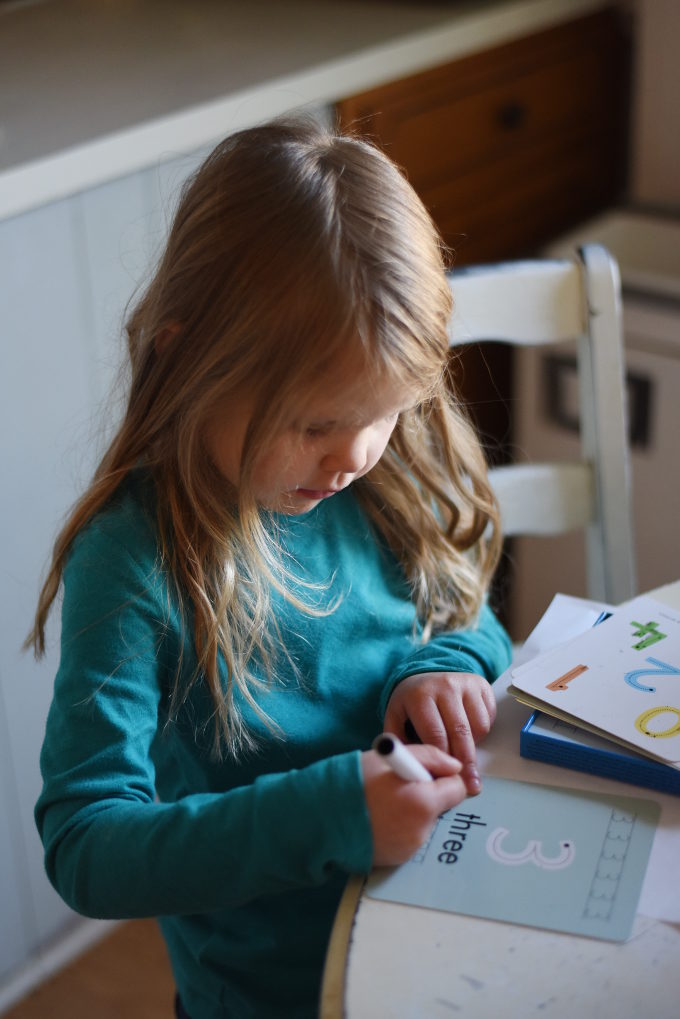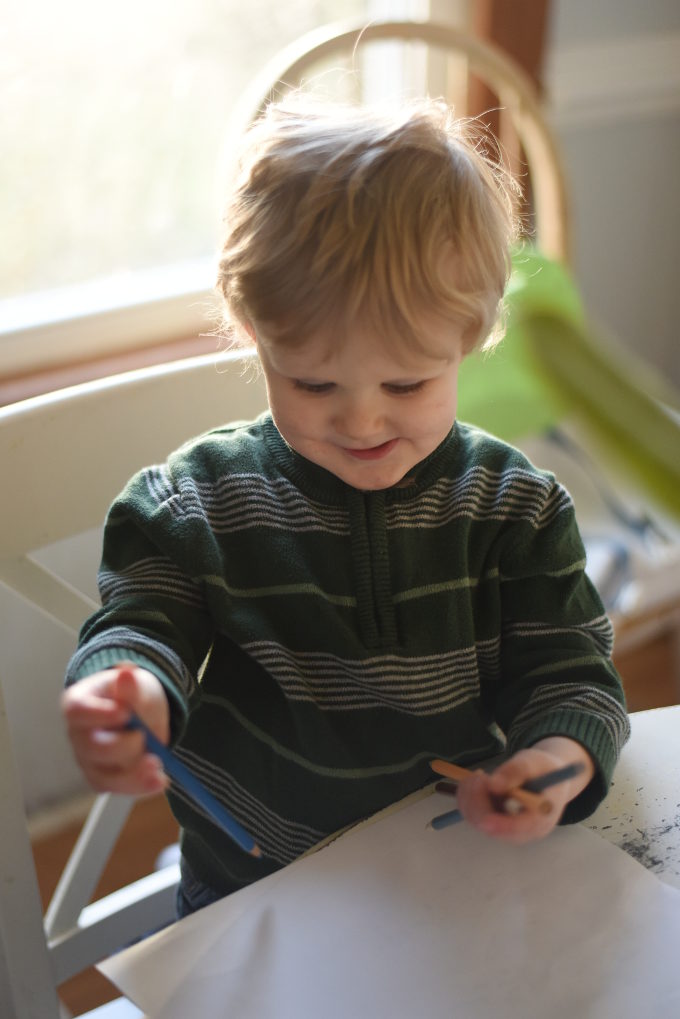 10:30AM Felicity goes down for her morning nap. I make snack for the kids (pink lady apples and baked oatmeal), finally get to the breakfast dishes, and sweep the kitchen. (I try to wash the breakfast dishes right after breakfast, but some mornings that doesn't happen and I have to do them later.)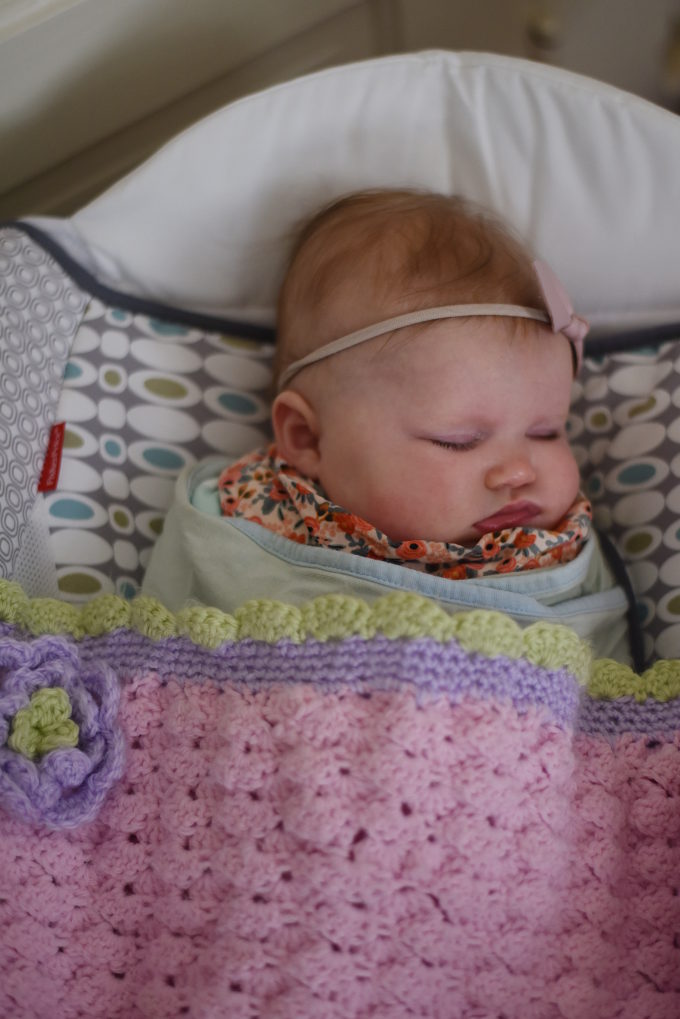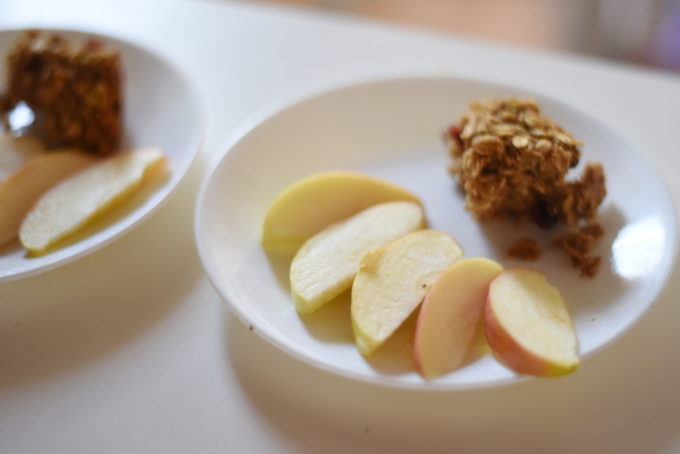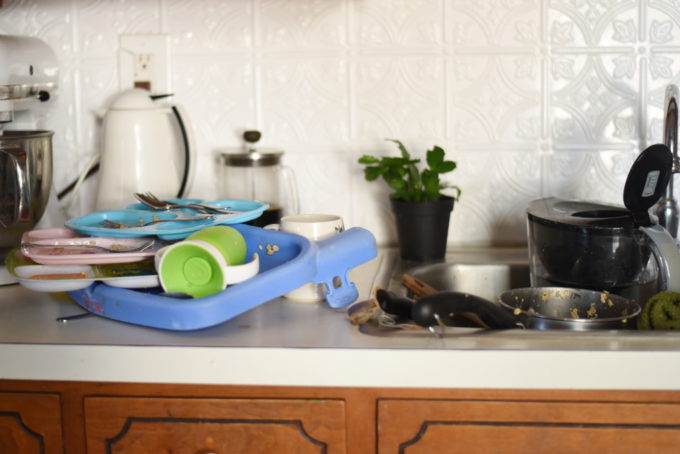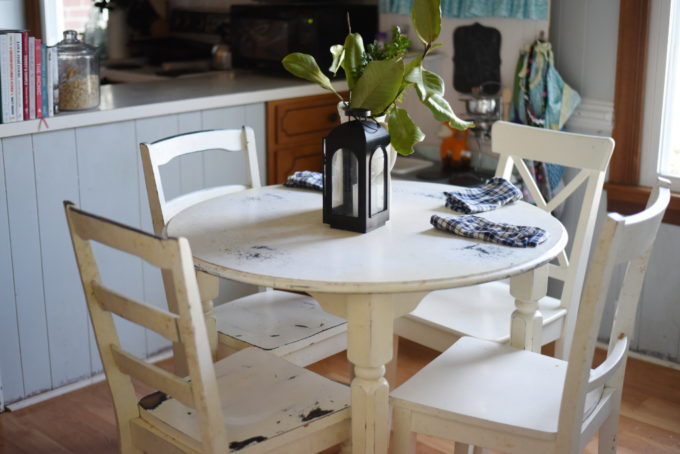 11:05AM I do a few quick UBAM work things. I don't normally work at this time of day, but there was a minor crisis I had to resolve (the auto-scheduler I use for Facebook posts stopped working, so I had to post some things manually). The kids play with each other (lots of pretending… something about a lab and some dinosaurs).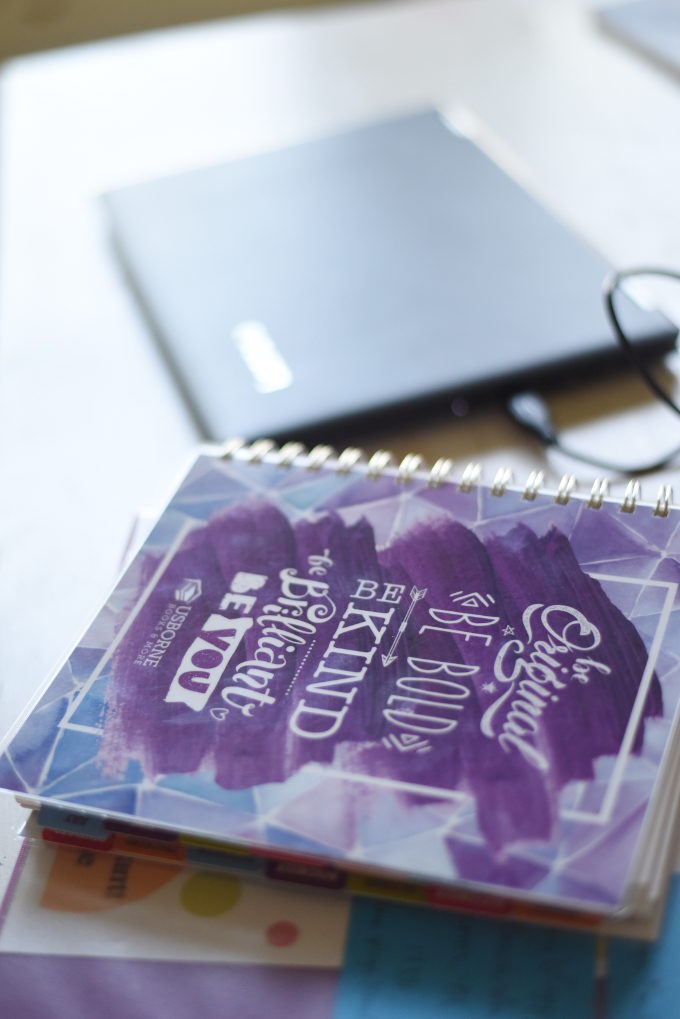 11:40AM We go outside for a bit of sunshine. We play on our new swing set and enjoy the gorgeous weather! Yay for pretty winter days!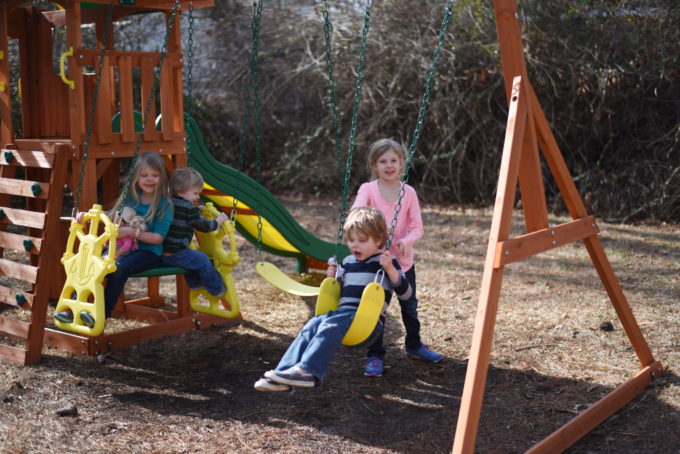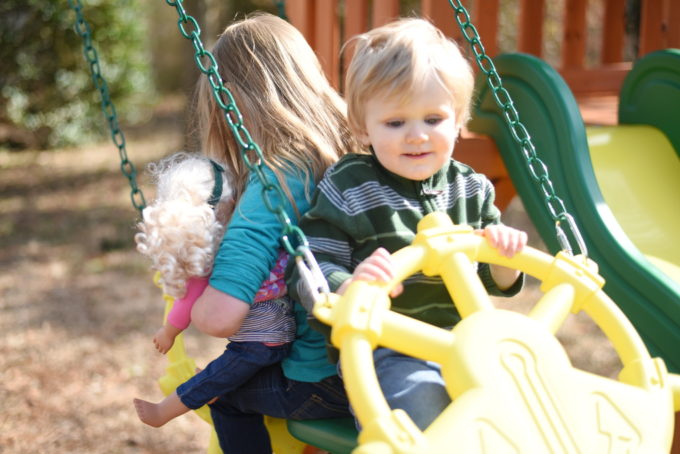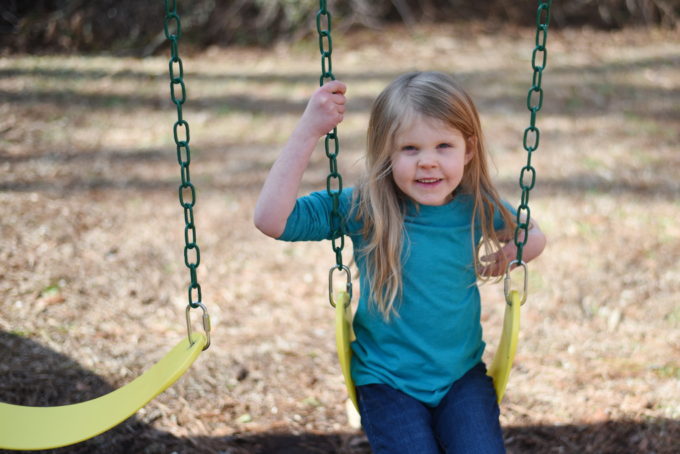 12:00PM I make lunch (grilled cheese sandwiches, broccoli, and hummus, with chocolate peanut butter oatmeal cookies for dessert). I also fold and put away some laundry and check the mail. Our utility bill that arrived was staggering!! The kids pick up the house before they eat lunch.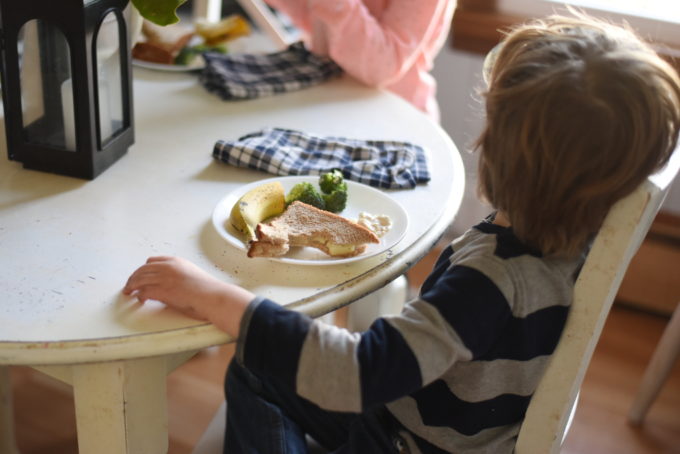 12:25PM The kids eat lunch and I wake up Felicity and nurse her. I call Tad on his lunch break to hear about his day.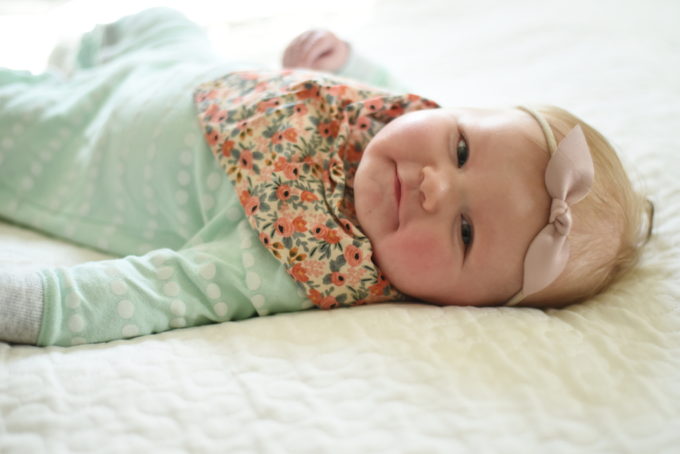 12:55PM We clean up from lunch, the kids clean their rooms, and I eat lunch (lentils, roasted red pepper hummus, broccoli, and feta cheese). I unpack and put away an Amazon order. The kids watch an episode of Daniel Tiger.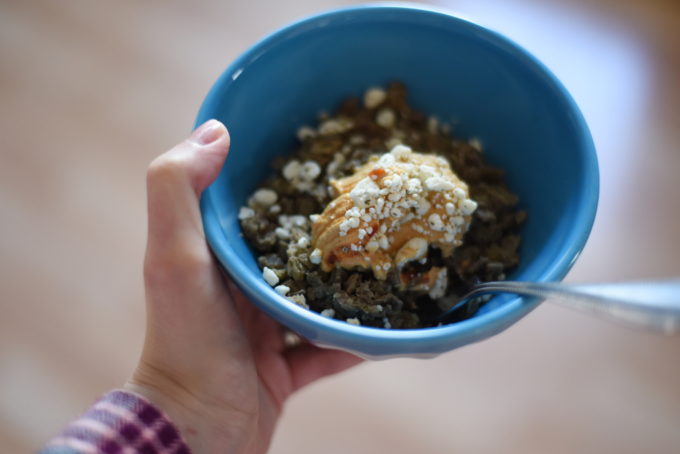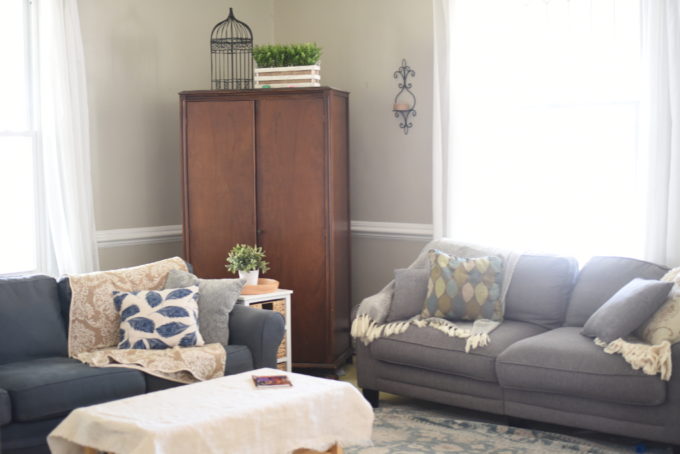 1:30PM I nurse Felicity.
2:00PM Everyone is down for rest time (the older kids read or play, and the youngest two nap). I work on my UBAM business while drinking a cup of decaf Vanilla Bean Creme Brulee coffee.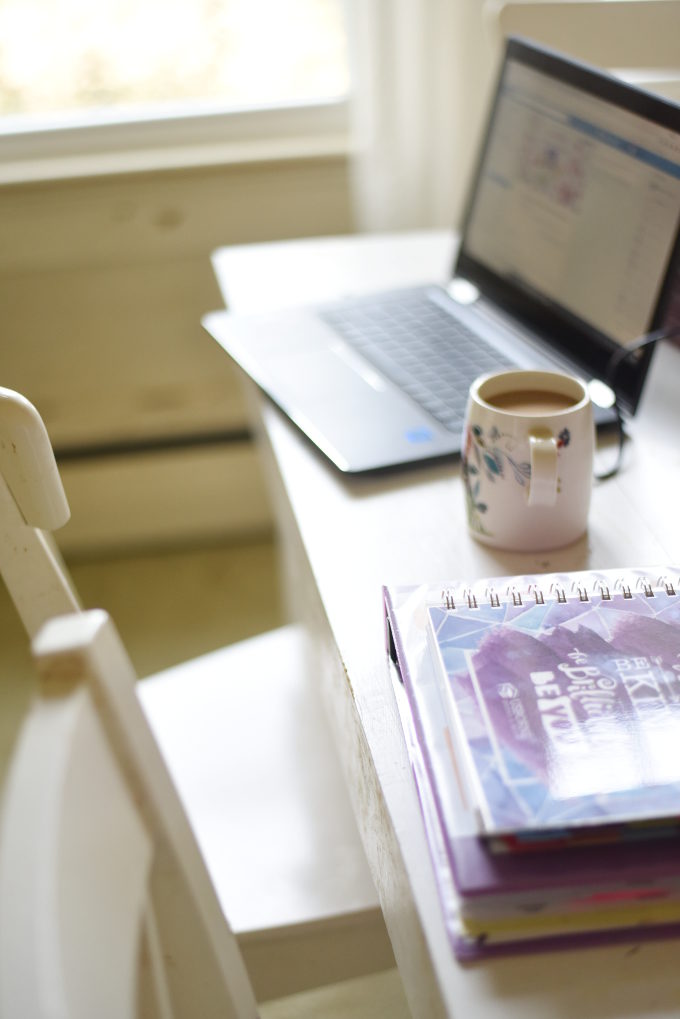 3:15PM I pour another cup of coffee, grab a piece of chocolate, and sit down to read. I'm reading this one right now (along with a few others… I'm rarely only reading one book at a time). I text a few friends to check in.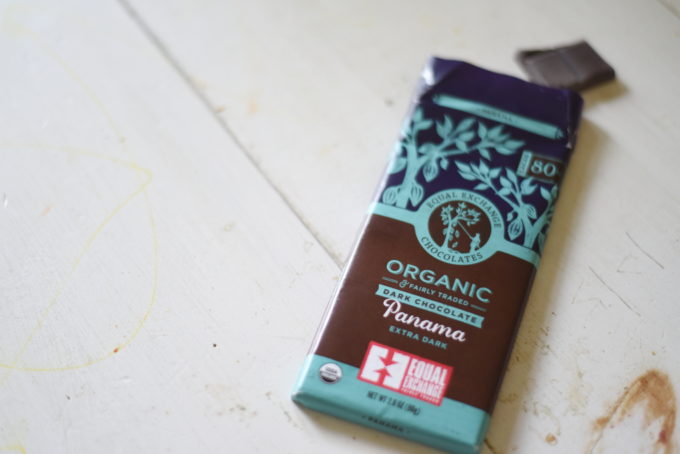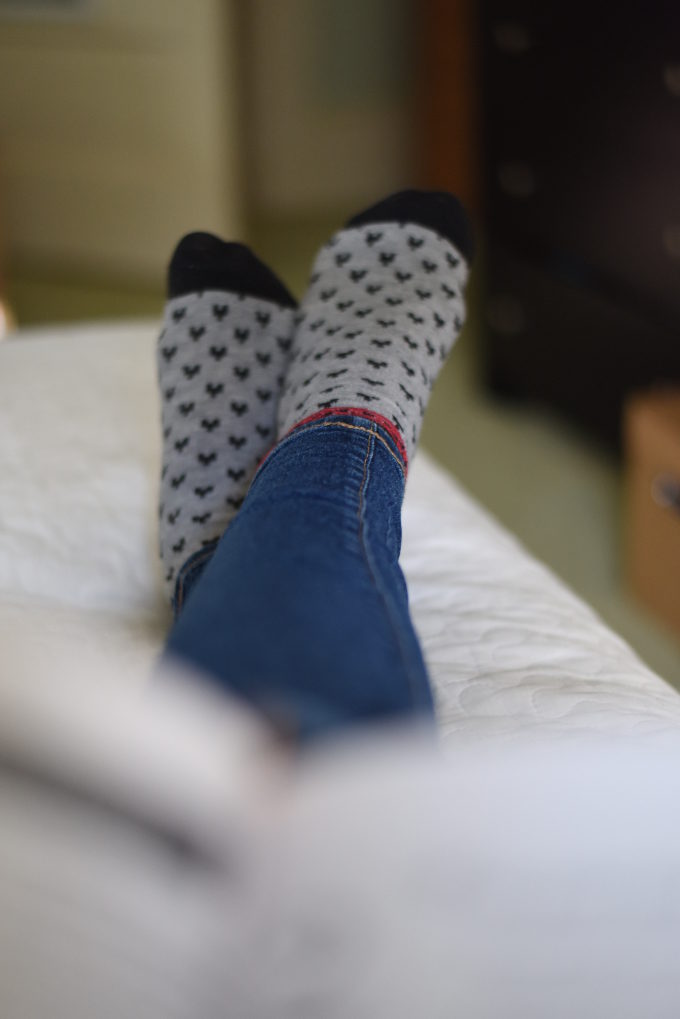 3:50PM I start prepping a few things for dinner and I set the table.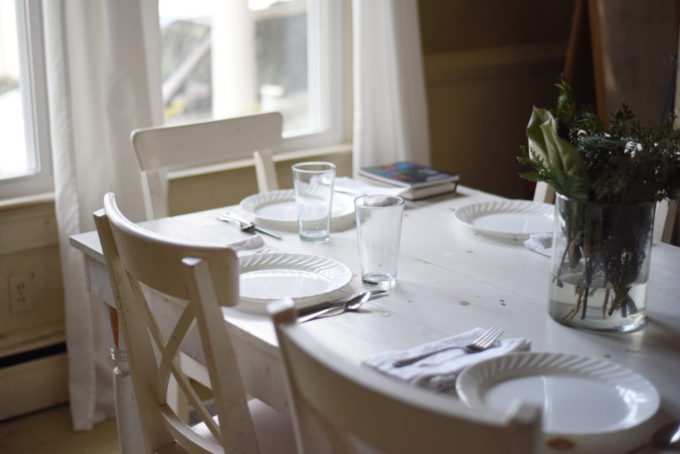 4:00PM MiMi (my mom) calls to read books to the kids. While she's reading to them, I make dinner.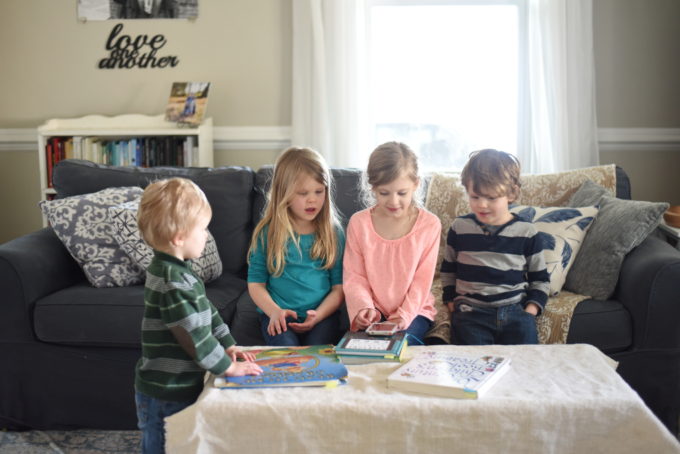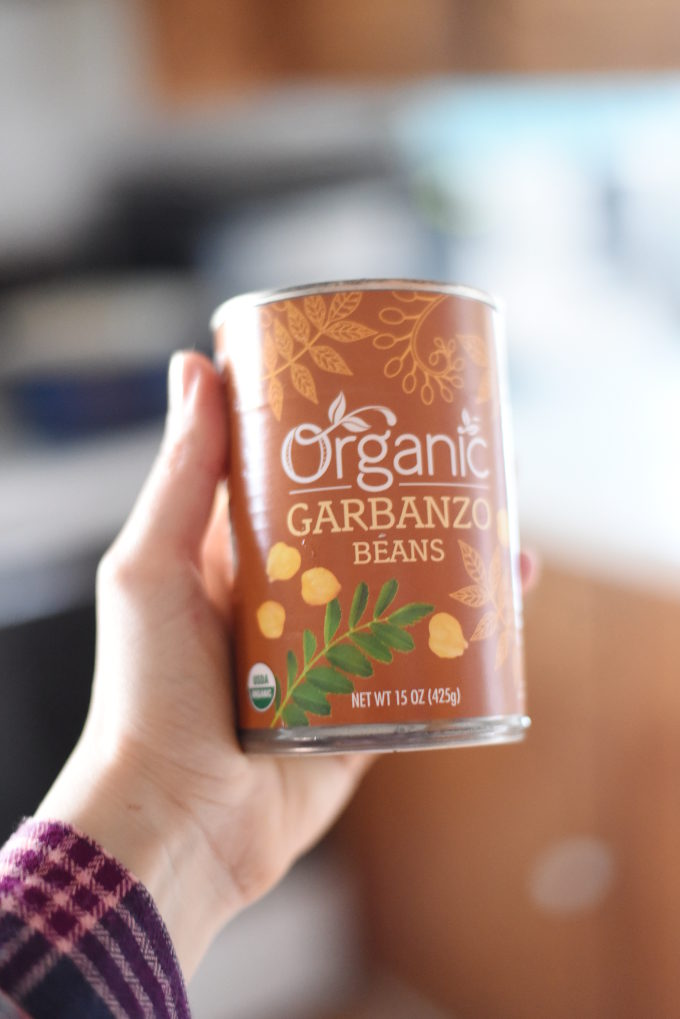 4:30PM The soup is finished, and I make the bed with the clean sheets. I read some books to Theodore and wake up Felicity.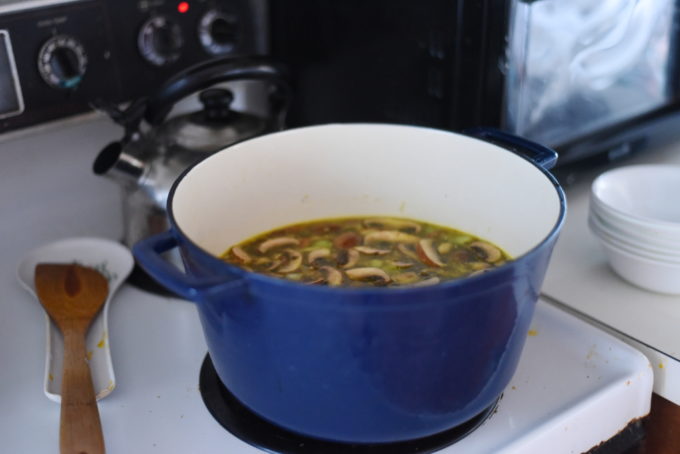 4:40PM I nurse Felicity and read a bit of the latest Magnolia Journal. Theodore sits next to me and reads the Food Network Magazine. (He's such a foodie.)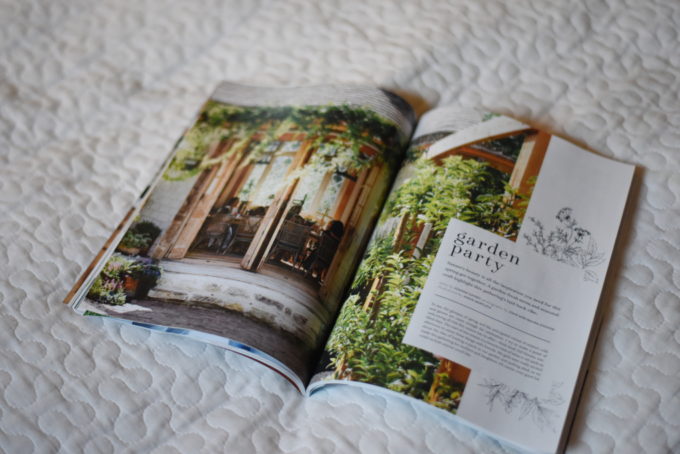 5:10PM The kids finish their story time with MiMi. Tad is on his way home, and I freshen up (ya know, put on lipstick, and all that jazz).
5:15PM I make biscuits to go with dinner, light candles, and turn on some music (we're listening to so much more music since we got Alexa).
5:40PM Tad arrives home and I finish up the last few things for dinner.
6:00PM We sit down to eat dinner (tumeric & kale white bean soup and biscuits). We do our family devotions (this book) and our catechism questions (this) with the children.
6:30PM The kids clear the table and I put the food away and wash dishes. Tad vacuums the dining room. I pack Tad's lunch.
6:50PM I start a small load of laundry (kitchen towels and cloth napkins). The kids are playing.
6:55PM We straighten up the boys' room as it had gotten quite messy during rest time (#worthit).
7:10PM I nurse Felicity. Tad reads books to the children. We sing a hymn together before bed (see this).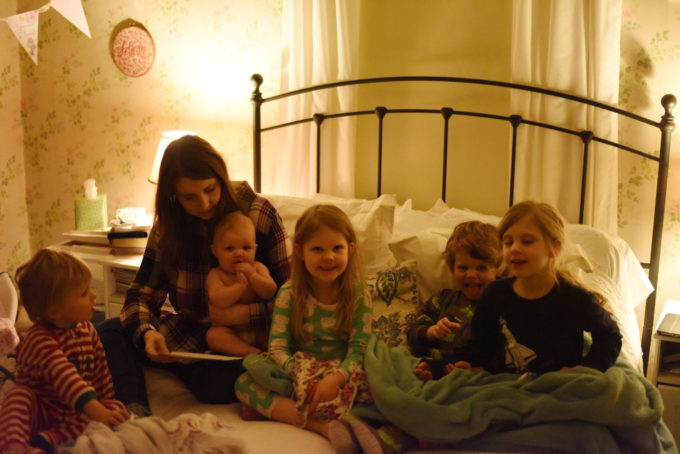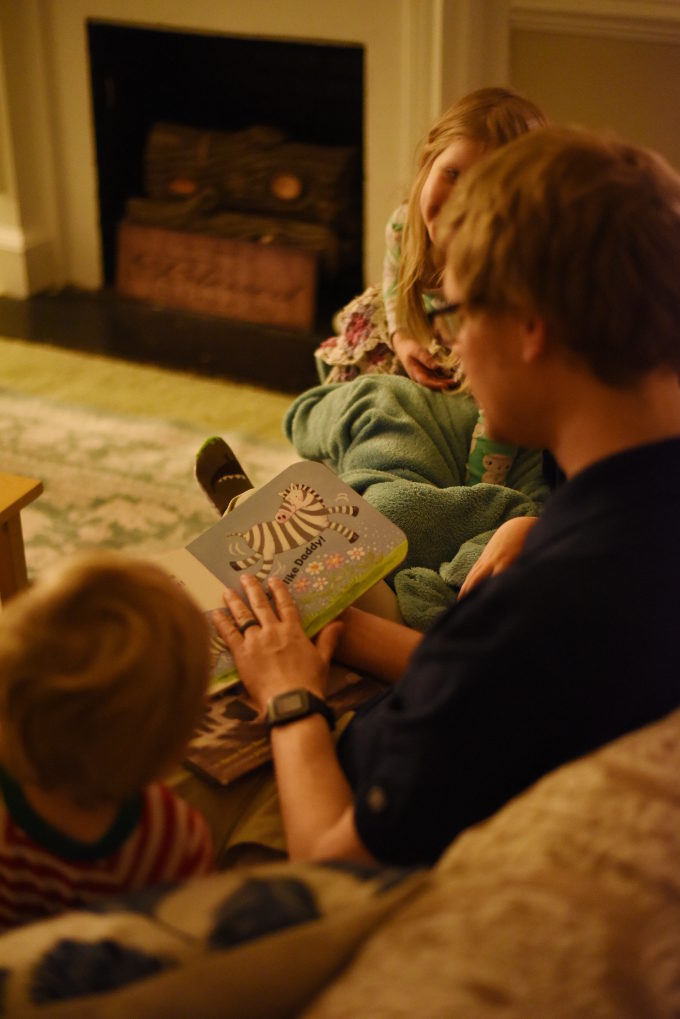 7:30PM We put the boys to bed, I nurse Felicity again ("I'm hungry, mother! I truly am!"), and the girls have "big girl time." Tad and I talk about our days.
8:00PM I take a shower and Tad holds Felicity. (She doesn't love being set down at this time of night.) Tad tucks the girls into bed.
8:25PM I fold the final load of laundry, do another quick pick up of the house, and sweep the kitchen.
8:30PM Tad and I hang out. (Felicity is still awake during this time.)
10:00PM Felicity has her final nurse before bed.
10:40PM I put Felicity to bed, wash my face, and brush my teeth.
11:00PM Now normally, I'd be heading to bed, BUT tonight I have a west coast Usborne Books & More party, so I throw that party! (This was my first west coast party… usually my parties are at 8:30 or 9:00PM EST.) So thankful for online book parties where I can party in my PJs! Tad goes to sleep.
11:55PM Book party is over and I've finished answering questions and giving book recommendations.
12:00AM Tumble into bed!
So aside from the late night (and the special story time with MiMi), I'd say many things about that day are very typical! My day is spent on lots of the ordinary household and mothering tasks I'm sure your days are filled with as well.
Not pictured: lots of diaper changes, spitting up (the baby, not me), correcting bad attitudes (mine, but also the kids'!), and cleaning up spills/messes (I'll probably never know who did it… I've stopped trying to figure out).
I'm in the trenches, just like you, mama! We're in this together, and by God's grace we can be faithful to our calling each day!!
This post contains affiliate links.