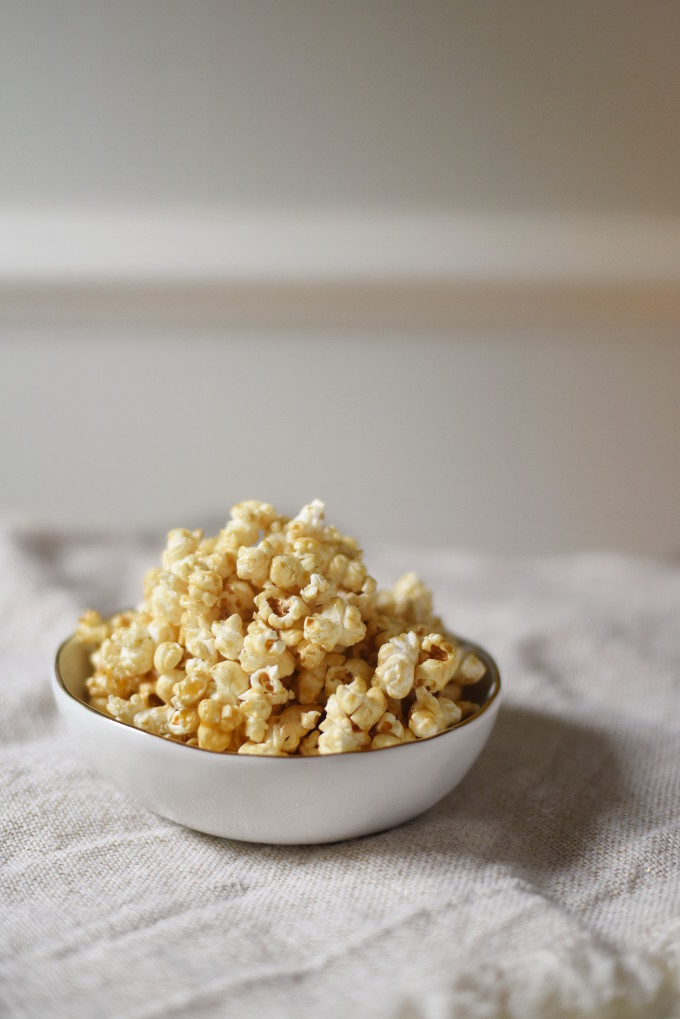 There's just something about caramel popcorn!  It satisfies a craving for both sweet and salty, and you can somewhat justify it in your mind as being "healthy" since it's a whole grain!
I've been making this recipe for caramel popcorn (using natural sweeteners) for over two years (since the County Fair night at the beach!).  We like having it as a snack during a movie.
This recipe as written makes a nice, light coating for all the popcorn.  If you want a thicker coating, use less popcorn or double the topping.  Also, this recipe makes a sticky, chewy caramel coating, so if you prefer it to be hard and crunchy, you'll need to bake it after coating.  I prefer it this way (mostly because I'm impatient and want to eat it right away)!

Caramel Popcorn
Caramel popcorn is a delicious treat that satisfies your craving for sweet AND salty!
Author:
Aliesha @ Feathers in Our Nest
Ingredients
½ cup UNpopped popcorn
¼ cup sucanat (or brown sugar)
¼ cup honey
¼ tsp. sea salt
2 Tbsp. butter
Instructions
Pop kernels in air popper (or on the stovetop in a large pot over medium heat with 2 Tbsp. coconut oil).
In a small saucepan, combine sucanat, honey, salt, and butter.
Heat over low heat until melted and bubbly.
Pour over popcorn and stir thoroughly (about 2 minutes), scraping the bottom of the bowl.
Taste, and sprinkle with additional sea salt if desired.
Enjoy!
For more of our family's favorite recipes, click here.